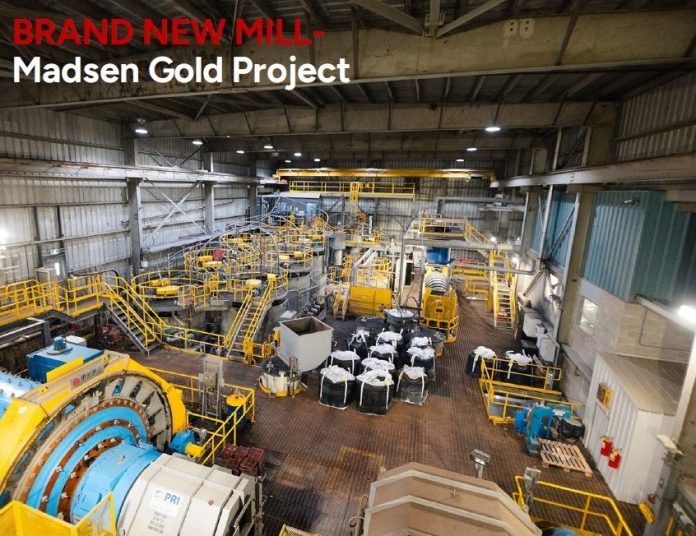 West Red Lake Gold Mines – WRLG-TSXv / WRLGF-OTC– bought the $350 million Madsen Mine in the Red Lake Gold camp in Canada this year–for upfront costs of only $6.5 million and stock.
 
It was a well-timed, low-cost deal that sets up a potentially HUGE win for shareholders. This is a former producer—in one of the highest-grade gold camps in the world—in such good shape it could re-start production almost immediately.  
 
Think that–this mine was scheduled to generate roughly US$70 million (CAD$90 million) of annual cash flow before halting production in 2021.
 
West Red Lake's market cap is only CAD$90 million.
 
But a quick move to production is not the first move.  The new management's plan is much bigger than that.
 
"We see the opportunity to use the Madsen mill as a platform to grow bigger," says CEO Shane Williams.  "We're the only one in this big gold camp that has an independent mill. And there's a lot of satellite potential deposits that didn't really get a lot of work."
 
Williams started delivering on this new plan TODAY to make WRLG a lot bigger and more profitable than the Market expects.
 
This morning he announced one of the highest grade gold drill holes in North America—70 grams per tonne over 8.3 metres, or 2.26 ounces of gold over 26 feet–in a satellite target not far from the existing Madsen mine frame.  This nearby play has high grade still open in all directions.
 
So now they have 800,000 ounces inferred on that target—to go along with their 2 million ounces around Madsen–and this new high-grade material can give WRLG an extended life, and lots of flexibility in how profitable the mine can be as it re-starts.
 
Williams plans to combine
this super-high grade exploration success
with detailed underground drilling along the deep, known high grade orebodies
while his team does the light mine refurbishment to get Madsen producing gold again
 
And Madsen is just Step One.  Mining entrepreneur Frank Giustra intends to use it as a cornerstone asset from which he and Williams—along with ex-Kirkland Lake Gold CEO Tony Makuch—can grow into a major gold producer.
 
The Market does not understand what's happening here—yet.  The company is barely six months old, but has already raised tens of millions of dollars, is rapidly moving Madsen back into production AND is finding a lot of new, super high-grade gold ounces.
 
"The Market's confused about the old team (that ran Madsen) and the asset itself," says Williams. "The Madsen Mine is a good asset. The ore body is there. We know it goes very deep. We know we can mine it.
 
"And there's a lot of infrastructure. "There's a modern mill that can be expanded from 800-1500 tons per day, equipment, tailings pond, permits.  And we picked it up for pennies on the dollar."
 
Williams is the perfect CEO for this project.  Right before this, he was COO at Skeena Resources (SKE-NYSE/TSX) guiding the next, larger stage of that company's high grade Eskay Creek deposit in Canada.  The stock went from $4-$16 while he was head of operations there, hitting $1 billion in market cap. 
 
He left in January 2023 and came to WRLG—with the Madsen Mine being another really high grade asset ready for optimization—in April.  WRLG is only 50 cents.
 
So with this drill hole, Williams is just getting started. He's confident there's a lot more high-grade ounces to be found in their large land package in Red Lake. And holes like the one today attract a lot institutional—big buyers—interest in the stock.
 
 
YOU ONLY HAVE TO
SPEND A LITTLE
TO GET A LOT
 

It is the operational leverage in re-starting Madsen that has me the most excited.  Williams and his team don't have to spend or do a lot to get a huge return in reserves and cash flow.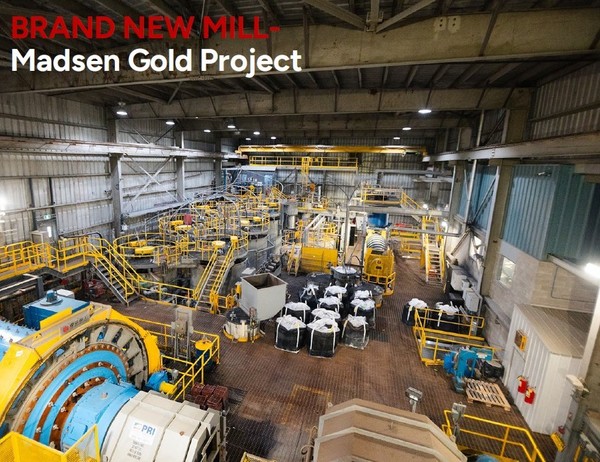 Look, when you buy a big, modern asset like this out of bankruptcy, some things had to go wrong.  One big factor was too much debt—which was wiped out in bankruptcy.  WRLG has millions in the bank and no debt.
 
That means Williams and his incredible technical advisors—more on them later—can afford to make the right decisions, not the cheapest ones, all the time.
 
The mistakes that put the Madsen mine into bankruptcy can all be fixed by mostly just tweaking mining methods—Williams estimates only $35 million in capital for the mine itself, plus another $15 million in drilling.  That's all it takes to restart a mine that's capable of generating more cash flow than that in its first year with gold at this price.
 
Because they didn't have the money, the previous operator

-rented instead of bought equipment
-pushed some capital costs into operations
-had underground portals that weren't connected making trucks and other machines drive around much more than they should
-started mining lower grade ore that was closer to surface
-didn't drill from underground but from surface—and Red Lake is DEEP!
 
Some of these fixes will cost money, but most will not. Literally, a change in attitude with a full wallet is all Williams and his team need to crank out tens of millions a year in cash flow—especially if gold stays up here at CAD$2600 / US$2000 per ounce. 
 
Put in a little, get out a lot. Investors search for months looking for this kind of rapid payback opportunity in the markets.
 
 
TECHNICAL DREAM TEAM
BACKED BY LEGENDARY FINANCIER
 
 
Giustra is the architect behind West Red Lake Gold.  A top mining entrepreneur, he's known to be one of the best market timers in gold.  He left gold in the late 1990s after a series of wins, then came back in 2001 right at the bottom and formed Wheaton River Minerals with Ian Telfer.  That 40 cent stock eventually merged with Gold Corp, and then Newmont bought them out for US$10 billion in 2019.
 
They're just starting on the same path here.  He and Williams have assembled a blue-blood team of mine operators, engineers and geologists who have run big teams and big projects. 
 
Director Tony Makuch was CEO of Kirkland Lake Gold as it went from 315,000 oz annual production to 1.4 million—and the stock went from $10 – $70.  Makuch was also a consultant to a previous operator at Madsen—he knows this project very well.  
 
Director Duncan Middlemiss worked his way up through senior technical management ranks becoming President & CEO of Wesdome Gold Mines in Ontario, another high grade mine. That stock went from 50 cents to $15 in seven years.
 
Director Hugh Agro was a senior executive at Kinross Gold for many years, providing strategic and operational leadership during their big growth phase.
 
I could go on—but you get the picture. Know that when a mine goes bankrupt, no director comes into the new company lightly.  They do exhaustive due diligence before they put their name on something like West Red Lake Gold.
 
 
MADSEN MINE HAS ASYMMETRIC UPSIDE

SO DOES GOLD SENTIMENT
 

Multi-bagger wins in gold stocks don't just happen—a lot of things have to go right, at the right time.  You can only set yourself up for success and hope the sun shines on your market while you're at your peak.
 
That's happening right now at West Red Lake Gold Corp.  One of the most successful mining financiers in the world has chosen this stock to be his #1 gold play for the upcoming cycle.
 
He found a core asset that needs very little money and time to generate huge cash flows—giving investors quick payback and a long life mine to build on.
 
The CEO's last company went from $4 – $16 in a very similar Canadian, high grade asset.  They've attracted a Tier 1, blue blood team to guide management, and to help spread the gospel on the opportunity this stock presents.
 
West Red Lake doesn't need gold to stay over US$2000/oz to be a huge success. But if gold does go up just 7% to $2100, gold stocks will have an outsized—an asymmetric—move. 
 
Big round numbers are psychological for investors, and gold is so under-owned—it's just 0.5% of the S&P 500 now—that it has created a huge asymmetric trade in the sector.
 
And when that happens, the one I want to own a lot of—is West Red Lake Gold.  The stock is 50 cents.  I'm long 171,000 shares.
 
 



West Red Lake Gold Mines has reviewed and sponsored this article. The information in this newsletter does not constitute an offer to sell or a solicitation of an offer to buy any securities of a corporation or entity, including U.S. Traded Securities or U.S. Quoted Securities, in the United States or to U.S. Persons. Securities may not be offered or sold in the United States except in compliance with the registration requirements of the Securities Act and applicable U.S. state securities laws or pursuant to an exemption therefrom. Any public offering of securities in the United States may only be made by means of a prospectus containing detailed information about the corporation or entity and its management as well as financial statements. No securities regulatory authority in the United States has either approved or disapproved of the contents of any newsletter.
Keith Schaefer is not registered with the United States Securities and Exchange Commission (the "SEC"): as a "broker-dealer" under the Exchange Act, as an "investment adviser" under the Investment Advisers Act of 1940, or in any other capacity. He is also not registered with any state securities commission or authority as a broker-dealer or investment advisor or in any other capacity.