Big Dividend.
Growing Dividend.
Guaranteed Growth.
This Company Has Everything
You Want As An Investor.
After spending two decades in the financial markets…
The last 10 growing the Oil and Gas Investments Bulletin…
I learned one important lesson.
I want people to just cut through the bull and tell it to me like it is.
You likely feel the same way.
So today I'll get right to the point.
For a limited time, you can have a look at a free company report on a recent subscriber pick of mine.
This company is one of the best oil & gas investment opportunities you'll find all year – for one simple reason:
It's The Single Best Way to Play The Most Explosive Shale Oil Story On the Planet.
But that's only part of what I love about this company.
I also love the fact that this company pays a large – and growing – dividend…and has explosive growth potential.
This company is so profitable, it increased its dividends all through 2016—even as oil prices plummeted to $27/barrel.
Now that oil is around $60/barrel, dividends could increase even faster.
I want you to have a look at my Special Report—risk-free—so you can see the stocks I buy to increase my own personal wealth.
Nine years ago I had $50,000. Today my portfolio is over $3 million.
And right now, I believe this opportunity is as good as it gets.
You can download the free report at the end of my talk if you are in a rush to get to it.
If you aren't in a rush I'd like to tell you a little more about this
a) dividend paying,
b) high growth company
c) that is the single most profitable oil stock I see in the USA
Yes all three of those are true.
It isn't often in the energy sector that you can get yield, plus a clean balance sheet plus lots of future cash flow growth all in the same company.
Get Direct Exposure To
America's Finest Shale Oil Play
If you are even casually familiar with the oil and gas business, then you're aware that global oil prices collapsed in 2014—due to surging U.S. shale oil growth.
Everybody cut costs to stay alive.
Drilling slowed dramatically—except in the one shale oil play that has clearly emerged as being head and shoulders above the rest.
The chart below tells you quickly which one that is: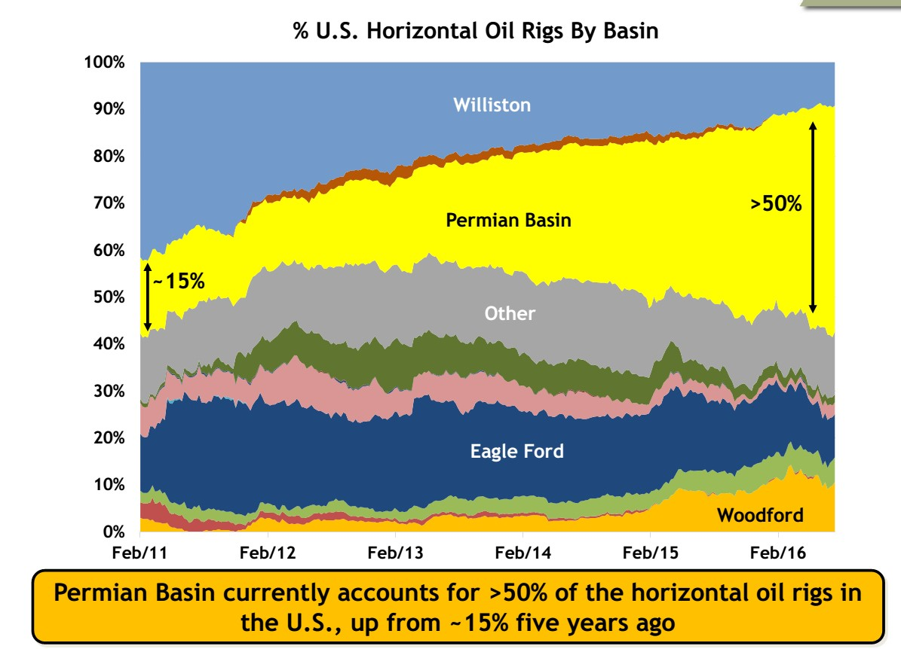 That chart showed which shale oil plays were the busiest—by graphing the percentage of the US drilling rigs operating in them.
In 2011 the Permian Basin accounted for only 15 percent of the America's active drilling rigs.
As companies started figuring out the true economics of the Permian—this basin simply took over.
When oil collapsed in 2014 and stayed down in 2015/2016 oil rigs stopped working across the country.
The rig count in the Eagle Ford plummeted.
It did the same in the Bakken.
In the Permian however, companies kept on drilling.
By the middle of 2016 the Permian had half of all active drilling rigs…up from 15 percent just a few years before.
Today, it's still 50%–even with many more rigs coming into service.
In all of the other plays companies wanted to stop drilling as fast as they possibly could after oil prices crashed.
The chart above makes that clear.
The Permian is different.
Even with oil prices in the $40s, $30s and even $20s companies wanted to keep drilling wells in the Permian in 2016.
The result? Even with oil prices depressed…Permian production kept growing.
Have a look at the chart below from the Energy Information Administration (EIA).
It clearly shows how both the Eagle Ford and the Bakken have had production head into serious decline.
That is what you would expect low oil prices to do.
With the Permian, on the other hand…production has NOT rolled over in the face of depressed oil prices.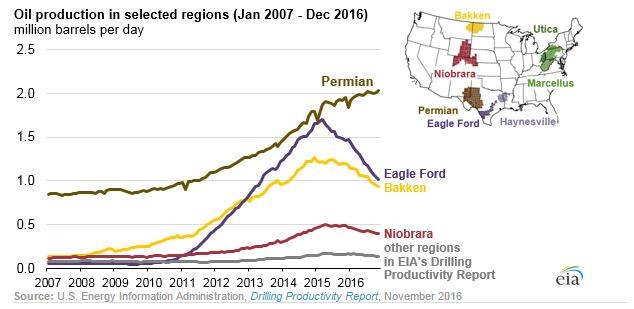 Permian production has just kept marching higher.
That is what the Permian has done over the past three years with $30, $40 and $50 oil.
Imagine the production growth the Permian would be capable of if oil ever went to $60 per barrel or higher!
This debt free, dividend paying company I've featured in my just-released Special Report is focused exclusively in the Permian.
(Remember…you can access this report – RISK FREE – by clicking on the link at the end of this message.)
But my main message to you today is —this company's cash flow and dividend are going a lot higher even if oil stays here at $50 for years.
This company has no business dealings outside of the low-cost Permian basin.
It offers direct exposure to Permian production growth.
With none of the unappealing qualities that a producer (even in the Permian) has…
Those being:
a) lack of free cash flow,
b) no dividend,
c) debt and
d) heavy capital spending
Today this company pays a big dividend.
And for that dividend to grow, only one thing needs to happen: Permian oil production just needs to keep moving higher.
Given that Permian production kept growing in 2016 as oil prices hit $27 / barrel…
I'd say chances of that dividend growing HUGE are a virtual certainty.
In fact, you won't believe just how much the Permian is actually poised to grow.
Growth that will drive revenue and cash flows higher…
Which means that this company's large dividend will only get bigger.
Just as it did all through 2016.
Explosive Permian Growth Equals Explosive Dividend Growth
Today my debt free, cash flowing, dividend paying company that I want to show you already has a big dividend yield.
How big?
Well, I think you are going to be surprised.
As I write this the yield is over six percent.
That isn't a good yield, it is a great one.
Because the dividend has gone up four quarters in a row.
Usually a company with such a big yield has no potential for significant dividend growth.
Big yielders are usually REITs, utilities or other no-growth businesses.
That is where this company becomes a "next-level" kind of investment opportunity.
It pays this huge yield…
And it has better growth opportunities than any other company I know.
When I say "growth opportunity" I'm really not doing this company justice.
Because the growth ahead of this company isn't really an opportunity.
"Opportunity" suggests that this growth might happen.
This growth—already happening for the last four quarters—is almost guaranteed.
(I think it IS guaranteed but I like to be conservative.)
Let me explain.
As Permian production grows, so too will this company's revenue, its cash flow and its dividend…
A dividend that is already 6%.
Ok…now I've primed you.
Take a look at the kind of Permian production growth that is coming.
Here is a recent slide from Permian heavyweight producer Pioneer Resources.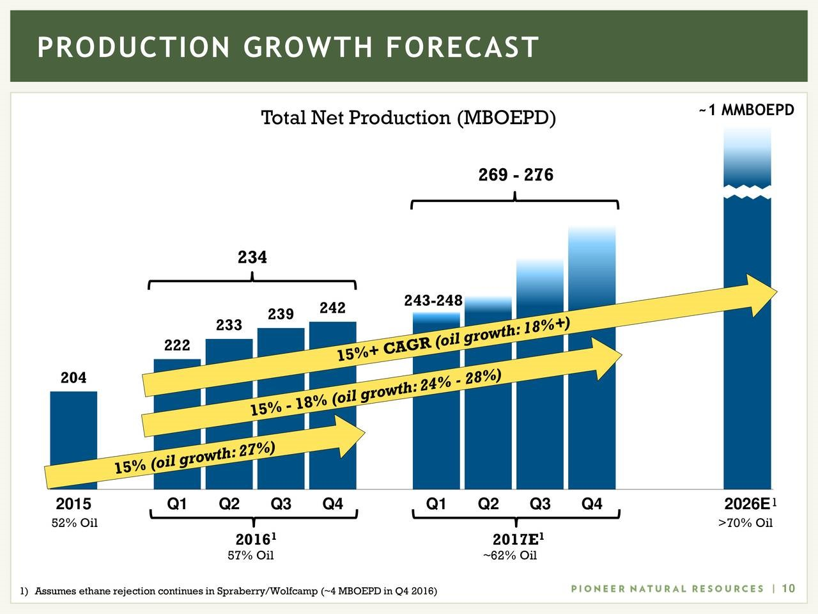 Is your jaw on the floor?
With this kind of growth, it should be.
In 2015 Pioneer produced 204,000 barrels per day.
By 2026 the company is planning to produce 1 million barrels per day.
Those are mind-blowing numbers.
By 2026, Pioneer will be producing as much oil as some OPEC countries.
We are talking about a five-fold increase in production…all driven by the Permian Basin.
Let's relate that back to my debt free, cash flowing, dividend paying company that I think can make you a lot of money:
I've told you this company yields 6%.
I've told you dividend increases are now happening every quarter.
I've told you its cash flows and dividend are tied to the Permian.
I've now shown you that Pioneer Resources by itself will quintuple production over the next decade in the Permian—to over 1 million bopd.
Now I'll leave it to you to figure what is going to happen to this company's dividend going forward.
This company has everything that I have ever wanted to find.
Debt free.
Low capital spending requirements.
Gushing free cash flow.
Again note the word free…
A huge dividend.
Most importantly, it's one of the best growth stories I've ever come across.
Pinch me. I must be dreaming.
We Need To Appreciate Just How Big
The Permian Will Be
I'm sure you've heard of the Permian Basin, but do you truly understand what's happening here?
My OGIB subscribers and I know the region very well.
It has been very good to us.
Last summer I uncovered a Permian producer called Resolute Energy.
In June 2016 my subscribers and I started buying shares.
Then look what happened to Resolute's share price.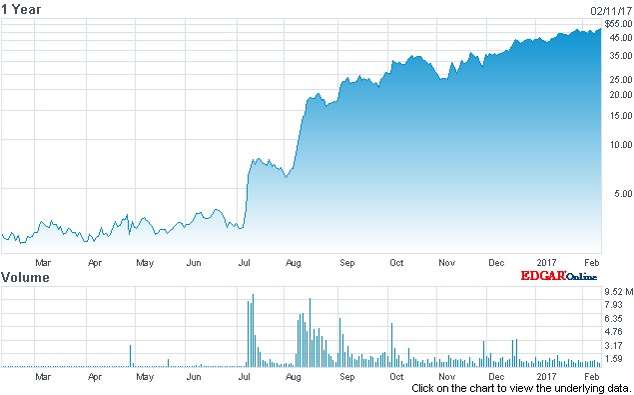 From $3 per share Resolute's shares soared to nearly $50 in roughly six months.
It has been a HUGE winner for me, and for my OGIB subscribers.
This run in the share price is due to very high IP rates from Resolute.
But truly, everybody in the Permian is getting much better flow rates than anywhere else in the US or Canada.
Simply put—this is the best place to drill for oil in the United States.
And it will be that way for the next 30 years.
The oil and gas producers know this.
That is why they are paying incredible sums of money to control land in the Permian.
Some people say the prices are outrageous.
According to a recent Bloomberg article, on a per acre basis Permian acreage is selling today at 50 times the price that it did four years ago.
That is astounding, but remember…four years ago oil was at $100 per barrel and not $50 per barrel like today.
Permian acreage prices have gone up fifty-times while the price of oil has been cut in half.
It is truly amazing.
Recent Permian deals have come in as high as $60,000 per acre.
Why are companies willing to pay so much for this land?
The answer is simple and obvious.
This is the most profitable place to drill for oil in the United States.
And the land contains a shockingly large number of drilling locations.
That is due to the fact that a lot of Permian acreage has 10 to 12 different oil bearing zones underneath it.
And the best of those zones are 10 to 15 times thicker than the best of the Bakken or Eagle Ford.
I regularly see wells producing 2500 barrels of oil equivalent (which means it includes some natural gas) in the Permian over their first 30 days.
The industry calls that an IP30—the Initial Production rate over the first 30 days.
Sometimes I even see IP30s over 3000 barrels.
Even at $50 oil, producers can pay off wells in 10 months with those high rates.
I don't see those fast payouts anywhere else in the country at $50 oil.
That's what makes the Permian special, and why production will soar for years to come.
The single best way to play the Permian is through this company for which I have written a full report—in simple English.
This company is a pure-play on rising Permian production.
It has no debt.
It has a huge dividend…which will unquestionably grow.
And it has maybe the best long term growth opportunity in front of it that I've seen in at least the last decade.
It certainly has the lowest risk.
There are very few public energy companies like this. In fact, I can say after nine years of studying US energy, this one is unique.
That's what makes it so appealing.
I Want You To Think Differently
About Oil And Gas Investing
I've been in and around the resource sector of the financial markets for most of my adult life.
Don't let my youthful appearance fool you…
I'm no spring-chicken.
What I've learned is that resource sector investors are a passionate bunch.
I love them to death.
I really do.
So many interesting people.
And great, funny characters.
What I do wish though, for these people, is that they would change the way that they invest in this sector.
Too many of them think in a one-track manner.
They get long shares of traditional producers…and eventually they get burnt.
Energy is cyclical. That means you must trade producers. This is a company you can own.
This is a better way to invest in energy than just getting long your favorite producers.
The problem with producers' stocks (E&Ps) is simple.
Most of these companies will never really make any money for shareholders.
It is a sad fact of the commodity production business.
It is incredibly capital intensive business…
To then produce a commodity that is extremely volatile.
Over the long term, that's a hard game to win for most investors.
Now, I do own a few regular oil and gas producers in the OGIB portfolio.
The key word there is 'few'.
As in—I can count them on my fingers.
Those that I own are truly the best of the best.
They are the lowest cost producers in the business…with pristine balance sheets.
That is the only way to invest in this sector if you are going to own producers.
The company I've featured in my new Special Report provides a unique, and IMHO a much better way to invest in this sector.
You can invest long term and rake in huge dividends year after year.
I've already given you some background as to this company's growth potential.
But when you see the full story behind this company in your FREE Special Report, you'll immediately realize that this is how you should have been investing all along.
I know I had that thought when I discovered it.
Honestly as an investment…this company beats investing in a producer in every possible way.
It is pretty much the perfect investment.
Producers almost always carry debt, usually lots of it.
This company has none and a stated plan to keep it that way.
I love that.
A permanently clean balance sheet is an incredible weapon…not just for playing defense in tough times…but for playing offense when opportunities arise.
Where producers have to spend millions and millions of dollars drilling wells.
This company has zero capital spending requirements.
No joke; NOT ANY.
Lots of cash in, very little cash out.
With all of that capital spending that producers have to do the companies generate little or no free cash flow.
In fact most producers outspend their cash flow every year.
This company generates gobs of free cash flow.
That is cash flow that is available after all expenses, including those of the capital variety.
This is cash flow that is used to pay a large and growing dividend…which is exactly what this company has.
A dividend that will continue to be paid no matter what commodity prices do.
This company continued paying its dividend all through 2016.
Even when oil prices dipped down under $30 per barrel.
If you are thinking that this is starting to sound like the perfect company… I'd have to agree with you.
That is why I own it and continue to buy shares.
And that's an important point – I do, in fact, "eat my own cooking." But sadly that makes me the exception rather than the rule when it comes to the newsletter business.
Let me explain…
My Entire Net Worth Is Invested
In The OGIB Portfolio – The Same Companies My Subscribers Own
I've got a simple thought.
If someone is going to pay you to provide them with some investment ideas…
Then don't you owe it to them to put your own money on the line beside them?
If I was someone paying for an investment letter…
I would have zero interest in one where the writer did not think that his or her own ideas were safe or good enough for his or her own money.
Airlines won't put a bag on a plane unless there is a passenger attached to it.
That is a common sense policy right?
Wouldn't another common sense policy be to not pay for an investment newsletter where the writer doesn't buy his own ideas?
You know that it is…
That is why I've structured the Oil and Gas Investments Bulletin the way I have.
I put my own money in every company that I speak about to my OGIB subscribers.
Since so many fine people are kind enough to give my service a try.
I feel that the least I can do is invest alongside of them.
Today my OGIB Portfolio is nearly three million dollars.
That is three million dollars of my own money.
Virtually my entire net worth is invested alongside the same companies that I put in front of my subscribers.
Isn't that how it should be?
If I feel that someone should care enough about my investment ideas to pay me for them…
Shouldn't I at least put my own money into those ideas?
It is a no-brainer for me.
I feel it is the right thing to do.
Yet I'm a rarity in the investment newsletter business.
A business dominated by giant publishing marketing machines.
Written by people with none of their own money on the line.
And to be quite honest, an underwhelming amount of investment ability.
Look, I don't have millions of dollars to throw into marketing the Oil and Gas Investments Bulletin.
I live and die by my investment results.
The money I make from the OGIB subscriber service is tied directly to those investment results.
Because unlike the big marketing machine publishers…if my investing performance isn't exceptional, I'm dead in the water.
That is why I work so hard to come up with ideas like the company I want to put in front of you today.
I'm risking my own money on all my trades. And I love companies with no debt like this one.
Because my own money is on the line —I'm extremely risk averse.
I also love companies that pay a large dividend—like this company. That means I get free cash in my jeans every 90 days.
And boy do I love growth…like what this company has in front of it for the next decade at least…
It is growth that drives share price returns over time…
My OGIB subscribers can attest to that.
I'm going to show you my OGIB annualized portfolio returns in a little bit.
I'm very proud of them and I know they relate directly to the fact that I'm invested alongside my subscribers.
This Company is UNIQUE And
You Can Get the Symbol RISK FREE
This one is it folks.
The Real Deal.
This is the kind of investment opportunity that you are likely never to see again.
I'm letting you see it risk free if you can believe that.
I know this company sounds too good to be true.
Which is why I have to give it to you risk free so that you can verify it for yourself.
I'm not spinning a story when I tell you all of the attributes of this company.
Let's check them off one last time…
A debt-free balance sheet and a management team with the stated intention of keeping it that way.
It has no capital spending requirements.
That means almost all of its cash flow can go straight to you and me—the shareholders.
It is paying me a whopping dividend of more than six percent.
The dividend actually went UP in 2016—when oil prices were hitting rock bottom.
It has a clear vision to major dividend increases in the years ahead as Permian production—the lowest cost basin in the western world—doubles, triples, quadruples and more.
If you think you are going to see another investment opportunity like this in the next five years—you are wrong.
You certainly aren't ever going to see anything like this in the energy sector again.
And we haven't even seriously considered the crazy upside that could be available here if oil prices ever returned to pre-crash levels.
We haven't considered it because this company doesn't need it to be a homerun for your (and my) portfolios.
So how do I benefit by giving you this report…Risk Free?
It is quite simple.
I get your full attention.
In a world where I'm competing against newsletters run by publishing houses with multi-million dollar marketing budgets…that is a very hard thing for me to do.
Once I get your attention—I get to show you my investing track record at The Oil and Gas Investments Bulletin.
A track record that I would put up against anyone.
Especially those big budget publishing newsletters that are experts at selling…not investing.
Virtually my entire net worth is invested alongside my subscribers.
I believe…no I'm certain that is why my performance is so much better.
Here is what I've done each year since launching the OGIB service.
And remember I've done this through one of the greatest oil crashes in history.
| | | |
| --- | --- | --- |
|   | 2009 | 123% Gain |
|   | 2010 | 64% Gain |
|   | 2011 | 37% Gain |
|   | 2012 | 1.7% Gain |
|   | 2013 | 20% Gain |
|   | 2014 | 18% Gain |
|   | 2015 | 0% Flat |
|   | 2016 | 28% Gain |
|   | 2017 | 19% Gain |
I haven't had a single down year and in seven of nine years I've had a double digit return.
You can verify all of this through my member centre.
Today I've got what I think is the best investment opportunity in the oil and gas sector today.
The Permian is the largest, lowest cost basin in the Western World.
This unique stock gives investors the best way to play the Permian, at the lowest risk.
And it is virtually guaranteed to pay you more and more, year after year.
To be perfectly honest I think this is the best investment opportunity you are going to find in any sector today, tomorrow and over the next five years.
All I want is your attention.
That is the hardest part for me.
Once I have that, I believe you are going to want to join my OGIB service.
Click on the Red Button to learn the identity of this most unique company—and start seeing cash flow steadily into your jeans.
Thanks for reading.
I'm Keith Schaefer, Editor of The Oil and Gas Investments Bulletin.
(Please see Terms and Services Provided for more subscription details. No refund on monthly subscriptions. 30-day trial period for quarterly – 3 month – subscriptions)