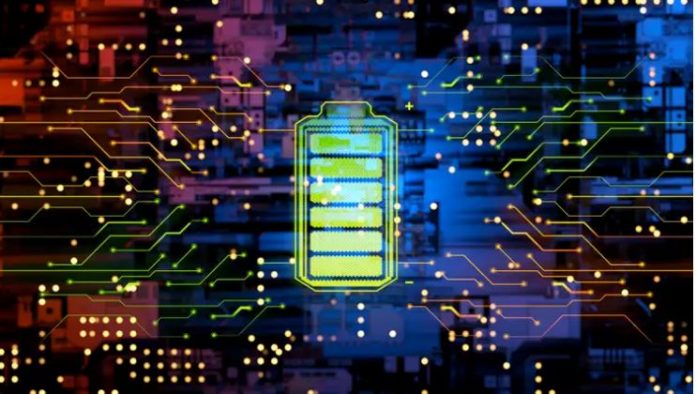 The Green Trade got up off the floor in the last two weeks.  After a very hyped 2020 through early 2021, this has been a dead zone for investors.  But from hydrogen to RNG–Renewable Natural Gas–alternative energy stocks came to life in a big way.

High oil and gas prices–especially natgas lately–will do that.  It makes the need for alternative fuels even greater.  And all of this is happening as the West decides it needs its own supply chain for alternative fuels–which is mostly in China.

So is this a perfect storm for investors–high realized prices and strong demand to build a trillion dollar regional supply chain for the electrification of….virtually everything?

We want to run everything on electricity and that electricity is going to come from water, wind and sun. 

Only one of those three is dependable.

Storing electricity is paramount. That means battery demand is bound to keep going and going and… well you know the tune.

Unfortunately for us investors, everybody knows this. That means that if you are looking around for a battery play, it isn't going to come cheap. You won't find a 10x P/E slapped on a battery name when the market is forecasting 30-50% growth for decades.

That is the case with Enovix Corp (ENVX – NASDAQ). This is anything but a cheap stock. But it will never be a cheap stock. You are paying a $3.9 billion market cap for virtually $0 revenue today—because The Street thinks there is just so much potential way down the road.

What does Enovix do to deserve this kind of valuation?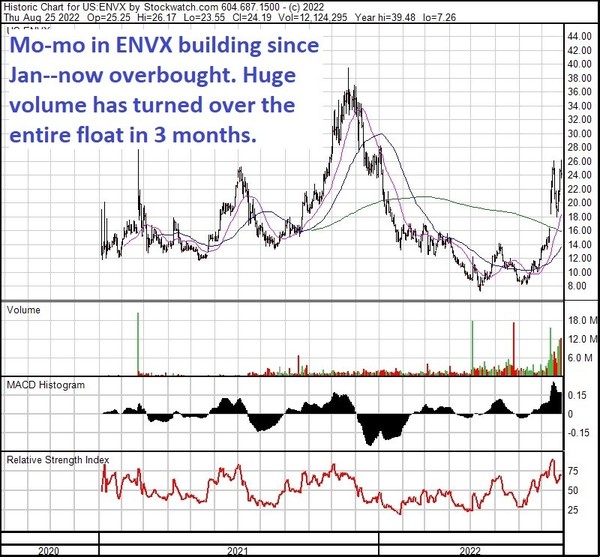 They give investors the promise of a better battery.

Have you heard that pitch before?

Enovix produces lithium-ion batteries.  Their technology, which is patented, improves the energy density of the battery.

Energy density is a measure of how much power you can pack into a given volume.

The Enovix battery uses a lot more silicon than existing batteries.  Silicon content in their battery is 20x existing batteries.   Silicon has over 2x the storage of graphite in the anode.

That means much higher energy density, which translates to a smaller battery and a longer-life.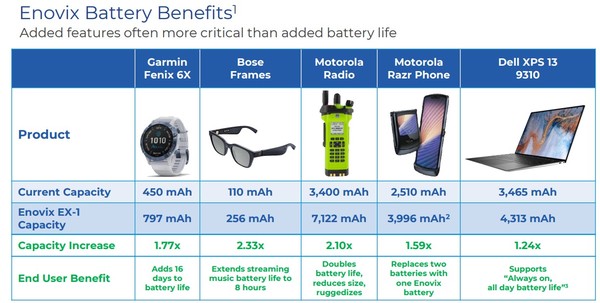 Source: Enovix Investor Presentation

They continue to innovate.  Their second gen battery, which they expect in the second half of 2023, is only half the footprint of Gen1 and with increased output.

Enovix is going after big markets – starting by targeting mobile devices.     We are talking smartwatches, phones, and laptops.

It is a huge market – Enovix estimates it at $13 billion.

Enovix is engaged with a number of OEMs.   These are "mega cap" tech companies, Enovix describes them as "household names" with "market capitalizations exceeding $200 billion".

While no one has named names, I see the brokerage reports are already throwing out Apple (AAPL -NASDAQ) and Meta Platforms (META – NASDAQ) as two of the likely customers.

Electric cars are further down the road.  There has been hints that another engagement has been with Tesla (TSLA – NASDAQ).  Enovix has their Fremont factory just down the road from the Tesla plant.

There just aren't that many $200 billion+ companies out there.

In addition, Enovix has been awarded a deal with the U.S. Army to use their batteries in soldier vests to power communication equipment.

Batteries are heavy.  The average soldier carries 60-200 pounds of gear and about 15-20 pounds of that are batteries.  The Enovix design can reduce the weight and improve the life of these batteries.

Based on the existing military programs the wearable market size is about $350 million.

The stock is moving right now because Enovix expects to begin commercial production of that product in Q4.

They produced their first commercial shipments from their Fab-1 Fremont factory to 10 OEMs in Q2.

On the second quarter call Chief Commercial Officer Cam Dales put a very bullish spin on it, saying "we can't satisfy demand for customers at all now or even next year or the year after".

With a "total revenue funnel" of $1.5 billion made up of 75 separate accounts there appears to be plenty of demand on the horizon.

Enovix is anything but a cheap stock.  But if they can hit the growth that they are hinting at, we could see them quickly grow into their valuation.