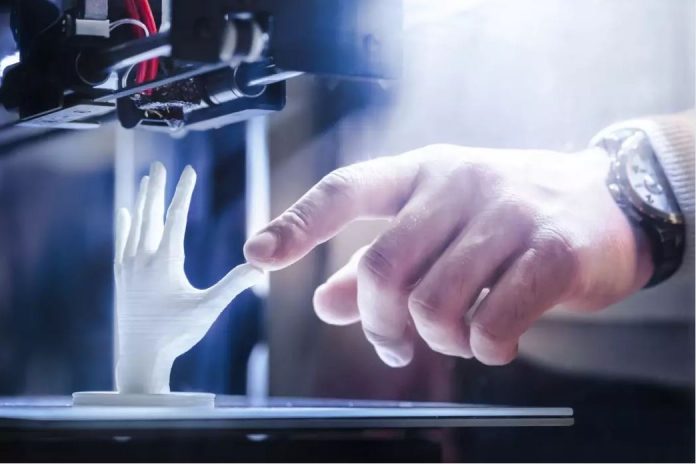 I love cheap stocks.  I love them even more if there is a good runway for growth.

Nothing is more exciting than finding a high-growth gem with a single-digit multiple. 

But the truth is, those are rare.  If you want to own growth, you are going to have to pay up.

This has been the case for years in the 3D printing business (I'm going to call it by its more technical name – additive manufacturing).  The big names in the space have tended to lose money and trade at expensive multiples.

But today, the market has wiped away a lot of that excess.

While I would not go so far as to say these stocks are "cheap", they are certainly a lot cheaper than they have been in the past.

Stocks like Stratasys (SSYS – NASDAQ) have given up nearly all the gains of the post-COVID bubble.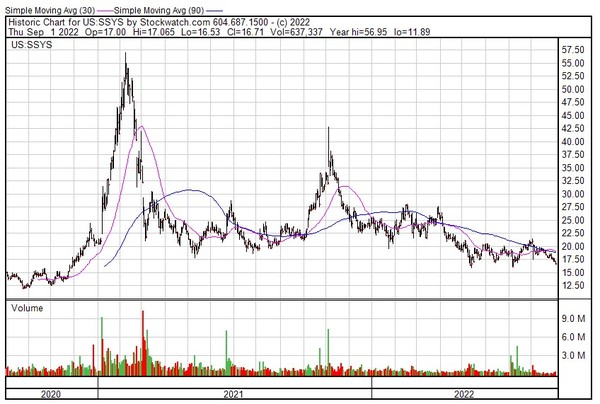 Source: Stockwatch.com

With so much froth taken out of the stocks, the sector is worth a look.  Additive manufacturing is a business that looks like it has years of growth ahead of it.  The drivers of this growth are trends that  – for the most part – are irreversible.

But if I can see the trends, everyone sees the trends.  You can't expect it to not be in the stock.   

While you want to get these names cheap, you can't expect them to be too cheap. 

They might not be there yet.  But its getting close.  It could be that "cheaper than they've ever been" is cheap enough.
 
DEMOGRAPHICS IS GOING TO DRIVE TECHNOLOGY
 
Trying to talk about demographics and stocks can be a hard sell. 

Demographics are like tectonic plates to the raging river of the stock market. 

One moves slow, the other fast.  The market cares about the next quarter, at best the next year.
Spelling out a trend that will take decades to play out makes a trader's eyes glaze over.

Yet there are demographic shifts that are going to create some big changes in the next few years. 

The population is aging.  The 2020s are going to be a tipping point.

According to a UN Report released in July, global population grew by less than 1% in both 2020 and 2021.
This is the first time this has happened since WWII.

Two-thirds of the world has a fertility rate of less than 2.1 births per woman, which is the level needed for stable population.

People are old and getting older.  30% of the population is over 65 in Japan.  In the United States, which has some of the better demographics (thanks to immigration), it is just under 20%.

In the manufacturing hubs of the world, the outlook is grim.  While China has only 15% over-65, their one-child policy makes it a virtual certainty that their labor force is going to go into decline.  They will be Japan by 2050.

In Korea, the birthrate has gotten so bad (only 0.81 per woman 2021) that the government is offering a $740 per month allowance for each newborn child!

If we want to get work done, we are going to have to do it without the worker.  Meaning more technology, more machines.

This is the sweet spot for additive manufacturing.

This is not the same technology as a couple of decades ago.

This is not plastic prototypes and trinkets.  Today's additive technologies are about manufacturing end-use parts at scale.

Consider Stratasys, one of the biggest additive manufacturing names.  In 2020, 25% of Stratasys's revenue came from end-use manufacturing.  In 2021, that increased to 29%.  Stratasys expects 20% growth in 2022.

Stratasys has a partnership with General Motors (GM – NYSE) and another high-performance OEM, Radford, to produce parts on the floor that go into the cars.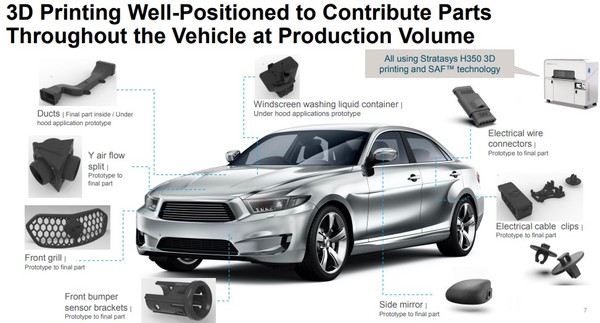 Source: Stratasys Investor Presentation

It is not just cars.   Aerospace (Lockheed Martin), military (General Atomoics), and medical devices are all taking advantage of the customization and quick turnaround time of additive manufacturing.

Take medical device maker Stryker (SYK -NYSE) for example. 

Stryker manufactures its Tritanium implants, used for the knee, spine and hip, using additive manufacturing. 

In Q1 Stryker expanded the offering to include patient matched shoulder implants. 

These implants are custom made for the shape of each patient, manufactured with additive manufacturing.

Stryker can turn around a custom-made implant in 14 days.  They expect that number to get below 10 days by next year.

Stryker announced a new 156,000 square-foot facility with 600 high-tech jobs in Anngrove Michigan that will be dedicated to expanding their additive manufacturing capacity.

Nano-Dimensions (NNDM – NASDAQ) goes a step further, using additive manufacturing to create micro-devices.  Their DragonFly and Fabrica systems are micro-additive – meaning they can produce very small footprint devices.

Their systems fabricate the circuit boards, can add capacitors, transformers and coils, creating functional electronic devices on the fly.   These are used in smartphones, drones, cars and medical devices for use in the human body.

None of these examples are one-off prototypes.  We're talking end-user and scale.
 
BRINGING IT ALL BACK HOME
 
While demographics is going to drive adoption over time, the process is going to be sped up by de-globalization.

COVID put the spotlight on supply chains.  Geopolitical tensions are amplifying that.  Together these forces strengthen the call for bringing manufacturing back home.

It is putting additive manufacturing at an inflection point.  

What we saw in 2021 was a faster transition from prototyping to production of end-use parts.

Yoav Zeif, CEO of Stratasys said that "the last two years opened up new markets" for Stratasys and have been a "catalyst to rethink how [companies] manage their product lifecycle."

Zeif estimates that their opportunity set has doubled over that time.

The US Government sees it as well.  In May the White House announced the Additive Manufacturing Forward Program.  The program is aimed at "building more resilient supply chains" and "onshoring manufacturing".

There are 5 initial participants in the program: GEO Aviation, Honeywell (HON – NYSE), Lockheed Martin (LMT -NYSE), Raytheon (RTX – NYSE) and Siemens Energy. 

These large manufacturers have committed to source a large percentage (between 20% and 50%) of their additively manufactured products from within the US.

The goal here is to establish the United States as a hub for small and medium manufacturers of additive products.

The Biden administration will support the program by providing low-cost access to capital that allows the manufacturers to build up their additive equipment base.
 
SOFTWARE CATCHES UP
 
Software has held back additive manufacturing applications in the past.

Until recently, the steps from designing a part to printing it were cumbersome.

Parts were designed on traditional CAD tools.  Solidworks, Autodesk, Pro-Engineer.  The design was then converted to a 3D-printer compatible tool, where it would be sliced and diced into increments that could be handled by the additive manufacturing process.

Today that process has been simplified.  Large names like Autodesk (ADSK – NASDAQ) and Solidworks (owned by Dassault (DSY – FR)) have integrated additive design tools. 

Tools like ANSYS now have options to evaluate the final part design, including choice of layers, to detect structural issues.

Materialise (MTLS – NASDAQ) has even built software specifically for additive manufacturing. 
 
RECESSION WATCH
 
The long run looks bright.  But in the short run, these stocks are going to be held back by recession.

2021 saw a surge in growth across the sector.

Stratasys grew 24-25% in Q2 and Q3 of last year after a number of years of flat to negative topline growth. 

3D Systems grew 44% YOY in Q2 2021 and 15% in Q2 2021, well above anything they had done before that.

The economy was hot and COVID restraints were driving investment. 
Now those tables have turned.

Nearly every additive manufacturing name printed slowing growth in Q2. 

Bigger names like Stratasys and 3D Systems pulled back on their growth estimates for the second half.

3D Systems saw declining revenue – down 14% in Q2. Stratasys saw revenue growth drop to 13% and their guidance dropped YOY growth to only 6-7% in the second half.

The slowdown has pummeled the stocks.  Every one of these names is down for the year, most by a lot.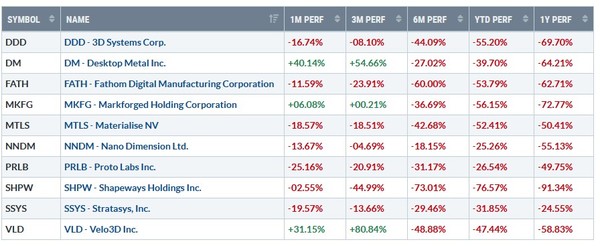 Source: Stockcharts.com

Yet I don't think the bottom is in just yet.

At the end of the day this is manufacturing folks.  What these companies are driven by is manufacturing capex – they need manufacturers to invest in their business and for that you need healthy growth.

That means that regardless of how good the tech is, if growth disappears, if orders are weak, there is no need to invest.

That's the headwind.  It will last for as long as the economy is slow.  It won't last forever.

Separating the long-term trend from the short-term is the trick here.   

These stocks may have further to fall. 

But some will turn out to be big winners once the recession passes.