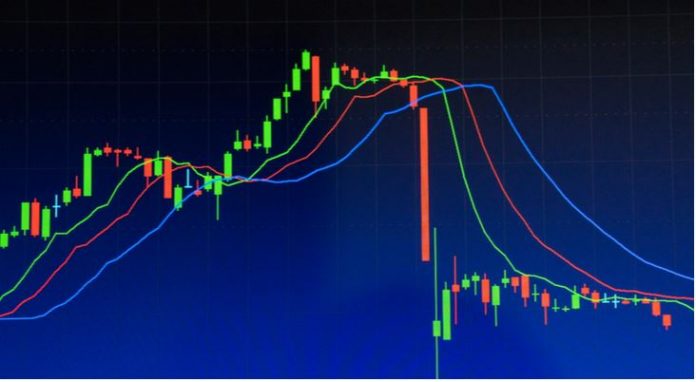 The Consumer Price Index (CPI) came out this morning (Thursday October 13,2022) and it was HOT, HOT, HOT.  In response, markets did exactly what you would have expected: they full-on collapsed – well, for about 90 minutes anyway.

The CPI print came in at 8.2%.  Consensus had expected 8.1%.   The higher number just meant more of the same – more Central Bank tightening for longer and more chance of recession.

The S&P tumbled all the way down to 3,500.  It even tapped out below 3,500 briefly in pre-market.  It looked like we were in for another rout.

Nope.

Instead, we got a half hour of EXTREME weakness and then strength and more strength.  The S&P is now UP 100 points on the day.

What the heck just happened?

Don't ever forget that the stock market is just a bunch of buyers and sellers.  It is not forecasting the shape of the economy on any given day.  When the buyers outweigh the sellers, the market can go up, regardless of the news.

I believe this rally was foretold in the positioning.

Goldman Sachs published data heading into the CPI number that showed just how much fear there was in the market.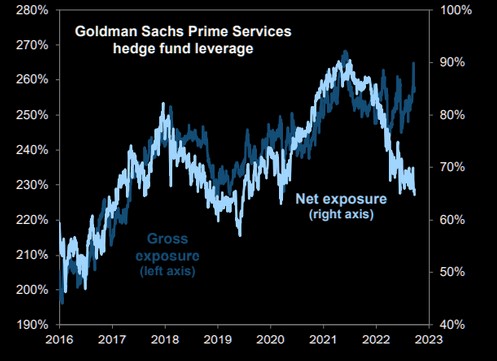 Source: Goldman Sachs

The chart is telling us two things: Gross leverage among hedge funds has been going up and net leverage has been going down.

What does this mean?  It means funds are getting more leveraged but also less long of stocks.

You can see that gross positioning is going up.  That is telling you leverage is going up.  

It is back to where it has peaked out a few times this year.  It is close to the February 2021 highs.

But net exposure is going down.  This is NOT AT ALL like February 2021.  At that time net positioning was high.  Meaning funds were very long.   Now it's the opposite.

Funds are leveraged up and short, or at least a lot more short then they have been in a very long time.

In other words, funds are bearish (not without good reason).  But they haven't been expressing that bearishness by selling out of their long positions.  They've been adding to their shorts.

Doing this makes it much more likely that if the market goes the wrong way they will need to respond.  

If a hedge fund is just bearish and is therefore decreasing their gross exposure (ie reducing their longs) they wouldn't panic when the market goes against them.  But if they are levered up with both long and shorts, they have to start selling to make sure things don't get out of hand.

That is what is happening today.  It's a short squeeze.

How long will it continue?  The million dollar question and if anyone says they know, don't believe them.  

What I will say is that this scenario has come up twice before this year.  Once in April, once in June.  Those two other peaks you see on the gross exposure line.

Both led to rallies that lasted 5-10 days. The June rally petered out but got a second wind in mid-July when markets began to take the pivot to heart.

This time around?  Well, the headwinds are bigger now.  

It is getting harder to ignore the bad economic data. It is getting harder to defy all the hawkish FedTalk.  It is hard to imagine a pivot.

But you can try to find positives and a rally will make everyone look hard for some reason to pin it on.

It may be in the minority, but some are seeing positives in today's inflation numbers.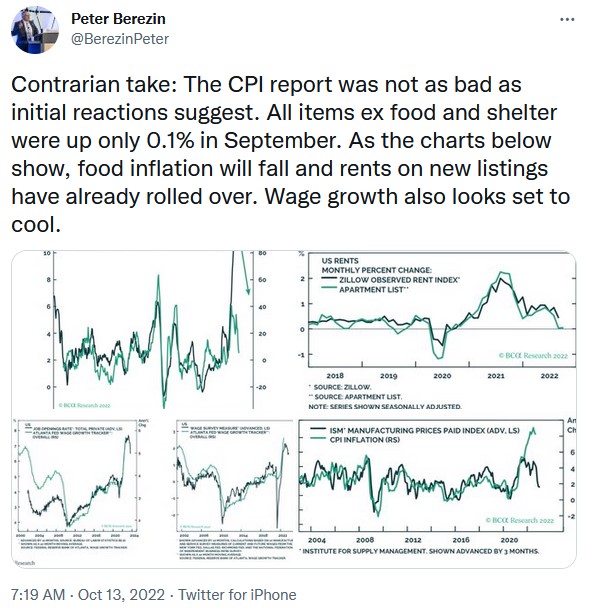 Source: Twitter

This is not without merit.  The reality is that inflation IS coming down. You can see it in nearly all the commodities, in inventory data, in the shipping indexes, and in leading indicators of rents.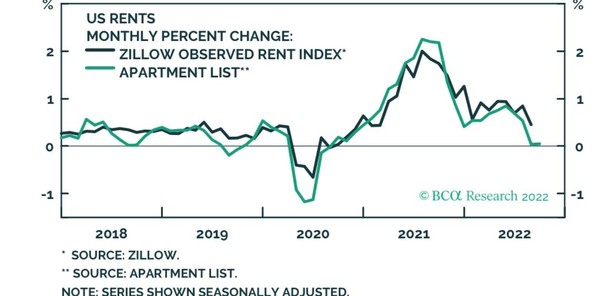 Source: Twitter

At 930am EST it was very easy to spin today's data into a big doomsday narrative that takes the market down 3%.   That is exactly what we had everyone talking about – until 10am.

But it not all that hard spin it the other way, at least for a few days.

I wrote a month ago that "when inflation starts to fall the market is going to start looking at what the world post-inflation looks like."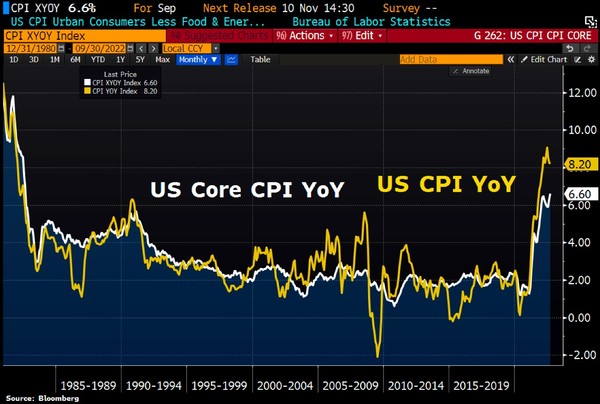 Source: Bloomberg

Inflation is not quite falling yet.  But its not rising all that much.  And there are bunch of forward-looking measures that usually precede dis-inflation and they ARE falling.

Does all this make me bullish?  Well, no, not exactly.  Because the reason inflation is topping out is because the economy is not doing very well at all.  Which is not good for stocks.

In the long run that is.  But for a few days?  Sure. 

With the kind of offside positioning that we have right now, inflation topping out is good enough for a short run-up.