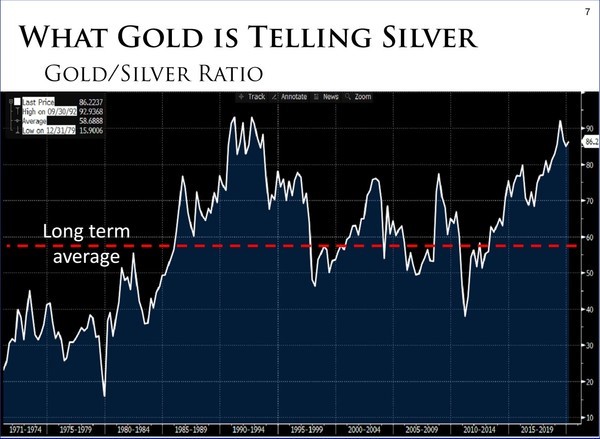 CEO Michael Konnert has positioned his Vizsla Resources to be the next high-grade silver producer in Mexico.
 
And he will do it quickly, in one bold stroke, buying a fully permitted mine and land package—called Panuco—in the same area of northwest Mexico that has spawned some of the most successful silver companies on the board.
 
With this new deal, Konnert gets to leapfrog years of drilling, proving up reserves and permitting and be in a much larger peer group.
 
Today, Vizsla has just a $28 million market cap.
 
I'm going to explain Konnert's skill and patience in getting this deal done—by merging the assets of two feuding landowners who could not move their very rich silver asset forward. Trust me, Panuco is a property every other silver mogul would love to have.
 
Vizsla's Panuco property has:
 
a)    the size—miles and miles of rich veins
b)   the high grade–some of it 4-digit (over 1000g/t, or 30 oz/t!!) silver,
c)    the exploration upside,
d)   the mill, power and tailings facility–that is worth some $40 million
 
 
to add incredible value to his $28 million market cap—in an instant.
Panuco is ready to go. It was an incredible find by Konnert. It just didn't have the development money that Konnert and Vizsla will now give it.
 
Mexico has five other silver mines that compare with Vizsla's Panuco project in terms of both size and grade. 

Note that those five comparable mines carry a market valuation in excess of $1 billion. Now, that does NOT suggest that Vizsla runs up to a billion dollar market cap quickly after buying Panuco.
 
But the longer term potential is obvious. See this slide from their powerpoint, which shows the density and size of their silver veins in the same ballpark as these much larger companies: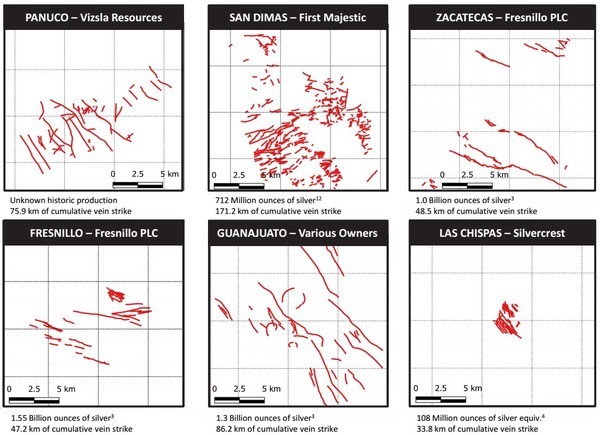 Like these other world class silver districts Panuco is huge, with more than 75 kilometers of total vein strike. Again, it compares directly with these five other world class silver mines in the region (see the chart above).
 
 
HOW VIZSLA SCOOPED THIS LARGE SILVER MINE
FROM NEARBY TITANS
Look, if this deal would have been easy, one of the silver majors would own Panuco right now.
 
But these rich veins bled into two ownership groups who, for whatever reason, couldn't seem to work together. Part of it was financing—neither Mexican family had the money to work their part of the veins, nor did they have the money to buy the other partner out.
 
Such a great asset–stalled for years!
 
The map below shows the problem. The orange shading represents one of the historic owners and the white shading the other —— you can see how most of the red silver veins cross the property boundaries. The completely fractured ownership of Panuco has made a real development program a non-starter.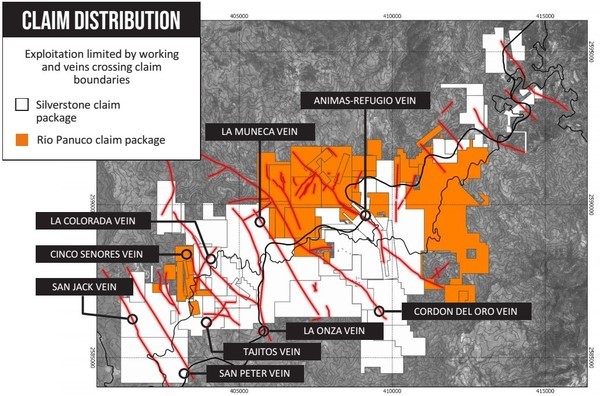 Panuco has some very high silver grades. Prior drilling on the La Colorado vein resulted in a top find of 1,634 g/t silver and 10.4 g/t gold over 2 metres. Further east the Clemens – El Muerto vein has seen 2,235 g/t silver and 9.5 g/t gold over 4.2 metres.
 
At that kind of high grade result will be all it takes in one or two shoots to build up a large resource.
 
"This is a mini-version equivalent of Barrick and Newmont in Nevada," Konnert says, "just in silver. Even though the synergies were obvious, pride or success or relationships or whatever prevented the union of these two properties for years and years."
 
Konnert spent a lot of time early in his career working at Pretium Resources, where the legendary Bob Quartermain was CEO. Konnert paid attention, learning patience and tactics from a very strong team.
 
Konnert and a prospector worked with the two Mexican families for almost two years—he was down there every two weeks. Then silver and gold prices started rising—silver went from $14-$18/oz during the final negotations. It was tough getting everyone to the table to sign off.
 
But Konnert did get it done. Now—for the first time ever—one well capitalized owner (Vizsla) has consolidated this entire huge, high-grade project and will see that it is developed using modern, best mining practices.
 
 
INVESTORS ARE NOW CHASING
SILVER AND GOLD STOCKS

 
Konnert's timing is excellent. The Market is now moving down-market to junior producers and developers in precious metals.
 
I like silver's fundamentals. Supply is down–primary mine source is declining the last few years–for the very first time! Scrap silver is declining. Government silver supplies are at all time lows.
 
And yet silver demand is near record highs. People think of silver being used in photography, which is obviously way down, but it's also used in solar panels, and that market gets brighter by the day.
 
The Gold/Silver ratio hit an all time high of 124 recently–the average is roughly 60 since the 1970s. That ratio tends to compress as a bull market precious metals ages–and I expect that to happen now.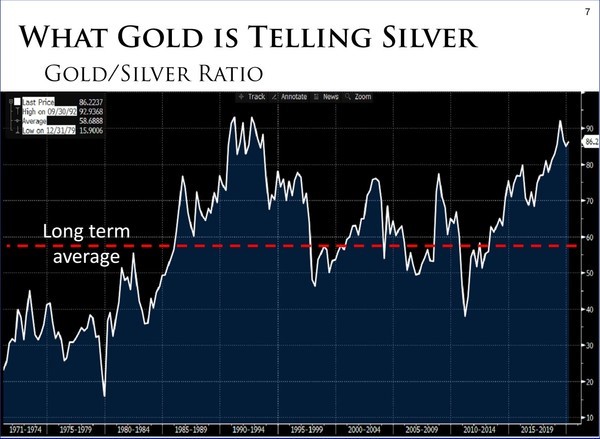 I think Vizsla will be Konnert's second big win. Previously, he co-founded and ran Cobalt One Energy Corp—a private company where he used only $100,000 of capital to consolidate an entire cobalt district and eventually sell to Blackstone Minerals Ltd. (ASX-BSX) in 2017 for $10 million–a huge win!
 
His partner on Cobalt One was Craig Parry—Chairman of Vizsla. You will know Parry as co-founder of NexGen Energy which he built into a $1 billion company. Lots of shareholder success here.
 

CONCLUSION—VIZSLA CAN RAPIDLY
BECOME A HIGH GRADE SILVER PRODUCER
 

These are the types of silver stocks I want to own as this silver and gold bull market matures.
 
Vizsla is a $28 million market cap company that can quickly transform into a high grade silver producer.
 
Vizsla's Panuco asset has miles of underground workings, a mill, tailings facility, power, a highway runs through it—and high grade silver that could generate strong cash flow at today's prices.
 
I've made this sound easy. Trust me, it's not. Konnert and his team have a lot of work in front of them. But money is the easiest part of a bull market. 
 
As soon as Konnert gets the $42 million he needs to purchase Panuco, and it will almost instantly transform Vizsla into a producer.

Look, getting the best assets as prices are moving up—that's the real skill. CEO Michael Konnert has pulled off an amazing coup here—giving his shareholders the ability to quickly take advantage of rising silver prices. 
 
IF IF IF he executes properly, there is incredible leverage here for investors. So far he's shown he's very good. He has a strong team and has negotiated a world class asset for little money. That's why Vizsla is my play for silver prices.
 
I'm long Vizsla Resources–VZLA-TSXV/VIZSF-OTCQB FRANKFURT 0G3


Vizsla Resources has reviewed and sponsored this article. The information in this newsletter does not constitute an offer to sell or a solicitation of an offer to buy any securities of a corporation or entity, including U.S. Traded Securities or U.S. Quoted Securities, in the United States or to U.S. Persons.  Securities may not be offered or sold in the United States except in compliance with the registration requirements of the Securities Act and applicable U.S. state securities laws or pursuant to an exemption therefrom.  Any public offering of securities in the United States may only be made by means of a prospectus containing detailed information about the corporation or entity and its management as well as financial statements.  No securities regulatory authority in the United States has either approved or disapproved of the contents of any newsletter.
Keith Schaefer is not registered with the United States Securities and Exchange Commission (the "SEC"): as a "broker-dealer" under the Exchange Act, as an "investment adviser" under the Investment Advisers Act of 1940, or in any other capacity.  He is also not registered with any state securities commission or authority as a broker-dealer or investment advisor or in any other capacity.