In US oil, high production growth = high valuation.  And the Permian formation in SW Texas has been growing faster than any other basin—which is why Permian stocks were investors' favourite for the last two years.
In the Permian mania, stocks would trade at huge cash flow multiples—making a lot of investors very rich.
Yes, picking a fast-growing stock in the most profitable American shale play should make you a lot of money, when every barrel gets valued at 9x the cash flow it generates.  Nine times cash flow gives you a lot of leverage.
That multiple has come down a bit recently, but 7-9 times cash flow is still normal…see this valuation chart below: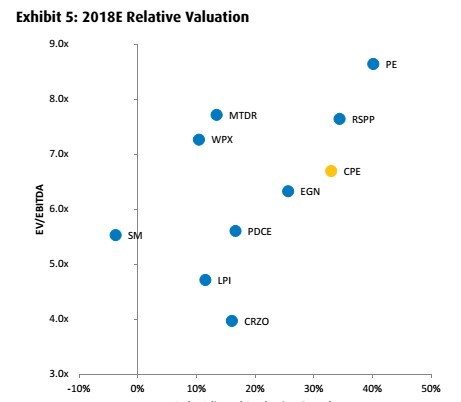 Now–what if you could instead invest in a fast-growing oil producer that operates in the most profitable American shale play yet pay a bargain basement valuation?
Would you?  Of course you would!
Who wouldn't?
The problem is that such companies don't exist.  These fast growing Permian companies are priced to reflect that growth.
Whoa…hold on a minute.
Who said anything about investing in a fast growing, low valuation producer operating in the Permian?  All I said was that it operates in the most profitable American shale play……
Turn Around – You Won't Believe
What You See Behind You
The entire oil and gas investment community is facing south looking at the Permian.
But…I think the Bakken has now overtaken the Permian as the most profitable shale oil play.  When you look where no one else is looking, you find great deals.
Hey, I get it…the last time anyone paid attention to the Bakken, it was before the oil crash when the play required $70 oil to break-even.
But Bakken economics have skyrocketed with the latest fracking improvements.  A little improvement has gone a long, long way to increasing profits
The chart below from Continental Resources (CLR:NYSE) details Bakken well rates of return by year of drilling.  I've shown it to you before, you really need to look at it again.
Bakken wells now make more money at $50 WTI than they used to at $80 WTI. At current oil prices these wells are generating triple digit rates of return.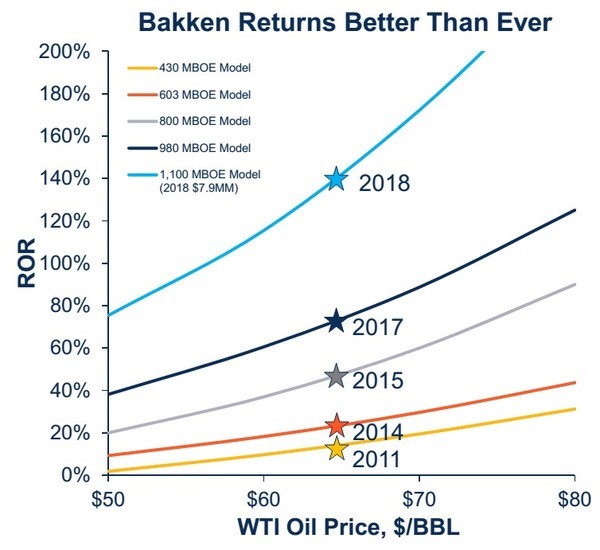 The money that can be earned drilling these wells is now even better than the core of the Permian.
That means these Bakken stocks will get MUCH better valuations—Permian-style valuations—very soon.
I've found a company that is
1. In the heart of the Bakken
2. Will almost double production in 2018
3. Almost double again in 2019
4. Is trading for a hair over 2x YE 2019 cash flow
Let me frame that for you.  This company is growing at more than twice the rate of the fastest growing Permian producer but trading at less than one quarter of the valuation.
The investment herd loves the Permian.  It does not love the Bakken. As an investor you know that the way to really make money is by not following the herd.  You make money by thinking for yourself.
While the rest of the market remains glued to the Permian you currently have a chance to own a Bakken producer that is growing at triple digit rates and trading at an absurdly low valuation.
I'm serving this company trading at just over 2x YE 19 cash flow.
What does that mean to me?  It means there is strong potential for a 400% gain on this stock in just 18 months.  I just put $200,000 of my own money into it. (And that's nothing…the Chairman of this Bakken producer put in $35 million of his money!)
I've saved a copy of my full report on this incredibly undervalued company.  To escape the investment herd and make some real money just click here to see it….
Keith Schaefer