I want to tell you about one of the most under-followed subsector in energy: US royalty trusts.
This is a very timely introduction and update, because many of them will be announcing their next distribution either Friday July 6, or early in the week of Monday July 9.  I think this could be A Huge Catalyst for these stocks.
These micro-cap companies have small production bases, and hardly trade–so institutions and analysts don't follow them.  I REPEAT–these thinly-traded stocks, or illiquid stocks, are very risky.  They only issue four press releases a year–their quarterly financials. Small orders of buying and selling can mean big price movements. And when oil prices are dropping, stocks like these have almost no bids.
They are yield vehicles, but the way the oil price is shaping up now–high and going higher–they could provide some fantastic capital gains.
The Good News is…no, The Great News is…our subscribers have Nathan Weiss, editor of the institutional investment letter Unit Economics, as our guru on this topic.  He models them like an analyst, and gets very granular on what payout/distributions are possible at various oil prices.
Nathan often presents at our OGIB Subscriber Conferences, and he was in Calgary with us on May 30.  I am the only retail newsletter that is a client of Unit Economics. He focused a lot of his talk on royalty trusts.
Generally, these stocks trade at a 10% trailing yield.  Example–if the last four quarterly distributions add up to $1, a trust would trade at $10/share.
Many of these stocks are now trading at 17% yields…and if WTI goes to $100/barrel (unthinkable a few short months ago but now has an outside chance of happening) then these stocks are trading at a 30% yield, according to the distribution matrix Nathan's firm has put together.
I'm not going to tell you anymore…you have to watch Nathan's video, which is posted below.  I am long these stocks, but I want you to watch this more to understand the level of research my service provides.
We search out oft-forgotten parts of the energy market ahead of the crowd, and Nathan's guidance in that has been very, very helpful.   Watch the video (click on Nathan's picture, or the link below) for a full introduction to US royalty trusts, and put Friday July 6 on your calendar.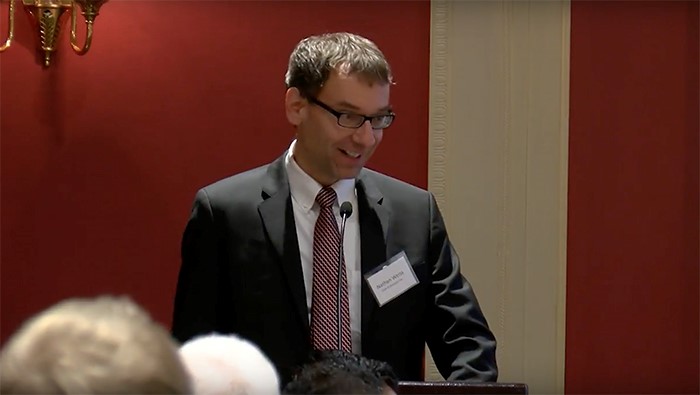 OGIB Calgary Conference Keynote Presentation: Nathan Weiss
Editors Note: My best two performing stocks this year have been Parex (PXT-TSX: PARXF-PINK) and GeoPark (GPRK-NYSE)–-both have doubled in the last seven months.  They are rapidly increasing production in Colombia.  Colombia just elected a new business-friendly President.  I'll be releasing my next Colombian oil play to subscribers very shortly…to get a RISK-FREE copy of my report the day I publish it, click HERE.
Keith Schaefer