It has only been two weeks since the OPEC/non-OPEC meeting and the deal they reached is already outdated.  If you blinked you would have missed it.
What has happened is very bullish for oil prices.
In case you did miss it…..the agreement that OPEC/non-OPEC came to on June 23rd was to raise production and return to 100 percent compliance with previously agreed output cuts.
The cartel and friends had actually managed to produce less than what was agreed late in 2016.
What the band of merry misfits announced this June 23rd was simply the intention to bring production up to the level that they had originally planned to reduce it to.  That makes sense right!
Coming out of the meeting Saudi Energy Minister Khalid al-Falih said OPEC and non-OPEC combined would need to increase production by 1 million barrels per day to bring it back to that originally agreed upon level.
But then a few unexpected things happened……..they always do.
Didn't See That Coming #1 – Libya Production Down Big
If you aren't following Dan Tsubouchi's Stream Asset Energy Blog you should be.  In a recent post Dan has laid exactly what has transpired in since the June 23rd OPEC/non-OPEC meeting.
The news isn't good for global oil supplies.
The biggest impact is from Libya and that news broke on June 29.  Libya's National Oil Company revealed that "force majeure" would have to be declared on the oil export ports of Zuetina and Hariga.
The problem with the ports is that the Libyan National Army (LNA) General Command is blocking entry into the facilities.  The impact of this is HUGE—even on a global scale—up to 800,000 barrels per day of global oil exports have been shut down.
Libya was producing 1 million barrels per day and Bloomberg reported that in early July, exports from open Libyan ports will only average 225,000 barrels per day in July—confirming the large production loss.
Didn't See That Coming #2 – Syncrude's Lights Get Turned Out
On June 22, news hit that there was a power outage at the massive Syncrude oil sands project.  That doesn't sound like a big deal…..power outages get resolved quickly.
Somebody probably just needs flip a breaker back on.
Apparently this power outage is a little more complicated.  The word from Syncrude itself is that management doesn't expect production to return until the start of August.
Murmurs from boots on the ground are saying that early August isn't going to happen —- and that the end of August is much more realistic.
Syncrude has the capacity to produce 360,000 barrels of oil per day, roughly 10 per cent of all Canadian oil production.  This is a lot of oil production suddenly missing.
Didn't See That Coming #3 – U.S. Production Growth Underwhelms
In his recent Stream Asset blog Tsubouchi also zeroes in on recent EIA production data which didn't measure up to expectations.
Tsubouchi notes that official EIA data showed that the actual level of U.S. production for the month of April came in considerably lower than the original estimates for the month.
The April EIA Form 914 which is considered the "actual" for US oil production data revealed production at 10.467 million barrels per day — 110,000 barrels per day less than the initial weekly estimates that the market had been working with.
The concern here isn't so much with the one month of actuals being lower than estimates but that the May and June estimate numbers are likely off as well (they use April production estimates as a base).
An even bigger concern for me is that the April actual production of 10.467 million barrels per day was flat from March's 10.469 million barrels per day — and nobody was expecting that.
Then there are the emerging pipeline constraints that are expected to bog down Permian growth for the next two years.
Remember Why OPEC/Non-Opec Raised Production On June 23rd
Let's do a quick tally……
Libya – down 800,000 barrels
Syncrude – down 350,000 barrels
U.S. Production – down 110,000 barrels
Add those three together and that is almost 1.3 million barrels per day of global oil production gone since June 23rd.
This is more than the 1 million barrels per day that Saudi Energy Minister Khalid al-Falih said the OPEC/Non-OPEC boys would be adding in the coming months.
That is a pretty important series of events.  Over the past two weeks the world has actually lost production despite the OPEC news.
And finally let us not forget that oil prices having been rising for good reason.  Global inventories have been falling rapidly for months — even with full Iranian production.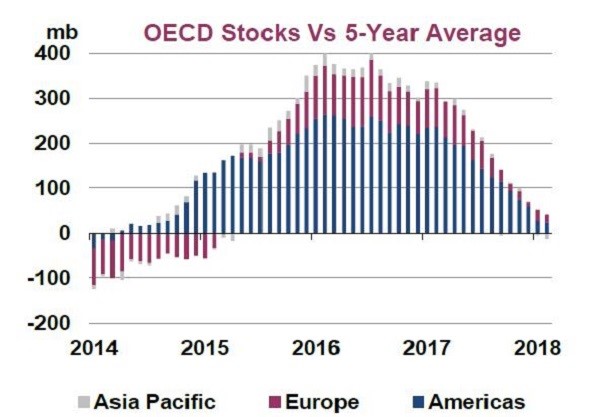 Source: OGJ.com
The message here is pretty clear……..the risk to oil prices isn't to the downside.  It is to the UPSIDE…….
And there is one jewel in my portfolio I have been buying to take advantage of all this bullish news.  It's a US oil producer with incredible economics…so good I had to get management on the phone to confirm to me what I was reading in analyst reports.
I've explained the upside for you in simple English. Click HERE to get these bullish oil numbers working for you TODAY.
Keith Schaefer