Something happened while everyone in the oil business was getting all hot and bothered about the Permian Basin.
Bakken operators made a game-changing breakthrough in their completion methodology.
The chart below from Continental Resources (CLR-NYSE) tells you everything that you need to know.
The blue line represents rates of return at various oil prices using 2018 completion methods.
They are spectacular…………..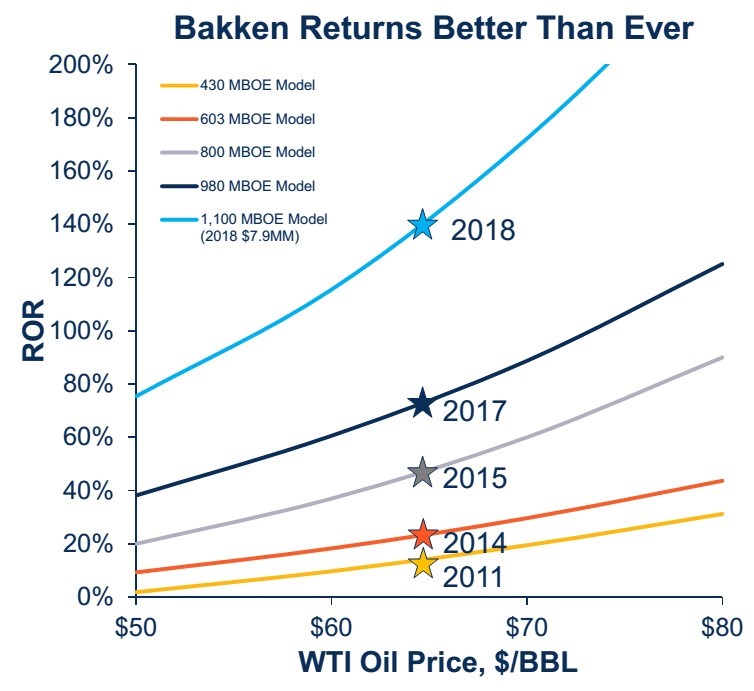 Please appreciate that this is not a minor breakthrough.  These completion improvements are nothing short of game-changing for Bakken operators.
Consider the rate of return on Bakken wells at $65 per barrel oil by year of completion methodology vintage:
2011 – 10 percent rate of return
2014 – 20 percent rate of return
2015 – 40 percent rate of return
2017 – 70 percent rate of return
2018 – 140 percent rate of return!!!
Bakken operators can now make good rates of return with oil prices as low as $50 per barrel. At current oil prices these Bakken wells gush cash flow and payback the capital invested in months……which is the key to success.
The value of Bakken land has increased exponentially as a result of this completion breakthrough.
These Bakken drilling locations are now every bit as valuable as drilling locations in the core of the Midland or Delaware Basins.
Except they are better aren't they?
Because while Permian operators have overwhelmed takeaway capacity and are facing discounted Midland oil pricing, Bakken producers have no such problems.
Yet companies in the Bakken are valued at a significant discount to their Permian competitors.
Which makes the Bakken the place that investors should be looking to in 2018.
The Cheapest, Fastest Growing Oil Producer I've Ever Seen
I haven't just told my subscribers that I'm bullish on the Bakken in 2018.
I've told them that I've never been more bullish on one particular company…..a very small Bakken pure-play operator.
In fact I've never seen such an incredibly obvious bargain.
The only reason that such a bargain exists is because hardly anyone has even heard of this off-the-radar operator.
The story here is so simple that you don't need to know anything about this company beyond three basic facts.
Basic Fact #1 – This Bakken pure-play will jump production from 2,000 barrels per day to near 20,000 barrels per day in just two years.  Yes that means production is going up almost tenfold.
Basic Fact #2 – All of this growth will be financed by internally generated cash flows—no new equity or debt.  Can you ever recall a company that could grow this fast without leveraging up?
Basic Fact #3 – This company trades at a measly 2 TIMES Year-End 2019 CASH FLOW…….
Nothing more needs to be said.
All of those facts can be verified in my comprehensive subscriber report on this company.  Those facts speak for themselves.
This is the cheapest, fastest growing oil producer that I have ever seen.
Over the next couple of years I expect it to be one of the best investments that I have ever made as well.
Click here to read our free report.