The Shale Revolution is strictly a North American game.  Before the Great Commodity Collapse of 2014, it really never found its footing anywhere else in the world.
Of all the plays I looked and of the few I covered, only one showed any real promise—the Vaca Muerta oil play in western Argentina.
I'm now making that TWO plays—after researching the Beetaloo Basin in north-central Australia.
Northern Australia has just gone through the most focused Liquid Natural Gas (LNG) development the world has ever experienced, and is set to become the world's largest exporter of LNG in the next two years—from basically zero.
As an example, France's Total and Japan's INPEX are investing $34 Billion in LNG in Darwin for two LNG facilities.  The feedstock for those facilities is 890 km offshore.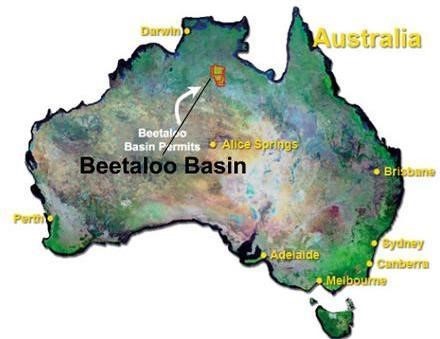 So I found it really interesting that INPEX just picked up 2.4 million acres in the Beetaloo.  They must commit to a work program, and INPEX hasn't said what it is yet.  But the point is there is now some well-funded, large international companies about to spend millions in some promising virgin geology.
All the infrastructure to process trillions of feet of cubic gas is already built; and a gas pipeline already goes through the Beetaloo up to Darwin.  That is key.  Oil infrastructure however would definitely cost more.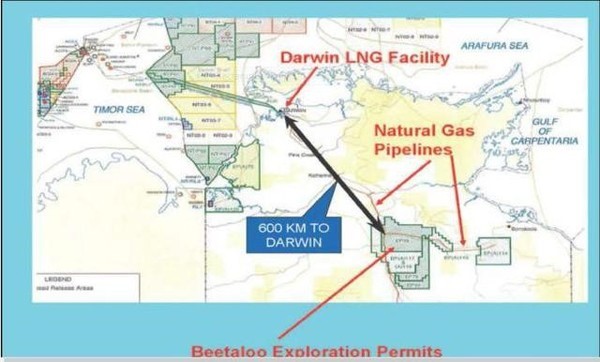 Natural gas prices in Asia—like the JKM benchmark—have come down a lot, but the Aussie LNG industry says their LNG is economic at $40 oil.  LNG is generally priced about 13-15% of Brent oil.
And I absolutely love that I get to watch this play unfold during the commodity collapse—because it means I get to watch for free.  There is no speculative premium in any play or stock, and the fundamentals here are very intriguing.
The Beetaloo reminds me a lot of the Permian Basin in west Texas—the granddaddy of oil plays in North America.
Any new horizontal play in today's world must have stackedpay formations.  What stacked pay means is that there are multiple productive oil and gas formations on the same piece of land.  One well bore can pass through several formations.
It is common sense really.  Once you spend the money to build the roads, lay the pipelines and establish the drilling site to develop one productive zone, you can re-use all of that again to develop the other zones.
That means cost per barrel of production goes way down, and profits go way up.
It is that stacked formations that exist in the Permian Basin in Texas that  made it the hottest oil and gas area in the United States.  During the height of the boom last year, there were more rigs drilling in the Permian than anywhere else on the planet.
Like the Permian, the Beetaloo has several different formations with potential.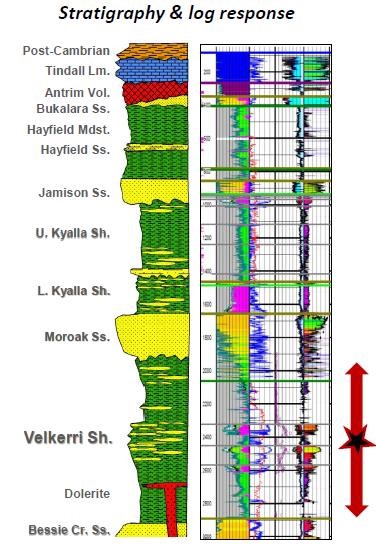 Having stacked pay doesn't mean every formation will flow hydrocarbons, but it does offer the potential that oil and gas producers are interested in.
Given the multiple formations, the amount of oil and gas in the ground in the Beetaloo is big–Really Big.  With today's energy pricing, you need Really Big to create economies of scale to make money.
According to the work done by reservoir engineers at RPS in 2013, the best case hydrocarbon resource in the Beetaloo Basin is 21.3 billion barrels of oil and 162 trillion cubic feet of natural gas.
The Beetaloo has pay zones for both shallower oil and deeper gas:
Shale oil –  Upper Kyalla, Lower Kyalla and Middle Velkerri
Shale gas – Lower Kyalla and Middle Velkerri
Tight gas – Moroak and Bessie Creek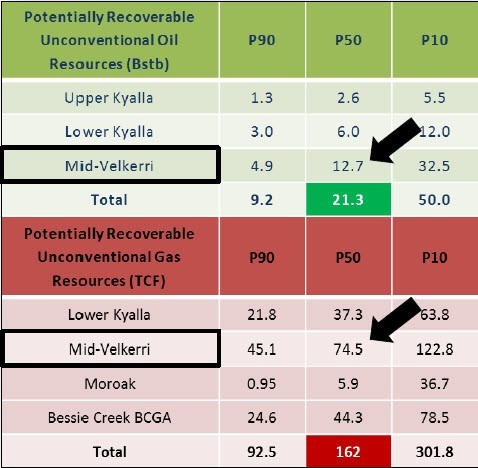 The Beetaloo has been drilled vertically before—in the 1980s by Rio Tinto—and RPS used that core data (12 wells) to come up with that estimate.
Of course, there are still some Big Challenges operating in Northern Australia.  This is a remote frontier.
One such challenge will be the weather.  In this region you have 6 dry months where conditions are excellent (May to October) and 6 wet months where you aren't going to be able to get anything done (November to April).  When the calendar hits October it will be crucial to get equipment out of the region or risk paying for it to sit idle for the rainy months.
Another challenge is a lack of infrastructure.  There is a pipeline there, but supporting a drilling and fracking operation 600 km away from any mechanical centre is difficult.  In Alberta or Texas, a missing or broken part is usually replaced the same or next day.
Rig repairs could realistically be a couple weeks in Northern Australia.
Developing the horizontal/unconventional part of the play is more expensive but less risky–because it doesn't carry the exploration risk that a conventional drilling target does.   When you drill a conventional target (I'm talking about the oil pools everybody searched for only 10-15 years ago ;-)), there is always a chance that the hydrocarbons have migrated out of the structure.
With an unconventional play companies know that the resource is there, the only question is whether they can get it out profitably.
Down the road, companies operating in the Beetaloo might get a second life by going after the conventional opportunities.
This play has the ingredients that could turn it into a major international horizontal play.
It's a huge play, and not a place you would expect to find a small company highly levered to succeed there.  But there is one, and they have arranged all the pieces of the puzzle so that their Big Partners are paying ALL the freight.  I like that.  Drilling starts next month; I like that even more.  I'll get into that in Part Two of my look at the Beetaloo Basin.
-Keith