There are a lot of options for your hard earned capital and no shortage of folks wanting to tell you how to use it.
Recent trends have been very profitable in different sectors. On the other hand, energy has displayed a horrendous previous 52 weeks.
So here are 5 reasons not to invest in energy.
Biotech is hot right now, having risen 30% in the past 6 months. The trend is your friend, right?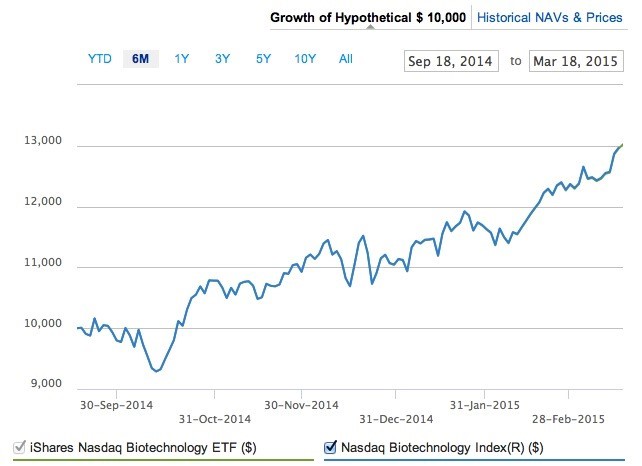 The S&P 500 has been hot since the autumn of 2011 producing gains of +82%. In the past 12 months it has risen 13%.
Are we edging on fear or greed almost 6 years to the day of this bull market?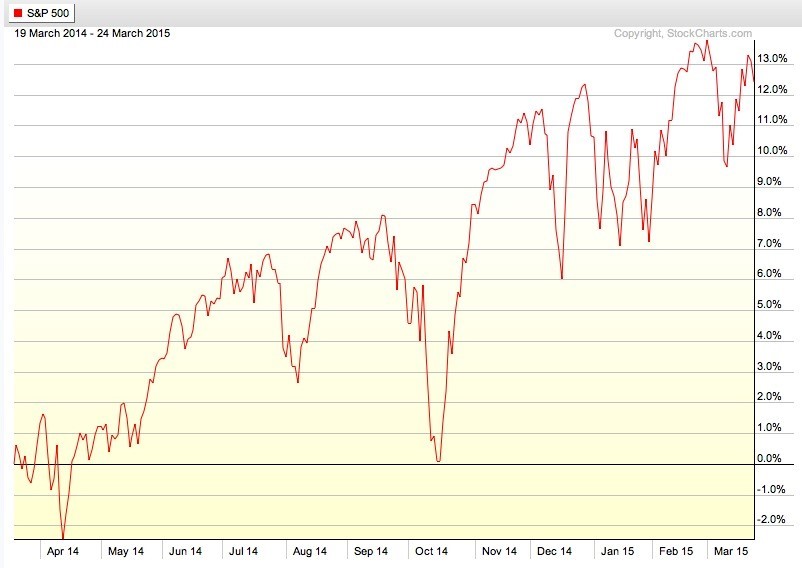 US Housing is on the rise, mortgage rates are still near all time lows.
Were you able to get in at rock bottom 30-year fixed interest rates and the most depressed real estate market in the last generation?
The trend could still be your friend.
Markets in Las Vegas, Phoenix and Miami are recovering from their extreme lows. Did you act when values plummeted after the mania?
The Chinese Shanghai stock index is breaking to the upside and is up over 32% in the past 52 weeks.
Take a look at the ETF representing fifty large-cap Chinese companies, FXI: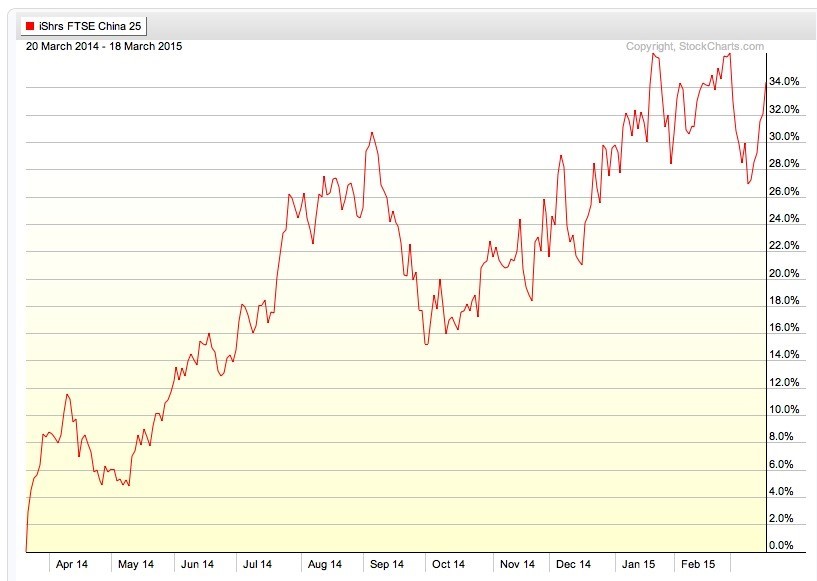 Technology is booming all around us and is more popular in the media than in 1999.
Facebook, Twitter, Tesla, Uber, AirBnB, Meerkat.
All of these hot companies have espresso machines in their lunchrooms that cost more than what I pay for annual office rent. They are all the talk of venture capitalists and retail traders from coast to coast.
You can't go five minutes on social media or online without hearing about the next big find from TEDtalks, Fast Company or SXSW.
By the way, the broad based exchange traded fund – XLK – is up 19% over the past 52 weeks.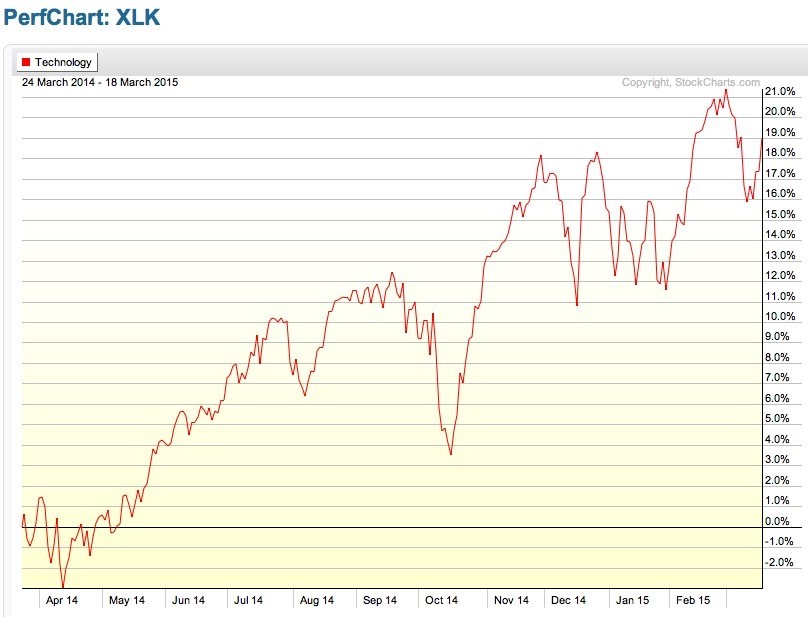 But there is one difficult way to make simpler money. Remember this key point and staple it to your wall because what's simple is not always easy.
You buy fear and you sell greed.
That's it.
Where do the charts show and where can we find greed?
Simple. And I think you would agree with this example…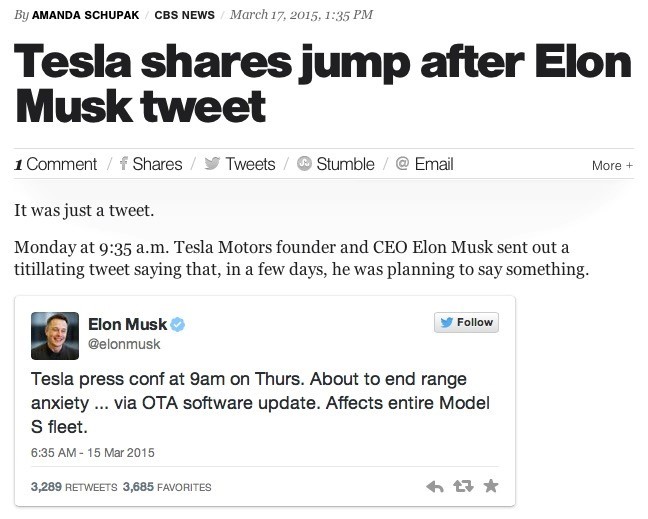 A tweet by new age wunderkind Elon Musk can make him an instant $10 Million on paper.
He is quite a visionary, intellect and entrepreneur – but he is a human. How can someone make shares or a multi-billion dollar company jump with a tweet that doesn't reveal anything but maniacal anticipation?
When greed comes to town, you can spot the mania in retweet and favourite numbers.
So how do we know when fear comes to town?
That too is simple. But it's not easy to deploy your capital.
Simple and easy are two very different things. Especially in the opportune times to position your capital that fearful markets provide.
Take a look at headlines like this…
"Energy stocks punish TSX amid worries oil prices are in for further losses"
– Financial Post, March 13, 2015.
Or take some time to spot charts like this…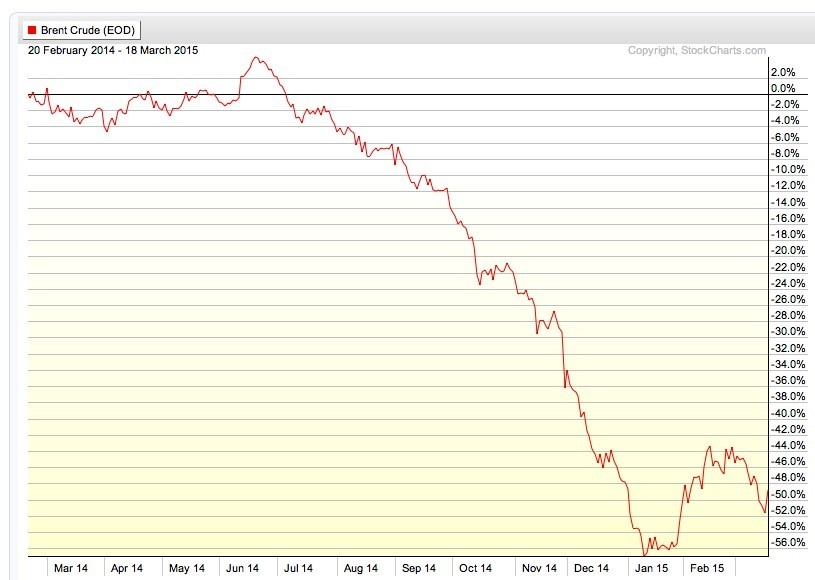 It doesn't take a doctorate degree to figure out which side of greed and fear the pendulum is on.
Take a look at how the various sectors are doing on the S&P 500. There is only one major outlier swinging its lines well into the fear spectrum.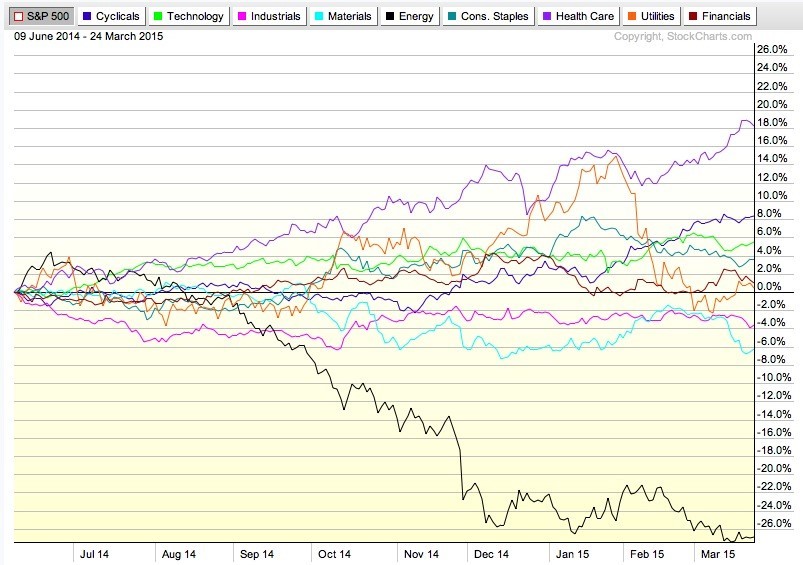 At the risk of over-repetition, there are a lot of potential suitors and sectors looking for your capital.
Many times, it's for the service a business is trying to sell you. If that's what you're looking for, that's not the way that I operate.
I operate on the philosophy that my portfolio is open for all to see.
Instead of making recommendations, I show you exactly what I am doing with my own money. And you have 24/7 access to my whole vault of trades.
I've shown you just 5 other sectors and investment opportunities that have delivered great returns. Indeed, there are many more loved investments out there.
Call it a combination of luck, preparation, tact and strategy, but last year was my best year of investing to date.
While oil was down over 40% in 2014, I made six-figures investing through my rigid methodology. You can find out exactly the moves and profits I made by accessing the archives as a member.
To see how to start taking small, calculated bites into energy positions that offer profitable odds…
With a risk-free trial that provides complete access to my alerts and bulletins, your only real risk is not trying it to see if it works for you.
Sincerely,
Keith