Elephant hunting for huge international oil plays usually means going into (very) politically risky areas. That's what makes junior Petromanas (PMI-TSXv) stand out from the crowd.
They're chasing a potential 500-800 million barrel target in Europe—Albania to be exact. Lots of energy investors are familiar with Bankers Petroleum and their heavy oil play there—it's the largest onshore oilfield in all of Europe.
But few people know about Petromanas. I expect that to change in a hurry in Q3 2014 if their next well hits. They already have one success under their belt.
But even better, they're getting carried for $100 million on exploration and seismic costs on two high-impact Albanian blocks by oil industry super major Royal Dutch Shell (NYSE:RDS.A).  Plus, Shell paid them cash for their sunk costs. 
It's rare to see a super major aggressively seek out a partnership with a company the size of Petromanas. Shell's interest is ahuge validation of the true potential of the assets that Petromanas owns.
However, Shell knew the geology very well—they're already a partner in two large producing properties that are analogous to the Petromanas property in Albania, just across the Adriatic Sea from Albania in Italy.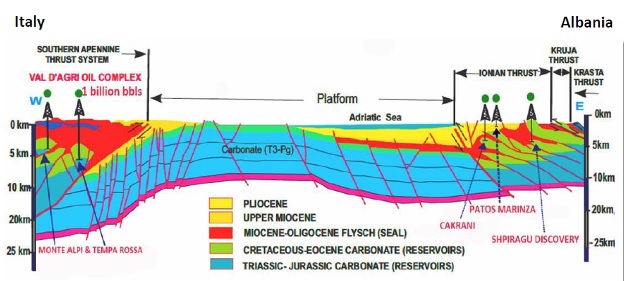 Not only does Shell bring to the party big financial and geological resources, but also in this case specific field experience in this particular type of play. (It's a sub-thrust play which is very similar to what you see in the Canadian foothills in western Alberta).
I was intrigued by Shell's interest in this play so I called up Petromanas CEO Glenn McNamara to get some background.
He said Shell had started expressing interest in the property even before Petromanas had formerly opened up a data room in 2011 to seek out a joint venture partner. Once the data room was officially opened Shell bid on the property.
McNamara said that Shell's joint venture bid was clearly one that Shell knew Petromanas would find attractive. Shell didn't do any beating around the bush. It wanted these assets.
In February 2012 Petromanas had Shell in as a partner for 50%, and by June of the next year (after the first well) Shell had upped its interest to 75%. Again, they knew the geology.
Those two Italian properties are big, 500 million and 300 million barrel fields respectively.
The first field started production 14 years ago and it is still producing over 80,000 barrels per day. The second field will commence production in 2016 and is expected to hit 50,000 bbls/day quickly.
Individual wells on those fields can be prolific with rates ranging from 1,000 bbls/day up to 7-10,000 bbls/day.
Shell needs multi-hundred million barrel discoveries to move the needle. Clearly Shell thinks it has a good chance of finding something like that in Albania.
A positive needle move is something Shell shareholders would welcome. Despite spending $46 billion on exploration and development in 2013 Shell's production actually declined by 5% to 3.25 million barrels a day year on year.  2013 earnings were also down from 2012.
Albanian Blocks 2-3 – Activity to Date
Shell and Petromanas have already drilled a well (Shpirag-2) on these blocks.
The result of the drilling was a light oil discovery. The well was tested in the fourth quarter of 2013 and flowed at rates of 1,500 to 2,200 boe/day (60% oil).
Drilling problems at Shpirag-2 meant they had to tap the reservoir with smaller diameter hole at the bottom—so the rates of the flow test make it difficult to predict how much oil the well can produce.
But the discovery at Shpirag-2 did confirmed there is definitely oil in the tank.
The question now becomes "how much oil"?
To help determine that, Petromanas and Shell will be drilling another well (Molisht-1) 18 kilometers to the south.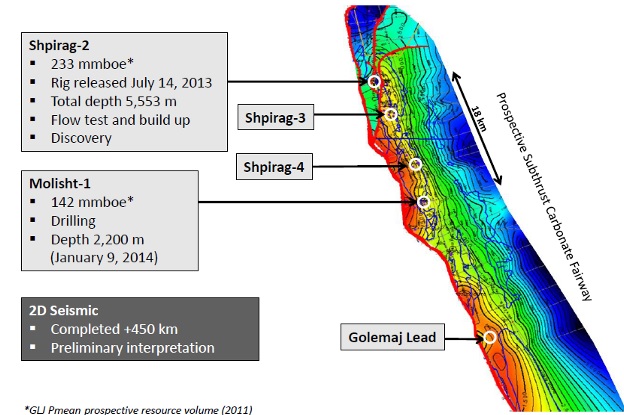 When I spoke with CEO McNamara he was clearly trying to keep a lid on his enthusiasm, but he did say that the Molisht-1 well target could actually prove to be the same structure as the Shpirag-2 well.
That would mean this discovery is actually an oil field that is at least 18 kilometers long.
If that is the case, it could easily mean that this field is 500 million to 800 million barrels in size.
That is the potential. The challenge with this play is that the wells are very complicated and very expensive.
Which is another reason why having Shell as a partner is a big plus for Petromanas. Shell has been drilling exactly these types of wells for 15 years across the Adriatic in Italy.
Experience counts, but even after 15 years, these wells aren't easy for even Shell to drill.
The complication lies in the fact that the companies are drilling through a "flysch shale" rock enroute to the carbonate reservoir. It is flaky stuff that is not very stable.
On the Shpirag-2 well the rock caved in on the drill string three times.
Petromanas CEO McNamara described the flysch shale rock as being "coal like" with a tendency to "sluff" in on the well bore.
Every well sounds like a challenge.
On the Shpirag-2 well those challenges compromised the actual flow rates. That well ended up being only 4.5 inches in diameter instead of the 6 inches that the companies had hoped to use.
As I said, we know there is oil in this tank. We just need another well or two to understand how much oil is there and how profitable it will be to produce.
Shell's interest in this Albanian property is what put Petromanas on my short list.
Some back of the envelope math is what keeps the company close to the top of that list
The size of the prize here is huge. We are talking about 500 to 800 million barrels.
And these aren't resource-play barrels that require hundreds of wells that decline very quickly. This is a conventional play–prolific wells with lower decline curves.
Little Petromanas could have a 25% interest of a 500 to 800 million barrel field. That would be 125 to 200 million barrels net to them.  Based on the analogous fields across the Adriatic in Italy, barrels in this type of field have NPVs (net present values) of $10 to $12 per barrel.
Now the simple math:
120 million barrels worth $10 each adds up to………………… $1.2 billion.
Petromanas has a market capitalization of $90 million and an enterprise value of $60 million (market cap less cash on hand).
Now, Petromanas has had to issue a lot of stock for that money—there is now 694 million shares out basic and 890 million fully diluted. That's 100 million warrants at 45 cents due February 2015, 50 million performance shares depending on how much oil is discovered, and 46 million options at an average 27 cents.
So at some point, management will almost certainly do a reverse split. But with a good well, that will mean the stock trades higher, not lower.
And if this Albania play is the real deal Petromanas isn't going to be a double or triple. Petromanas has the potential to be a multi-multi-multi-bagger. 1.2 billion divided by 60 million = 20x.
That's the potential. It's exciting and why I'm interested, but it is very important to note that this Albanian play has not been "de-risked". Petromanas CEO McNamara was careful to stress that several times when I spoke to him.
We know there is oil, the Shpirag-2 discovery confirmed that. And we know the tank appears to be very large.
What is needed next are a couple of additional wells to provide further detail on the find and a better indication of commerciality.
There are two big events for Petromanas in 2014.

The first will be the results of a new 51-101 resource assessment that Petromanas will get from a third party.  TSX listed stocks must get independent resource appraisers.  Since the last resource assessment was done Petromanas has obtained twice as much seismic data on the play and drilled a well.
Petromanas believes one interpretation indicates that the structures could be a lot bigger than they appeared the first time around.  Now we need to wait and see if the resource appraiser confirms this, and just how big they think it is.
I think there is a very good chance that the third party reserve engineers come back with a big increase to their original resource assessment.
I would expect those resource assessment numbers to show up in the second quarter.
The second big event is the Molisht-1 well.  Results from that well are expected in the third quarter of this year.   It is possible this well will confirm that it has been drilled into the same structure as Shpirag-2 which is 18 kilometres away.
That would be a day that Petromanas shareholders would welcome.
PS—It's interesting that the Point and Figure chart for PMI is now calling for a $2.19 share price—this is fromwww.stockcharts.com