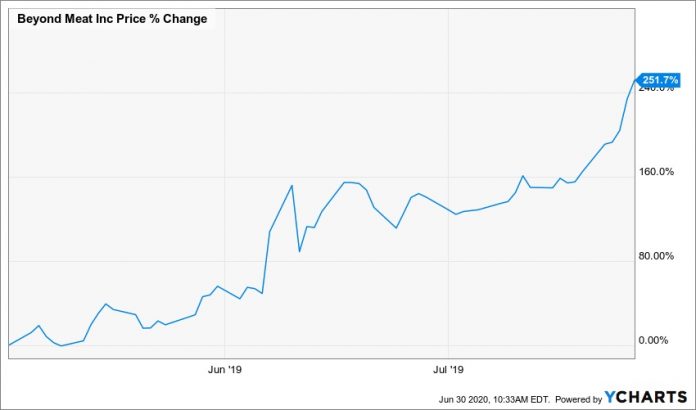 TAAT WELLNESS (TAAT-CSE) IS MY PICK FOR
THE "BEYOND TOBACCO" TRADE
 
If you think BEYOND MEAT was A Big Trade, just wait until you see how much the market wants the BEYOND TOBACCO story to work.

And BYND-NASD was A Big Trade–as a replacement for environmentally demanding cattle, the stock rocketed up 251% in first two months out of the gate:
Taat Lifestyle & Wellness Ltd
(TAAT-CSE, 2TP2-FRANKFURT)
 is the BEYOND TOBACCO trade that I think has monster potential for investors.
It's a hemp cigarette that looks, smells and tastes like traditional tobacco cigarettes—but has no nicotine or addictive health issues.
Are there not tens of millions of smokers in North America alone—hundreds of millions worldwide—who would like to get off their nicotine addiction?
I'm stunned that I don't see another pure-play on hemp cigarettes in the public markets. This could reduce cancers and deaths by millions annually.
Tell me I'm wrong—but doesn't this sound like one of the most simple and powerful investment stories you've ever heard?
A large global market literally dying to get off cigarettes
A new product that looks, smells & tastes like tobacco
The product is not addictive; doesn't have nicotine nor many of the bad products in tobacco cigarettes
It will be marketed to the trillion dollar tobacco market, not the billion dollar marijuana market
From a public markets point of view, the company has
First Mover Advantage—again, I see no other pure play in the hemp cigarette market
The stock just listed; nobody knows about it—the stock's First Big Run has not happened yet
It could be considered at some point an "ESG" (socially responsible investing) stock as it should reduce deaths and cancers
Does not have the same marketing restrictions tobacco products do (that should be HUGE)
Management estimates MUCH higher gross margins than tobacco cigarettes—about 25%
CEO Joe Deighan who was the original CEO of the current hemp cigarette market leader, Wild Hemp—investors now get to be on the ground floor of his new venture.
TAAT is literally the only pure play public company in its niche–and has built a very real competitive moat. CEO Joe Deighan is a self-taught hemp formulation specialist, and his TAAT brand of hemp cigarettes comes from years of trial-and-error and market testing.
It's not just product ingredients—it's his 20-step process, and moisture and humidity and packaging…nobody will be coming up with a dominant product from their garage laboratory.
I think there is A Big Prize for the winner of this industry—whomever comes out as the dominant brand.
I think the BEYOND TOBACCO trade has a very good shot at being one of the most lucrative trades of this new decade. And it's VERY early in this trade.
Big Tobacco is a $1 trillion industry selling a product that is begging to be put out to pasture in our new socially responsible world.
And there's no doubt that once the leader in hemp cigarettes—which I think TAAT can be—is known, Big Tobacco will come in and pay A Big Price for that annual revenue stream.
THE "BEYOND" TRADES ARE POWERFUL
TAAT's story and its huge edge over its competition is just starting to hit the radar of North American investors. Like all of the "Beyond trades" of the last several years this one has a great opportunity of being explosive. 
The established fact is that these "Beyond trades" work extremely well. We have repeatedly seen that the initial moves on these Beyond stocks are moonshoots. The market buys first and asks questions later with these stocks.
Investors need to get in front of these stories early—and this stock has not yet been listed for a month yet. What we know for certain is that you do not want to miss the initial run that all of these stocks have….
We have learned that time and again over the past decade. The first moves of these stocks are becoming more and more powerful as the market reinforces insatiable demand for "ESG" opportunities.
Beyond Meat was just one trade. Both Tesla and more recently Nikola Motors were the "Beyond Carbon" Trade:
Beyond Trade Example #2 –
Nikola (NKLA)
on the promise clean energy heavy duty trucks up 505% just one month out of the gate this year 
Beyond Trade Example #3 –
Tesla (TSLA)
the original Beyond trade now up 4,300% and still running without even turning a profit 
I could go on and on. 
The Big Investor Trend—and for consumers too–is to immediately embrace these kinds of businesses that promise to improve the world.
Tobacco is next on the hit list and TAAT is the most exciting Beyond Tobacco trade that the Market will look at in the next year. 
Beyond Tobacco should save millions of lives—and millions in hospital bills. To me, that means that this stock has to run.
 
The Only Pure Play Hemp Cigarette Pubco Selling Into The $1 Trillion Market
I'm excited about TAAT because it has developed a hemp cigarette that real smokers actually like.
Those last words are the most important. Tobacco smokers love this product. TAAT's formulation makes it taste exactly like a cigarette.
Smokers don't like the fact that they smoke. How could they? Smoking is terrible for your health.
But……smokers do really like to smoke. They enjoy it.
If it was healthy–smokers wouldn't even think about quitting.
Yes, the hemp based cigarette market is exploding. It is growing at an exponential rate.  BDS Analytics indicates that the volume of hemp cigarette sales have been increasing at an annual rate of 250-300% per year.
It is a great industry to be in, but TAAT's hemp cigarette competition (and surprisingly there isn't much) is trying to sell to cannabis users.
But TAAT is directing their products at the Really Big Market….the tobacco smokers who really enjoy smoking.
Outside of TAAT's product, other hemp cigarettes on the market taste and smell like cannabis. That isn't what smokers want. Smokers want to smoke something that tastes and smell like a tobacco cigarette.
TAAT is the only company that has that product—a healthier version of a legacy tobacco cigarette.
That means that instead of just appealing to the small (but fast growing) hemp cigarette niche…….TAAT is also selling directly in to the tobacco smoking market that is nearly $1 trillion in annual sales.
The product looks like a tobacco cigarette, tastes like a tobacco cigarette and even smells like a tobacco cigarette–specifically a leading light cigarette brand (ahem–I'm not allowed to use their Big Name).
That sounds like a simple enough plan, but actually perfecting a hemp cigarette that provided a tobacco like experience was anything but. TAAT's product is the result of years of hard work, trial and error and accumulation of knowledge.
Beginning in May 2020, test versions of TAAT's hemp cigarettes were offered for sale at more than 50 retail locations across Nevada and Southern California with the objective of gathering feedback from users.
The results of the testing were overwhelmingly positive. Repeat purchases by users was high and 75% of the retailers involved sold out their phase one TAAT test cigarette stock and have reordered.
Now it is time to ramp this business up.
 
The Competitive Moat:
Perfecting That (insert: Big Brand Name)
Light Experience
 
Hemp cigarettes are a great product. The problem is that they haven't been marketed to the everyday smoker. Instead the industry has appealed to cannabis enthusiasts.
Like marijuana, hemp is from the cannabis family. Unlike marijuana which is known for its psychoactive effects, hemp will not get you high. Marijuana has high levels of THC, containing anywhere from 5%-35% whereas hemp has less than 0.3% THC.
Hemp contains high cannabidiol (CBD) content which is not psychoactive. CBD arguably has many benefits, but it definitely is a proven way to help people quit smoking tobacco cigarettes.
A double blind study by Researchers at University College London found a 40% reduction in the number of cigarettes smoked by participants treated with CBD. 
A separate survey of more than 5,000 CBD users by the Brightfield Group CBD found that 24% have used it to quit smoking.
It makes sense. Smoking the hemp cigarettes helps satisfy the oral fixation that smokers crave–with no nicotine or tobacco.
Look, even the Stop Smoking industry will soon be over $20 billion!
While competitors are aiming their products at cannabis enthusiasts TAAT is directing all of its resources at tobacco smokers and their $1 trillion of global sales.  There is nothing in TAAT's marketing that ties it to cannabis.
 
CONCLUSION: All the Trends Favour Hemp Cigarettes
 
This is a very fast growing niche that TAAT is now taking mainstream. As regulations mature—especially in the United States—more and more retailers will accept these and more and more institutional investors will invest in it.
I get it. Many people would like to see tobacco & smoking banned. But it's a free world, and the reality is that smokers want to smoke. 
But nobody wants those side effects…….cancer, heart attack and stroke.
TAAT's "beyond tobacco" cigarette will hit the market this fall, and they're on record as saying they are lining up production capacity of 1 million cigarettes a day.
While market launch will be a HUGE catalyst for investors, I think the sector has a melt-up; a speculative premium run that all the other BEYOND trades have had.
Never underestimate the power of that First Big Run.
This article is already too long. But both the product and the stock have a powerful, simple thesis. The Market is moving in this direction. It's not only legal, it saves lives and money. It's ground floor.
The Farm Bill means that gas stations, Walmart, Costco, Mom and Pop stores and everyone else can sell hemp cigarettes openly.
That is a lot of retail power and those retailers aren't selling to cannabis enthusiasts, they are selling to tobacco smokers. That is why TAAT's product tastes like a light cigarette.
Vaping became nearly a $20 billion market in just over a year. That incredible growth says how big and how fast the hemp cigarette market can become. 
A relevant data point on vaping growth that I will never forget is the $38 billion valuation that Philip Morris put on e-cigarette manufacturer JUUL when it acquired a third of the business in 2018. 
That's why I'm long TAAT. I think everything is set up for both investors and consumers to win here.
Taat Lifestyle & Wellness Ltd has reviewed and sponsored this article.The information in this newsletter does not constitute an offer to sell or a solicitation of an offer to buy any securities of a corporation or entity, including U.S. Traded Securities or U.S. Quoted Securities, in the United States or to U.S. Persons. Securities may not be offered or sold in the United States except in compliance with the registration requirements of the Securities Act and applicable U.S. state securities laws or pursuant to an exemption therefrom. Any public offering of securities in the United States may only be made by means of a prospectus containing detailed information about the corporation or entity and its management as well as financial statements. No securities regulatory authority in the United States has either approved or disapproved of the contents of any newsletter.
Keith Schaefer is not registered with the United States Securities and Exchange Commission (the "SEC"): as a "broker-dealer" under the Exchange Act, as an "investment adviser" under the Investment Advisers Act of 1940, or in any other capacity. He is also not registered with any state securities commission or authority as a broker-dealer or investment advisor or in any other capacity.