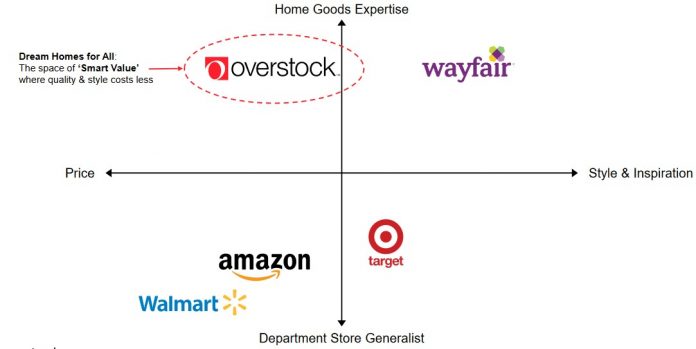 Overstock (OSTK – NASD) has been a big winner for subscribers at sister-site at www.investingwhisperer.com.  I bought the stock in early May at $13–after the stock had already tripled from the bottom.

Overstock briefly broke the $50 barrier on July 12, making it close to a 4-bagger – in only a couple of months – and I think can it can go much higher (to see exactly how much, see my math at the bottom).

Overstock is an online retailer like Amazon (AMZN-NASD) and Wayfair (W-NYSE), and their traffic and sales numbers are rapidly increasing in 2020—hence the big move in the stock.  But they also own a majority position in a crypto-currency trading platform they call tZERO—which has also been VERY successful.

Independent analysis shows  that security tokens listed on tZERO accounted for 95% of all security token trading in May and 75% of the total value traded.  Overstock management added that trading volumes were up 46% from the prior year in May. 

tZERO is officially the powerhouse in the security token arena – but unfortunately the arena remains incredibly small and underdeveloped.

Both online shopping and crypto have been big bull themes during the pandemic, so it makes sense that OSTK-NASD would be a great investment—but even I was surprised that it went from $3 – $50 in two  months!
 
The Most Unique Preferred Share In The World

But there is another way to play Overstock that is both safer (for small positions) and more levered.  How can that be possible you ask?  It's an investment can give you all the upside of the stock but with a significant discount to the current price.

OSTKO is the symbol of Overstock's digital preferred dividend.  It is currently trading at around a 40% discount to the stock.

This is a preferred stock.  It has the same rights as the common and pays a small dividend – Overstock paid a 16 cent dividend to OSTKO holders the past 3 years.

All else being equal, you would expect the preferred to trade at a premium to the common.  Of course, things are never equal and in this case what you are seeing is a liquidity discount in the security stemming from a mismatch of buyers and sellers.

OSTKO was originally spun-off to existing shareholders of Overstock.  Each shareholder of OSTK received 1 Series A-1 preferred stock for each 10 shares they owned.   So it truly was 10% dilution.

Overstock had their own reasons for distributing OSTKO shares. One was that then-CEO Patrick Byrne thought it was a way to stop or catch people shorting his stock.  You can't borrow a digital certificate.

Another was/is that they saw it as a way to onboard investors to their own tZERO trading platform. 

Here's the catch: OSTKO is only supposed to be traded via Overstock's tZERO platform.   It is written right into the language of the SEC filings. 

There is an over-the-counter market in the stock, but it is thin and not really supposed to exist.  But it does!  I bought 2000 shares at $12.50 a while ago through my Canadian full-service broker.

Overstock and tZERO have already sent out letters to brokers explaining that the security should only trade through the tZERO platform and no where else.

But trading through tZERO has its own problems.  Right now, there is only one broker-dealer that taps into tZERO – a small, obscure firm named Dinosaur Financial Group—owned by a relative of an executive of tZERO.

The ticker started trading in May of 2020.  But it has not been easy to trade.

If you want to own OSTKO you need to register with Dinosaur Financial.

I went through the process of signing up.  They do as good of a job as anyone to streamline the process, but it is still a pain. You must fill out their paperwork.  Upload your identification.  Figure out a way to transfer cash.

Let me ask you this – who do you think has the most reason to sign up to Dinosaur right now?

You got it – holders of OSTKO.  First, you have funds that can't hold the security in the first place – it goes against their compliance.  Second, you have investors who do not really know or care what this extra security is that they have been issued so they are content to turn it around for a quick buck.

But potential buyers of OSTKO?  Few and far between.

The result – a 40% discount to the common – and a significant arbitrage (arb) opportunity. 

Again, there is no real difference between the preferred and the common.  Same rights, including voting.   And like I said, the preferred is higher on the capital structure.

I think that very rich arb will close sometime late this summer, after Dinosaur has signed up all the OSTKO shareholders they can.  The owners of Dinosaur–being close to Overstock–also own a lot of OSTK and it's in their best interest to have that arb disappear and have OSTKO trade at par.  Dinosaur will just open up trading to everybody and stop insisting they use tZERO.  Like I said, the black market is already alive and well in OSTKO.

That's a $15/share jump coming this summer if I'm right!

And during their Analyst Day, Overstock announced that two new broker-dealers had signed up to tZERO (no names yet), so liquidity could generically increase.

IF tZERO gains traction, investors win twice.  First, the liquidity discount of OSTKO will disappear.  Second, Overstock shares are going to do well because Overstock owns ~80% of tZERO.

I have been in and out of Overstock a few times over the last year and it has been a wild ride.  I bought the stock for the blockchain potential and for the turnaround in e-commerce that has been years in the making.

The first time I bought was last summer, shortly after then-CEO Patrick Byrne first announced the idea of a digital dividend.  Byrne's motive at the time was as much to squeeze the shorts as promote his digital trading platform.

He succeeded, turning the potential for a non-shortable digital dividend into a short squeeze that caused the stock to go to $30.  Of course, then the SEC stepped in and said the deal was a no-go.  Byrne sold his stock, fled the country and is now living on a beach in Bali, Indonesia.   We sold too.

I looked at the new management team with healthy skepticism at first, but I have been pleasantly surprised. 

CEO Jonathan Johnson has put together a rapid turnaround of the e-comm business while tZERO CEO Saum Noursalehi seems to have righted the ship on the crypto side.  They pulled the digital dividend through the SEC hoops, something Byrne was not able to do.

(Compushare does have a deal with the company where they hold custody ("deal with the book") of the OSTKO, but officially it's Dinosaur.  They will not lend out any certs for shorts.  You can't short penny stocks or OTC stocks for the most part, so this is not that different.)

The e-comm business is really the lynchpin for the stock.  This business has seen a huge boost from stay-at-home shoppers.  At the company's analyst day in mid-June, Johnson said that "April and May sales were up over 120% year-over-year".  He called the state of the business "phenomenal", and so far the numbers are bearing that out.

Overstock excels in home furnishings.  It is a big market with a $67 billion TAM—Total Addressable Market. 

Not surprisingly, it is a market where online penetration is quite low – about 42% – and this is up from only 23% a year ago.  The overall market (both online and bricks & mortar) is growing at a 16% annual clip.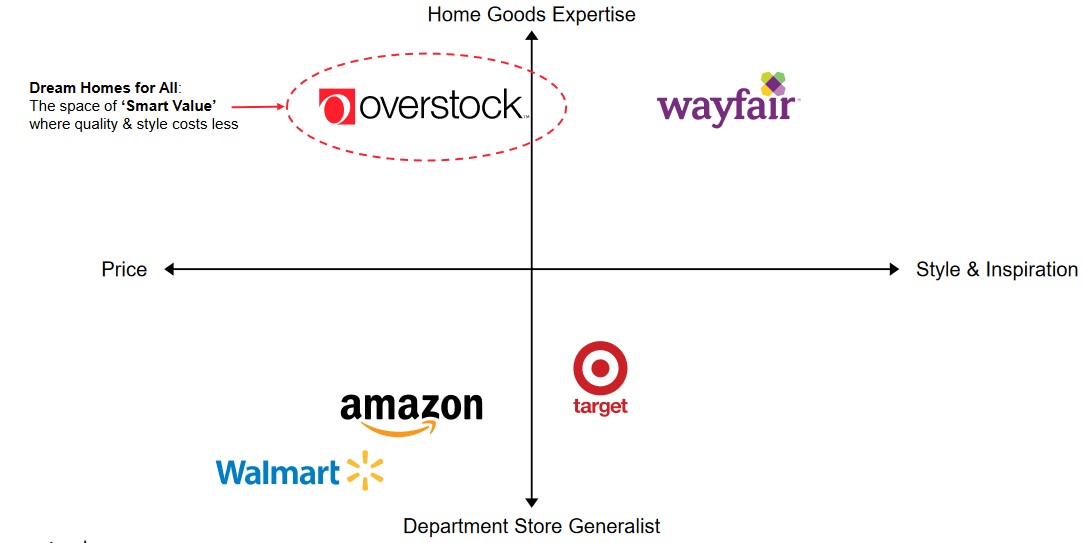 Source: Overstock Analyst Day Presentation

Even though e-commerce sales are strong, Overstock is growing even faster. They are taking share.

Probably the most important takeaway for me from Overstock's Analyst Day is that their e-comm site is finally driving free traffic again.  For the last 3 years Overstock has had a tough time driving free traffic to their site.  Free traffic really means search and search means Google – Overstock saw their Google search ranking plummet beginning in 2017.  At one point in 2018 their keyword rankings had fallen by ¾! 

It is hard to run an online business when your free traffic is in precipitous decline. But that has changed.  In 2019 Overstock finally stabilized their free traffic and in 2020 so far it is up HUGE!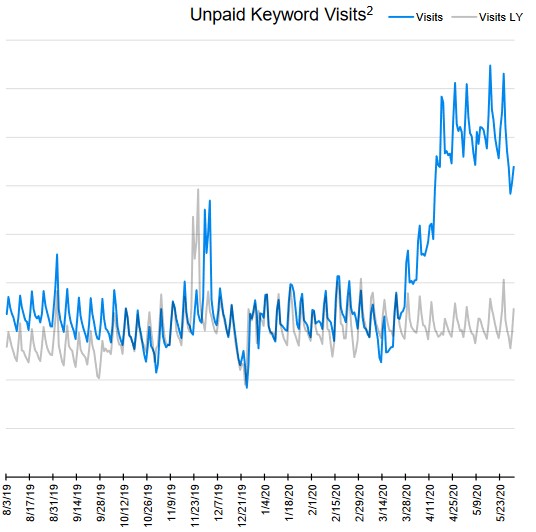 Source: Overstock Analyst Day Presentation

This is SO important.  If you don't get free traffic then you have to pay for it, which is expensive.  The bump in free traffic has led to significant new customer adds: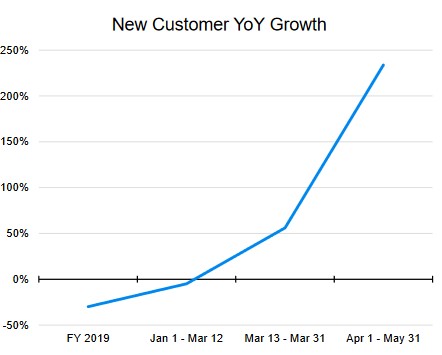 Source: Overstock Analyst Day Presentation

New customers mean sales and if those customers are free that means better margins.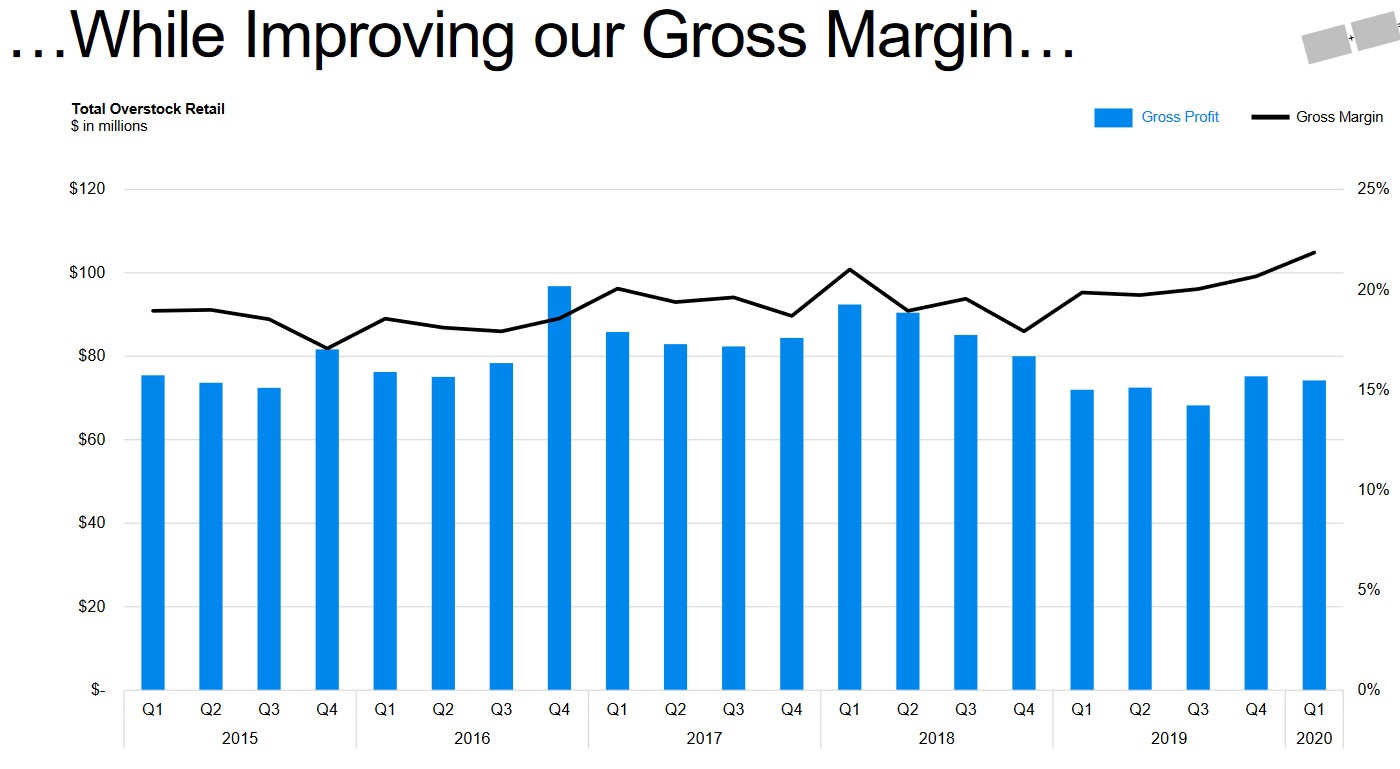 Source: Overstock Analyst Day Presentation

The e-commerce business has gone from questionable viability to a growth story.

tZERO remains the wildcard.  They are sitting on a huge opportunity.  They have first-mover advantage in the trading of a wide range of assets.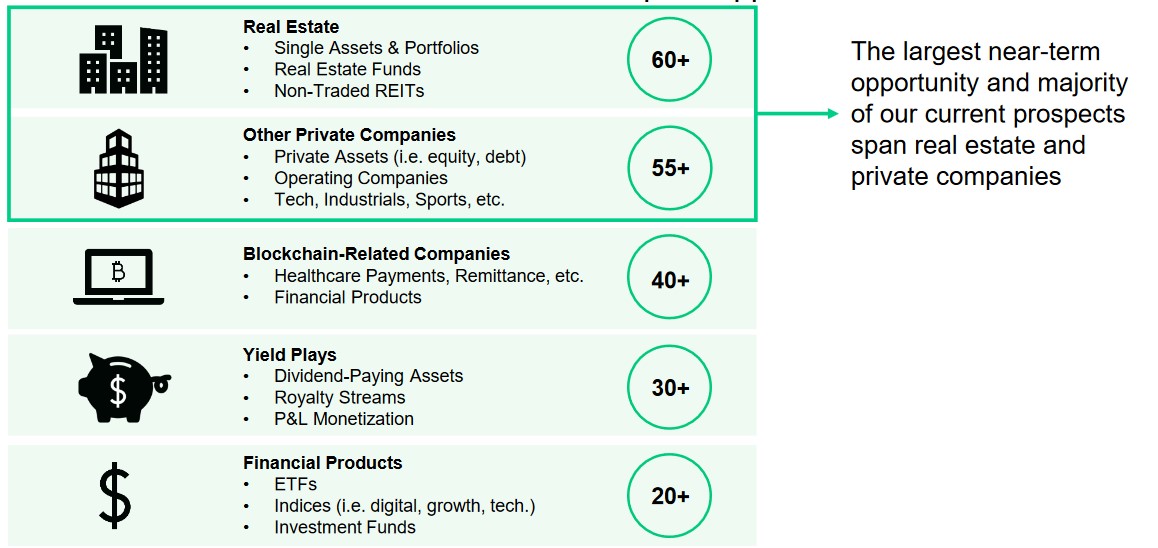 Source: Overstock Analyst Day Presentation
 
tZERO has a pipeline of over 200 issuers.  These aren't just public companies looking to trade on a different exchange.  What tZERO is attempting to do is disrupt trading markets by adding assets that previously could not be traded.  Stuff like: real estate funds, non-trade REITs and private asset companies.

Overstock also owns equity in a portfolio of blockchain companies.  Their Medici subsidiary companies span the spectrum of banking, identity, capital markets, even voting.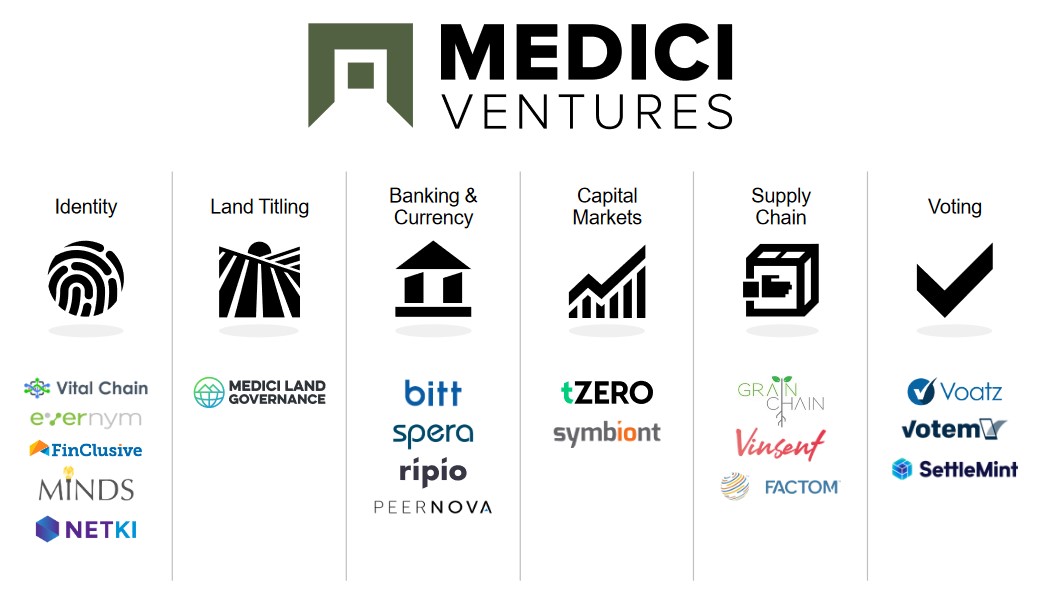 Source: Overstock Analyst Day Presentation

How high do I think Overstock can go?  Well, there is a good chance that OSTK could do $1 billion in revenue this quarter.  Not this year—this quarter.  That would be a $4 billion annualized run rate. 

Could a fast growing, debt free tech stock on NASDAQ trade at 5x sales?  I would say yes.  That is a $20 billion market cap. There are 50 million shares out on Overstock.  $20 Billion / 50 million = $400 per share.

Four hundred dollars.  Now clearly, that is the pie-in-the-sky number.

If Overstock does that, OSTKO will follow.  And eventually that liquidiy gap will close.

Add to all this the optionality of the tZERO platform and the blockchain portfolio of companies and there is a lot to like here. 

Another 10-bagger might be asking a lot, but stranger things have happened.

And for retail shareholders who might only buy 1000-5000 shares, OSTKO is not only a safer way to play the rise, but has more leverage.  It is a truly unique preferred.
 
Keith Schaefer