Psychological fears of an oil glut are have caused oil prices to drop from $55-$48.  But there is some fundamental  economic factors that suggest this price drop will be short lived.
So far in 2017, U.S. crude oil inventories have increased 49.38 million barrels to 528.39 million barrels as the following chart displays: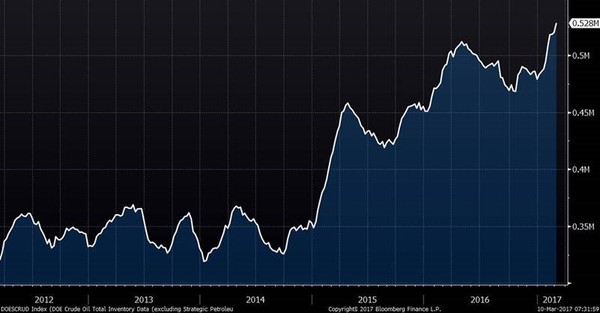 While the recent builds appear negative, over the past five years U.S. crude inventories have increased 26.23 million barrels, on average, during the same nine week period over the past five years.
But over the past few weeks, unplanned and accelerated refinery maintenance (meaning they go offline) has created a one-two punch – resulting in lower refinery throughput while crude oil imports have continued at a (higher) rate that would really be meant for higher refinery utilization than we've seen this year.  That's because imports are generally scheduled weeks to months in advance.
On average, 48.1% of crude used by U.S. refineries is imported.  Since early 2017, U.S. crude imports have averaged 50.97% of refinery throughput – up from 47.62% in Q4 and 48.78% YoY.  Had U.S. crude imports remained at 48.1% of refinery throughput, U.S. crude inventories would have increased by just 14.88 million barrels so far in 2017 – well below the five year average build of 26.23 mln barrels.
The 'excess' U.S. crude imports (versus refinery utilization) were most likely accidental and there is one very encouraging sign that reduced imports will correct the imbalance shortly: benchmark VLCC charter rates for Arabian Gulf to Gulf of Mexico voyages have plunged from $27,000/day at the end of 2016 to just $920/day today – as the following chart displays: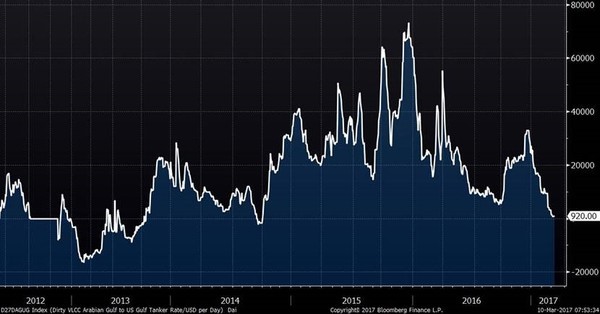 That screams—lack of demand.  And the Market is very fixated on the weekly waterborne import number the EIA puts out every Wednesday morning at 1030 am EST.
The conclusion is that imports were temporarily (and accidentally) elevated and could decline meaningfully over the next two months (ultimately averaging roughly 48% of refinery throughput in 1H17), and crude oil prices will bounce back meaningfully with lower US imports.