Will Occidental Petroleum's $2 Billion Permian Be Any Better Than The Company's Disaster In The Bakken?
Occidental Petroleum (OXY-NYSE) just paid the highest price per acre in Permian Basin history at $50,000 per acre to get into that play—and that's after backing out production.
Shareholders had better hope that turns out a lot better than OXY's foray into the Bakken—which cost them nearly $2.5 billion.
They have a right to be nervous. OXY management built a big, shiny, new office in North Dakota.  They upped the rig count immediately.  But in less than three years—and $2 billion later—they were looking for anybody to buy them out of it.
Here Is How You Make A Lot Of Money Disappear – Fast
On December 10, 2010 Occidental Petroleum announced it was jumping into the Williston Basin in North Dakota with both feet.
If you will recall, December 2010 was not exactly a buyer's market for Bakken assets.  The price of WTI oil at the time was $90 per barrel and North Dakota was booming.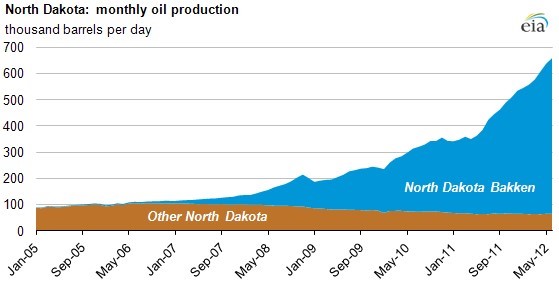 Companies were moving quickly to get a piece of the pie before it was gone.  The Eagle Ford was just barely on the radar and the fact that the Permian would turn into several distinct (and massive) horizontal oil plays was completely unknown.
It was get into the Bakken or bust.
Occidental spent $1.4 billion for 180,000 net acres, bought from a private seller.
Back then, that acreage had just 5,500 boe/d of production.  OXY's plan was to grow it six-fold to 30,000 boe/d over the next five years.
With plans to become a serious Bakken player, Occidental planted long term roots in North Dakota building a brand new shiny 21,000 square foot office.
Source: Reuters
Occidental quickly went to work on the new acreage ramping up its rig count immediately to 8 and then to 13 by the end of 2011.
While it is hard to get the exact number pinned down since the company didn't consistently disclose it, it appears Occidental spent upwards of $2 billion developing the Bakken from 2011 through 2014.
It was clear that by 2014 the shine had long since come off the play for the company.
As early as 2013 OXY was concerned with high service costs in North Dakota and was making some noise about selling.
It was a decision that the company should have jumped on.
By the fall of 2014 Occidental was completely open about the fact that it was ready to sell its Bakken assets.  Analysts at the time guessed the assets would fetch close to $3 billion.
With the $1.4 billion up-front investment to get into the Bakken late in 2010 plus the $2 billion or so that the company had since invested a $3 billion exit price wouldn't be terrific….but it wouldn't be a disaster either.
You know what happened next.  Oil crashed and didn't come back.
With the entire industry hunkering dow—that $3 billion price was gone.
In October 2015 Occidental sold those Bakken assets to private equity firm Lime Rock Resources for just $500 million.
After five years of work and over $3 billion of money spent Occidental shareholders watched as the company received 15 to 20 cents for each dollar that had been spent on and in the play.
By anyone's definition Occidental's Bakken experience was a disaster.
This Permian Investment Should Work Out Better…..Maybe
Occidental could not have picked a worse time to spend big dollars on Bakken acreage.  They bought when the land grab was in full swing and acreage prices were close to their peak.
They didn't just get the timing wrong.  They also settled for a less than ideal location.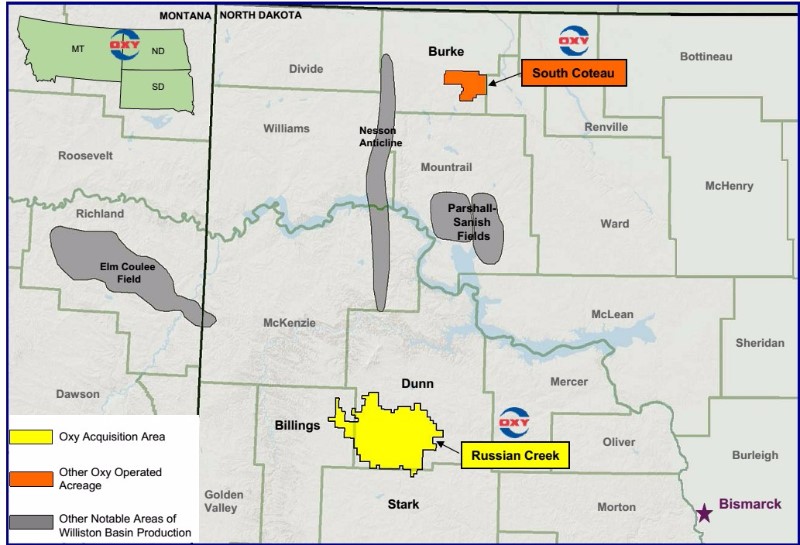 Source: Occidental 2011 Presentation
The Bakken land that Occidental acquired was in southern Dunn County.  That is south of the over-pressured core of the play that is located in Williams, Mountrail and the northern portion of Dunn counties.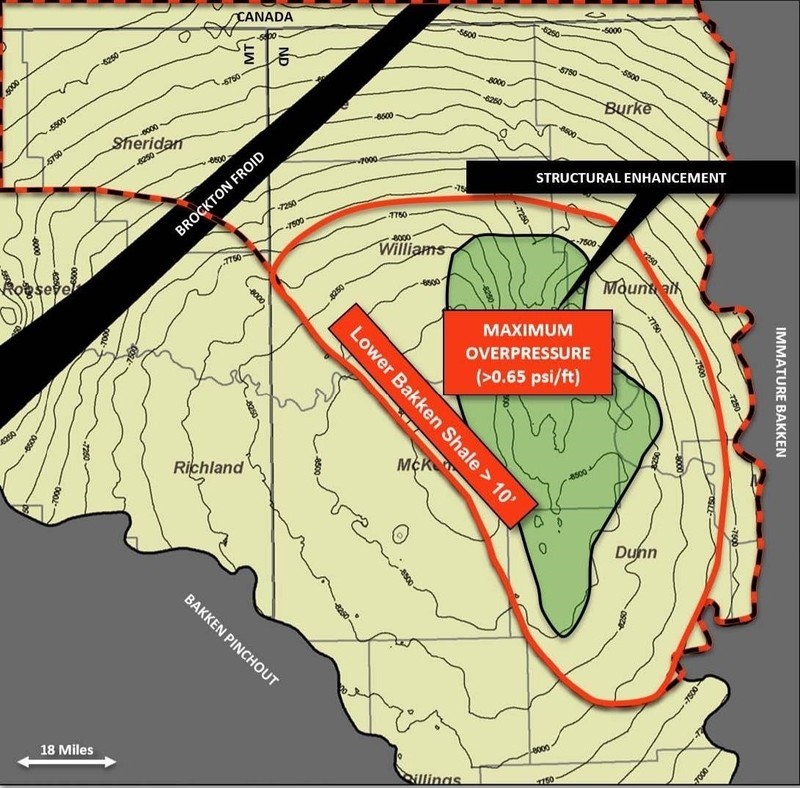 Source: Continental Resources
That $2.5 billion Bakken loss was due partially to the oil price crash.  But it also didn't work out because the company paid too much for the particular land that it acquired.
All this history makes me wonder about the timing of the $2 billion Occidental just spent on acquiring more Permian acreage.  Is this a repeat of throwing big dollars at land at the peak of the market?
I mean the Permian is clearly H-O-T right now.
The good news for OXY shareholders in this case is that the company is already a huge Permian operator so it should know the quality of the acreage it is getting very well.
I would note however that these Permian operations of Occidental's mostly date back to the pre-horizontal era and that the company was not early to ride the horizontal wave in the region.
So it's not like Occidental was early to the Permian horizontal party either.
On the surface—with $2 billion being spent on just 35,000 acres—the deal certainly looks more than a little expensive at a gaudy $57,000 per acre.  Even assigning a reasonable price to the 7,000 boe/d of production that comes with the land we still see the deal clocking in at close to $50,000 per acre.
Those are incredibly high prices and Occidental is the only company paying them.
Occidental has lots of infrastructure already in place and sees 700 future drilling locations on the acquired land.  That works out to $2.857 million per location—which is again a record. That could help justify the purchase price over time.
Whether it can turn this price into a bargain…I just don't know.
I'd Rather Own The Companies That Had The Acreage Before It Got Hot
I'm a big believer in the Permian and think that the market likely still doesn't understand just how much oil the region has left in the tank.
What I'm not interested in doing is betting on companies that are coming in now and paying these kinds of prices for land.
The big winners here are going to be companies like Resolute Energy which was in the Delaware Basin portion of the Permian before the region took off.   I believe that is the true way to value creation in this business.
Generating attractive returns drilling horizontal wells is hard enough.  Having huge up-front land costs makes it that much more difficult.  Hopefully Occidental was factoring that into the $2 billion it just plunked down in the Permian.