Canadian natural gas producers could get a 45-50% reduction in pipeline fees to move gas to central Canada from TransCanada (TRP-NYSE/TSX) on their Mainline pipeline, under a new tolling arrangement they will put to Canada's National Energy Board.
If this goes ahead, it would have a huge (positive!) impact on western Canada's competitiveness and profitability.
Boutique brokerage firm First Energy reported in a note to clients on June 29 that TRP is proposing a new 10-year term toll to Dawn, Ontario that would reduce Canadian Mainline/Great Lakes Gas Transmission firm service Empress-to-Dawn tolls from $1.83/GJ to $0.85-$1.10/GJ–that's a drop of 45-50%!!
The final value would depend on the total volumes that companies were willing to commit and the minimum commitment would be 1 bcf/d.
TransCanada believes that these tolls, charged for shipments on the existing TransCanada network, would be competitive with tolls that would be charged on proposed new pipelines that would carry gas from the Marcellus shale field to the Dawn hub.
Canadian natgas producers and the pipeline companies have been discussing for years how to make WCSB gas (Western Canadian Sedimentary Basin) more competitive.  Because the WCSB is at "the end of the pipe", i.e. farthest from end markets in populated eastern US and California–the Canadian industry has higher costs and must work together to make Canadian gas competitive.
This has become increasingly true in the last 3 years in the face of fast growing, low cost production from the mighty Marcellus in Pennsylvania and West Virginia.
Canadian natgas producers have had to reduce their price dramatically vs. US gas this year–as shown in this chart from Arc Energy last week: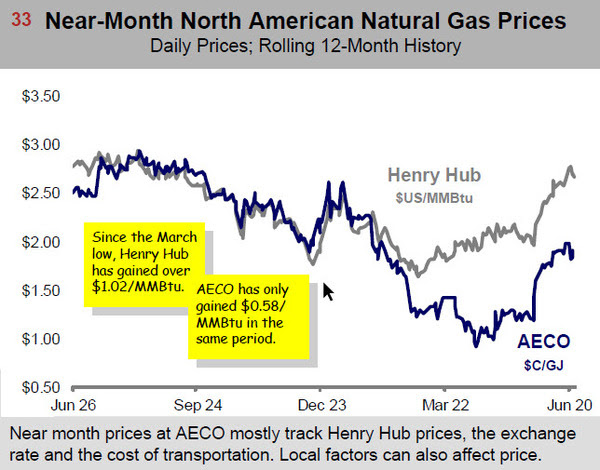 For years, natgas in Canada was 30 cents/GJ cheaper in winter and 50 cents/GJ cheaper in summer than in the US.  But fast rising US production has more than doubled that discount recently.
TRP has not lowered tolls even though the pipeline–with 7 bcf/d of capacity–has been as low as 1.5 bcf/d at times in recent years.
My other contacts in the Canadian oilpatch say TRP is now ready to propose lower fees because two large shippers recently chose not to renew volume commitments on the Mainline.  However, two other shippers (both producers) are evidently now ready to give TRP the 1 bcf/d commitment for 10 years that TRP wants.
BACKGROUND
The Mainline is one of largest natural gas systems in the North American continent. Conceived in 1950, it began its first full year of operation in 1959 and from that year until 1998 it served central Canadian and US markets largely without any competition, operating at high load factors underpinned by long-term long-haul contracts.
The Mainline is a 14,101 km natural gas pipeline system extending from the Alberta/Saskatchewan border in the west to the Quebec/Vermont border in the east.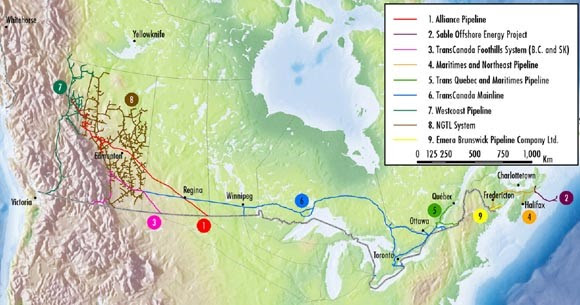 Source: National Energy Board
The Mainline is regulated by Canada's National Energy Board ("NEB"), which regulates tolls on the pipeline to allow TransCanada to recover the costs of transporting the natural gas as well as to achieve a financial return on the investment.
The TransCanada Mainline was designed to transport 7 bcf/d of gas.  In recent years the actual volumes being processed have dropped as low as 1.5 bcf/d as shale gas from the Northeastern U.S. reduced the demand for Western Canadian natural gas. (I found it very difficult to find up-to-date data on the pipeline volumes and tolls.)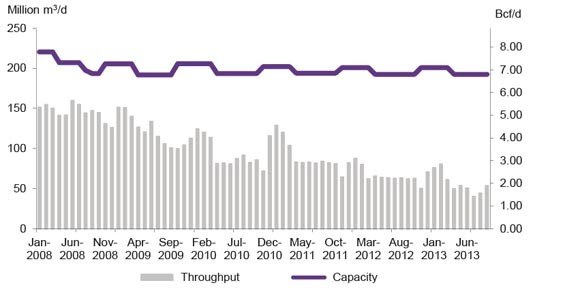 Source: National Energy Board
Because the amount of gas flowing through the pipeline dropped, the tolls paid by producers increased.  Remember, the Canadian National Energy board guaranteed that TransCanada make a reasonable return on investment.
With volumes diving, the only way for TransCanada to generate enough revenue to make that return on investment happen was to raise fees.  So that is was happened.
As volumes dove due to shale gas moving in the TransCanada Mainline toll rose sharply.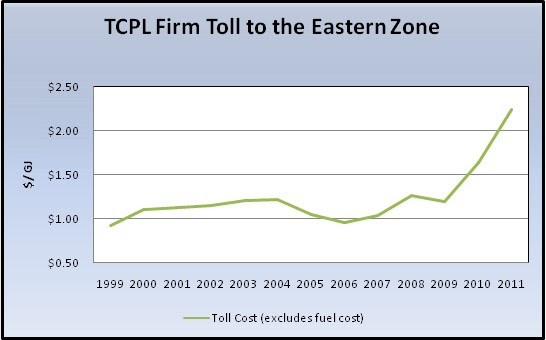 Source: EnergyAdvantage
The chart of the TransCanada Mainline toll moved up in step with U.S. shale production growth.
In 2013 the National Energy Board–seeing that volumes weren't going to stop dropping–froze the amount that TransCanada can charge for use of the pipeline.
That put a cap on the toll.  In early January 2015 the NEB made a couple of amendments to the toll which set it at $1.85 for delivery over from Empress to Enbridge's Central Point Delivery System in Toronto.
AECO gas prices have actually been under that dollar amount for much of 2016.  For Western Canadian producers that is clearly a major problem–and why volumes dried up.
AECO prices were as low as 85 cents/GJ one day this spring, and for a few minutes the bid went as low as 5 cents (five) per GJ! That was mostly due to collapsing demand from the oilsands as the wildfires shut down production there for a month.
TransCanada was not available for comment.
My sources indicated that they did not expect to see a huge exodus of WCSB gas due to the new tolls, but even an extra 0.5-1.0 bcf/d would help alleviate an impending storage congestion of gas in western Canada–now already 91% full and it's only July.  There are roughly 18 more weeks of seasonal storage injections until early November.  This chart–also from the weekly Arc Energy report–shows how high natgas storage is compared to previous years.