By Donald Dony, Editor www.technicalspeculator.com
Energy sector swings to performance
As the bull market starts its 6th year and the 3rd longest advance since 1920, we see several signals that are common to the later phase of a mature market.
The first is the relative performance shift out typical bull market sectors and into commodities and energy.
During the first and middle phase of a bull market, The financial, consumer discretionaries, technology and transportation sectors display the greatest relative performance.  As the bull market continues to age, the performance slowly shifts to basic industry and capital goods.  However, in the last stage, the energy and precious metals (materials sector) begins to shine (Chart 1).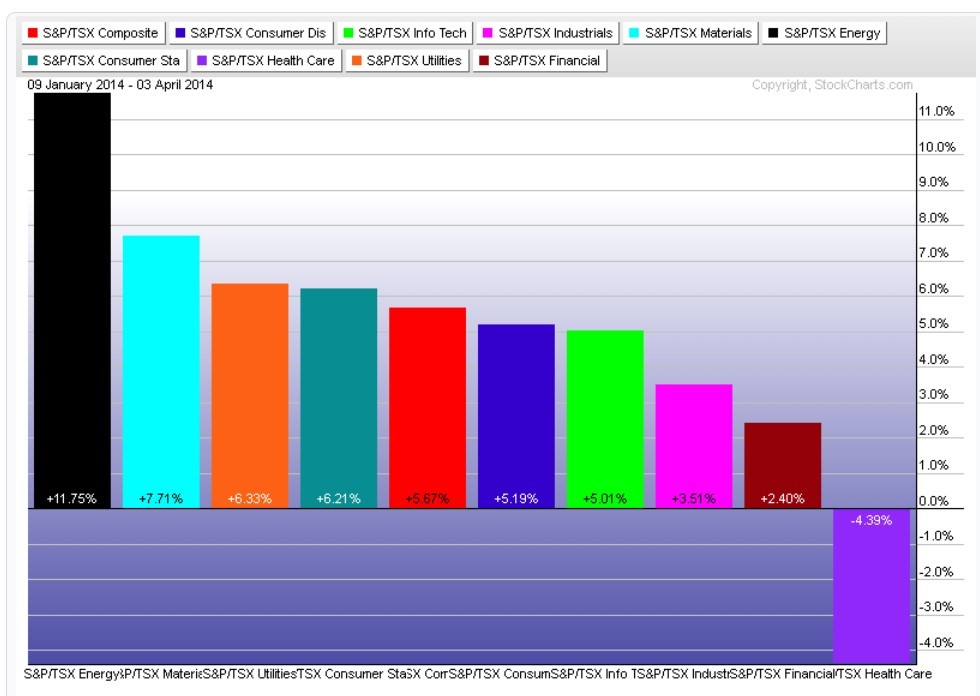 Over the past 60 days, that  movement has become apparent.  In Chart 2, the S&P/TSX energy and Materials sectors have the greatest performance.
Safe haven sectors have also started to flex their muscle.  Within the top four performing industry groups over the past 60 days, money has been flowing into the utilities and consumer staples sectors along with energy and materials (Chart 2).
Bottom line: The recent rise in performance of the energy and materials sectors highlights the likely arrival of the late bull market.  This also suggests that the top of the long advancing market is near.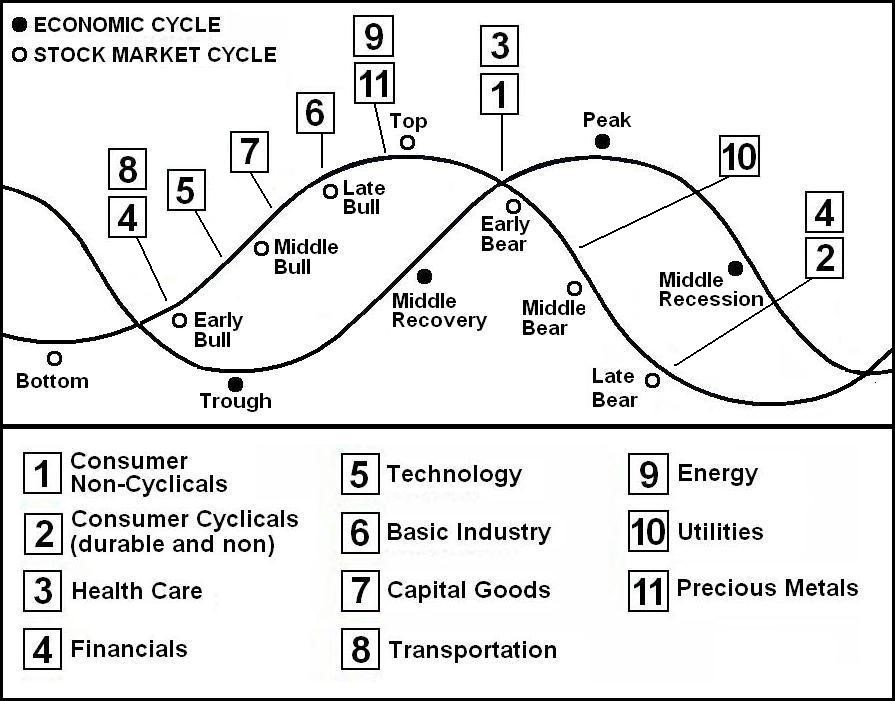 WTIC: Higher levels
Light crude oil prices are respoding to an improving (though sluggish) world economy and recent high demand from the eastern U.S. for heating oil plus the Crimean/Russian crisis.
WTIC has held to a well defined upward sloping channel for over a year.  With gradually improving momentum, oil is expected to retest the upper channel line in late Q3 or early Q4 and ultimatly reach $115-$117 (Chart 3).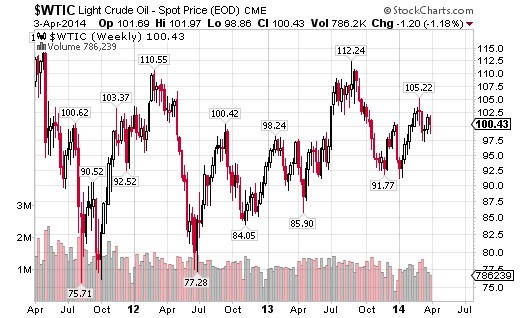 Natural Gas:  Higher highs and lows
The 1st season for Natgas is coming to an end.  Early to mid-summer should be the 2nd seasonal movement.
This commodity is, however, not displaying the usual in-between season price weakness.  Natural gas is remaining in a positive trend with higher highs and higher lows.
After establishing a bottom in the first half of 2012, the resource has steadily risen in price.
The outlook for natural gas is for a continuation of the main upward sloping channel.  Support is at $4.00.  The top channel line suggests ultimately a $6.50-$7.00 target is possible.  Nevertheless, the near-term target is more modest at $5.50 (Chart 4).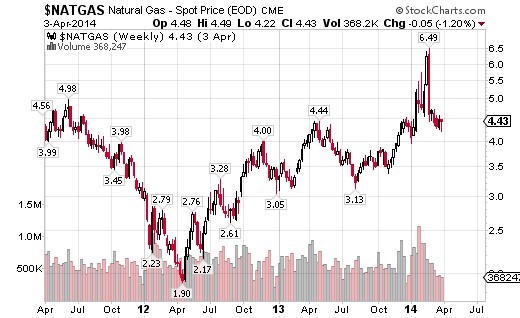 Conclusion:
The S&P/TSX Energy sector continues to strengthen into mid-year.  As a late bull market industry group, the recent high level of performance and the movement of capital out of traditional expanding economic sector implies that the bull is very mature.  Nevertheless, the "sweet spot" for energy has arrived and will likely continue for several months.
Light crude oil higher points to $105 and, we believe, ultimately to $115-$117.
The price of natural gas is also improving as the summer weather approaches.  Our models suggest that $5.50 will be tested again.
After scanning both US and Canadian energy equities for strong technical charts, here are six favourites:
I talk to Donald a couple times a week and appreciate his insight.  At $105/year, I think his letter is the 2nd best bargain for a newsletter I know of ;-).  To subscribe, click here – https://www.technicalspeculator.com/login.php?var=sb535962718fec3