Golden Shield Resources (GSRI:CSE, 4LE0:FRA) is Leo Hathaway's new micro-cap company–with just 28 million shares out–that holds the 100% owned Marudi Mountain asset—one that Leo believes has the potential to be a multi-million ounce gold deposit.

And he is backing that up very quickly with some BIG numbers—in the first drill program he hit 9.1 grams per tonne gold (g/t Au), and gave the Market a much larger hint of what Marudi could be.

GSRI has only been listed for two months—nobody knows this story. That's why retail investors—usually the last to know—have the rare opportunity to get in on the ground floor ($20 million market cap) with Leo.

Golden Shield is backed by mining sector billionaries because they know exactly what Leo can do—because he has made them so much money before.  They hogged the only round of financing Leo has done so far.

Golden Shield is being built around a big (5500 hectare) out-of-the-way asset with incredible geology.

Leo and his team brought a new thinking to the Marudi project—and hit BIG on the very first round of drilling. New lobe, open at depth, much higher grade.  Dream start.  Hitting on every cylinder.

With enough money to start his next round of drilling, Leo will keep the news flow going steadily through 2022.
 
Marudi Mountain – The Opportunity Is Clear As Day
 
 
Marudi is located in Guyana, the only English speaking country in South America. Guyana is absolutely booming on the back of major oil discoveries and massive infrastructure spending.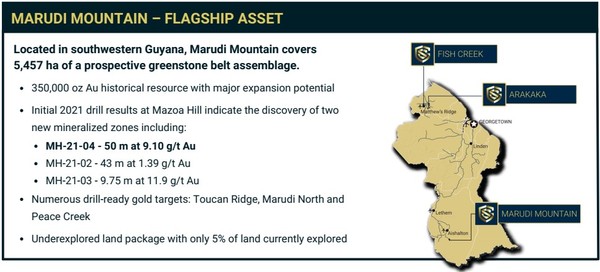 To run Golden Shield Leo has partnered with CEO Hilbert Shields——Guyanese born, Canadian since 1980s—the perfect guy with Leo on this play.

His career has touched many major gold assets in Guyana Shield—he was a big part of the team that discovered Omai Mine—and that stock went from 40 cents to $6 as the asset went from acquisition to feasibility and became a producer.

Shields was also on the team that discovered the +10 million ounce Rosebel gold deposit in Suriname right next door, owned by IAMGold.

So now we have TWO men at the helm who have created a lot of wealth for shareholders.

Guyana's region at the northern tip of South America is host to the Guiana Shield (+110 million ounces of gold discovered) the geological sister of western Africa's Birimian Shield (+275 million ounces of gold discovered).

Marudi is in southern Guyana—which is much more remote and much less explored than the north.  Leo liked that—off the beaten path.  And, Hilbert had actually been on the property 20 years, ago, and knew there were sniffs of very good gold grades.

The two men studied the data, and realized that not only was there a vast open property with historical high grade on it—they had a sense of what others had missed.

And it didn't take long to prove themselves right. The first thing they did was a detailed re-interpretation of the geophysics, which made multiple drilling targets as clear as day: just follow the blue in the map of the property below——  the existing discovery (the oblong white object) at the Mazoa Hill target is in the middle of it. This is the one with a historic resource of 269,700 ounces in the Indicated category and 87,600 ounces in the Inferred category.
 

So far, all of those squarely deep blue areas are like Mazoa and when Leo's team goes onto those areas, they are finding surface mineralization and often rock with visible gold.

That means that potentially there is a huge number of other Mazoa-Hill-like-resource-accumulations across the project. Everywhere that is blue on that map is ripe for exploration and almost all is undrilled.

Almost 95% of the property is untouched and all of that blue in the map above deserves attention. They've got seven other prospects that all have similar characteristics to Mazoa Hill.

Surprisingly, nobody else had interpreted the geophysics in this way.

With that data, and the idea that previous operators had NOT been drilling perpendicular to the way they thought the orebody was trending—they set out for their first drill program.

And wow, did they hit a whopper.

 
Marudi Mountain's Evolving Model

 
They came up with a drill hole of 9.1 g/t Au over 50 (FIFTY) metres.  And the way they drilled it now makes them think there is an entirely new lobe of high grade mineralization to be found.

Now folks, listen to me here—this is early-stage drilling.  I can't promise you there is a multi-million ounce deposit here. But I know Leo, his track record, and that he hit a hole like this on the first round—and the stock is still just 70 cents—has me excited!

Leo and team's initial drill results at Mazoa Hill have changed the entire geological model—which is what they thought might happen.  They had a good sense it would be open at depth, but they had no idea they could start to model another lobe completely.

See OLD Interpretation of Mazoa on the left.  Then see NEW interpretation. See a difference?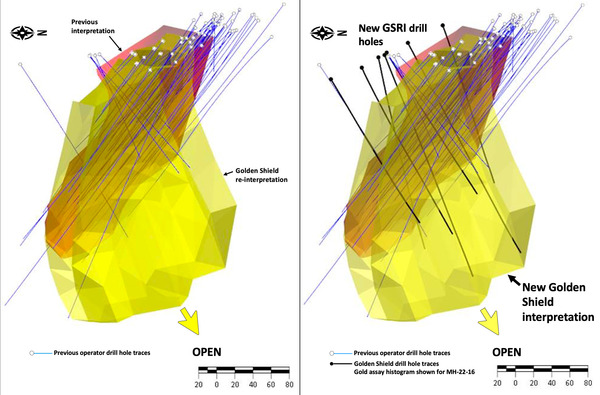 Drilling so far intimates that this is wide open to depth.   The next drilling—which will be starting soon—will step out until they find the bottom of this big structure. 

If these grades hold up, with drilling you can add a lot of ounces quickly. 

These drill results will be coming steadily through 2022.

And this is just one target. There are seven high priority targets to go after next. 

Marudi now has HUGE potential. They hit a crackerjack hole.  It makes Leo and Hilbert—who have a lot of success backing them—think this is not just higher grade, but bigger tonnage.

With just a small tweak in thinking, Leo is seeing that this could be a much bigger deposit than even his team thought.  There are great grades at surface and now they are also getting great grades at depth.

Hilbert says this is how all these Guyana Shield assets develop; start with one pod, and then over time several more get found to give a mine critical mass and into development.

 
I Wish All My Investments Were This Easy
 
 
All of that blue on the geophysical map is the opportunity. Almost 95% of this promising property is completely untouched.

The first terrific hole would stand up as one of the best holes in any deposit anywhere.

They find mineralization all over the property.

They have a new lobe, increased depth potential, and an upcoming drill program run by a guy who knows the geology, the people and the government like the back of his hand.

Oh, and that guy has a multi million-ounce discovery on his own, without Leo, in Guyana already.

There is already a historic gold resource at just Mazoa Hill and numerous addition prospects to go and test.  All of this is packed into a company with an incredibly tight share structure (only 28 M shares out!!) , led by Leo who has billionaires lining up to bet on him. 

On any kind of good news, he has a network that can bring money to the table instantly.

And there's now newly discovered geology here that has high grade AND, size.

Great team, great structure, great hit on the first program, enlarging both grade and size potential. 

But this is exploration. The price you pay for a potential 10-50 bagger in the geology world is fickle.

They don't all turn out like you want.  But we couldn't ask for a better jockey.

And it looks like he's riding a thoroughbred.  Drill results will be steady throughout 2022.  Be ready—I am. I own stock.
 
Sources:

Golden Shield Resources has reviewed and sponsored this article. The information in this newsletter does not constitute an offer to sell or a solicitation of an offer to buy any securities of a corporation or entity, including U.S. Traded Securities or U.S. Quoted Securities, in the United States or to U.S. Persons. Securities may not be offered or sold in the United States except in compliance with the registration requirements of the Securities Act and applicable U.S. state securities laws or pursuant to an exemption therefrom. Any public offering of securities in the United States may only be made by means of a prospectus containing detailed information about the corporation or entity and its management as well as financial statements. No securities regulatory authority in the United States has either approved or disapproved of the contents of any newsletter.
Keith Schaefer is not registered with the United States Securities and Exchange Commission (the "SEC"): as a "broker-dealer" under the Exchange Act, as an "investment adviser" under the Investment Advisers Act of 1940, or in any other capacity. He is also not registered with any state securities commission or authority as a broker-dealer or investment advisor or in any other capacity.