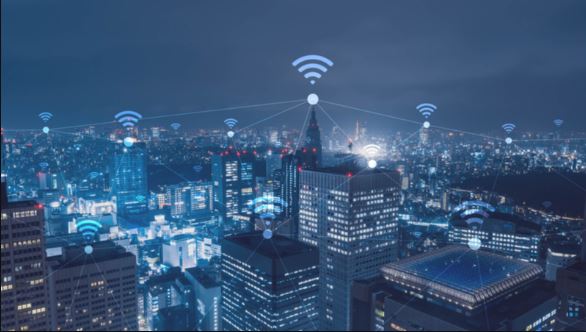 It's a bear market.  That means that picking stocks just got a whole lot harder.

Bull markets are forgiving.  The trend of the market is up.  Most individual names will go up too.

Just stay away from the duds and in a bull market you can see your picks lifted along with all boats.

Not so in a bear market.  You are climbing up hill and lately it has been a steep one.  Today you fight both a higher chance of missing earnings and the chance that if a company does hit its target, the market sends it down anyway.

In this sort of market, you need to look for dislocations.  Where is the general dour mood of the market is causing too much bearishness – ignoring an easy win that you can exploit.

I came across what I thought was one yesterday.  At first glance it looked like an easy win – a layup. 

But nothing is easy in investing and that goes double for a bear market.
 
CERAGON NETWORKS – A PLAY ON 5G BACKHAUL
 
Ceragon Networks (CRNT – NASDAQ) is a name that I have been following for years. 

A 5G play!  Remember 5G?  It seems like for years 5G wireless has been hyped as the next big thing. 

I'm still waiting! 

But Ceragon is a small wireless backhaul equipment provider. They sell wireless receivers and gateways. 

Their customers are service providers, with their largest presence being in India.

Ceragon's backhaul products are the middleman between the big base station towers and your phone. 

They handle the short leg of transmission to get the signal to the main trunk line where it can be routed.

They do it wirelessly, so they are used in areas where laying fiber is expensive or impossible.

Ceragon's cell sites are placed on the side of a building, on a telephone pole, in a stadium, wherever there is traffic and where wireline transmission isn't feasible.

I liked the idea of Ceragon because they are right in the middle of the 5G transformation.  They have a newly released 5G platform and other 5G products on the way.

But Ceragon has just never been able to get any traction.  COVID and a slow rollout of 5G has doomed the stock.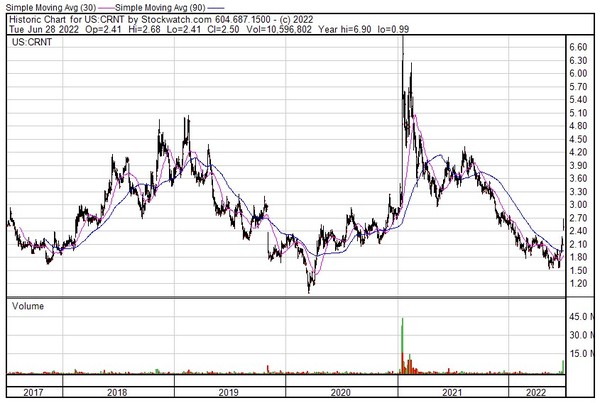 Source: Stockcharts.com
 
AN ALL-CASH BID
 
While I am seeing signs that 5G is back (baby?), where we are in the 5G rollout is now less important for Ceragon investors.

Why?  Because Ceragon received a takeover bid from Aviat Networks (AVNT – NASDAQ) yesterday – and its all-cash.

Aviat is offering $2.80 for Ceragon.  The offer represents a 34% premium to Ceragon's price on Monday, and a 51% premium to the 60-day average.

That sounds great but….  a quick look at the chart tells you that bid is going to leave a lot of shareholders underwater.   Ceragon has traded a lot higher than $2.80 as recently as a few months back.

It is a low-ball offer right?  But is Ceragon seeing its business fall off the back of the truck, justifying it?  I can't say that is the case.
 
CERAGON'S BUSINESS SEEMS CLOSE TO TURNING UP
 
In the first quarter Ceragon did miss analyst estimates.  Revenue came in at $70 million.  Estimates averaged $71 million with a high of $73 million.

But that miss was almost entirely due to supply chain issues.  On the call Ceragon said they saw "strong operating demand" and "exceptionally high bookings", the highest in the last 4 years.

That doesn't sound bad to me.

But Ceragon blew the quarter because they couldn't deliver product. A well known story: component shortages and supply chain bottlenecks.

This is going to continue in the short term – Q2 will be weak. But Ceragon is projecting a better second half. 
While they reduced their fully year guidance – they did so only slightly – from a range of $305 – $320 million to a range of $300 – $315 million.

While the business is not booming, it is not falling apart either. Meanwhile 5G is gaining momentum – as slow as it may seem at times. 

A case could be made then when Ceragon traded below $2 in May and early June it was too cheap. 

Which means the bid premium is not as much as it seems.
 
WILL THE BID BE ACCEPTED?
 
Probably not.

Aviat has been targeting Ceragon since late last year.  In a letter to the Ceragon board, Aviat said that they had made offers in November and April.  Their Chairman and CEO went to Israel to engage with Ceragon a couple months ago.

It's been a no-go.  The offers were rejected and Ceragon's board was not responsive to requests to "engage in price discussions".

Aviat is now going with a different approach.

Aviat holds ~5% of the outstanding shares of Ceragon. 

Because they exceed that 5% threshold, Aviat believes they have the right to nominate directors and have a special meeting called to vote.

They plan to nominate 5 directors for that meeting.

Right now, the Ceragon board has 7 directors.  The company bylaws allow for 9.

That means Aviat needs to win all 5 nominees to get a majority on the board.

 They need a 50% vote on these directors to get them voted in.
 
WHERE DO SHAREHOLDERS STAND?
 
Ceragon has a couple of large shareholders – the Joseph Samberg Trust and Zohar Zisapel.

Samberg owns a little less than 13 million shares, or 15% of the company.  The shares are held in a revocable trust, of which Samberg is the trustee. 

While the Samberg trust has owned shares of Ceragon since 2016, it substantially increased its holdings in late-2018 and early 2019.  This likely means he paid more for those shares than Aviat is bidding.

Ceragon filings are the only one's the trust has made since 2019.  But I don't see any indication that the Samberg Trust is involved in the daily business of Ceragon.  They appear to be investors in the stock.

Zisapel is a well-known Israeli investor.  He has big positions in many Israeli companies.  He is also Chairman of the board of Ceragon.  He owns 7.1 million shares or 8.5% of Ceragon.

Zisapel has sold shares in the past.  In 2020 he held 10.5 million shares.  He had reduced those down to the current amount in 2021, potentially during the blow-off period in early 2021.

Three of Ceragon's 5 existing directors have close connections to Zisapel.   

They either have run or held high level positions in companies where Zisapel was chair.

It seems extremely unlikely that Aviat will be able to sway Zisapel's vote. 

Samberg is a bit less certain, after all the trust seems to be an investor in technology stocks and while Ceragon has been a large investment, it's conceivable they would sell at the right price.

The problem is that $2.80 is probably not the right price.  Most of the trust's shares would be underwater. 

It is hard to imagine them accepting that.
 
IS THERE A PLAY HERE?
 
If there is, it is not for the faint of heart.

There is a case to be made that Aviat can pull this off, but it far from a sure thing.

What I am sure of is if Aviat wants to pull this off, it is going to take a higher price than $2.80.

I think that is the basis for a trade here.  It is not that this deal is going to get done – I think that is a coin flip at best – but that Aviat has every intention of trying very hard to do so.

The bears would argue that higher bid can't happen, because Aviat just doesn't have the resources.

It is true.  This is big acquisition for Aviat.  They are acquiring a ~$230 million company for cash when they themselves are only slightly bigger than that.  They don't have a large war-chest at the ready.

On the other hand, Aviat would have been stupid to not think they would have to make a higher bid.  

In fact, they went to Israel with the intention of negotiating after the $2.80 was on the table. It seems pretty clear Aviat is willing to go higher.

That alone makes a trade on Ceragon intriguing.  But it all comes down to price and risk.

When I started writing this article the discount to the offer was 15%. Right now it is 10% (Ceragon is trading at $2.55 at the moment).

I'd feel a lot better about getting at least a 15% discount.

Like I said, this deal is far from certain.

Apart from Aviat there are a couple of hedge funds with a combined 4% that have been reducing and would presumably be open to a deal.

But weigh that against the 8% that Zisapel owns and the Samberg shares and its an uphill climb.

The next step for Aviat is going to be a higher bid.  But that won't happen until Ceragon's board inevitably rejects the current one.

When they do Ceragon's stock may swoon.

If it swoons far enough, I will consider taking a position.  Not because of my conviction that a deal gets done. 

But my suspicion that Aviat is going to keep trying.