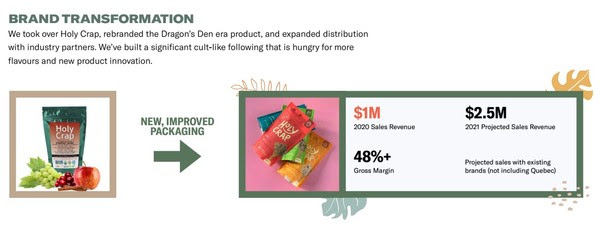 PLANT & CO (VEGN-CSE / VGANF-PINK) IS
THE TOP GROWTH STOCK
IN THE TOP GROWTH SECTOR–PLANT BASED FOODS
 
Plant & Co.
(VEGN:CSE)
is poised to be the next huge breakout company in the scorching hot plant-based food sector.  The market is 
DESPERATE
 for quality plant based stocks to own.  I'm convinced that Plant & Co. is the next stock that the market is going to jump on.
2020 was the greatest year of my investing life–specifically because I found the best stocks in hottest sectors of the market.  I'm telling you that right now the market wants nothing more than to own plant-based food companies.
There is a very good reason for that.  Revenue growth for these companies is going to be insane for the next
 decade
.  Brokerage firm UBS projects that the plant-based food market is going to grow from $5 billion to $85 billion by 2030.  Wow………that is the kind of revenue growth you would expect to see from a biotech that just invented a vaccine to stop a pandemic —— not the rate of growth for an entire industry!!!!
The market is incredibly efficient about recognizing a huge trend is all over pure-play plant-based stocks.
Just look at what happened with 
The Very Good Food Company (VERY:CSE)
 which went from a 70 cent stock price to over $9 in just months after hitting investor radar.
What a trade…..but here is the thing.  I like the Plant & Co. business model even better.  I understand their business model, their strategy is defined and clear, and I believe that they are about to deliver.
They have said they will be announcing big GROWTH–new products and new distribution channels.
I believe Plant & Co. is going to get big—and do it fast.  There is no bigger catalyst for a stock than that.  They have the team and infrastructure in place to do it.
Even better, I see that the way the incredibly fragmented plant-based food industry is currently structured as being the perfect set-up for the Plant & Co. team to carry out their GET BIG FAST plan.
This should be the fastest growing stock in the fastest growing sector of the market.  What more could an investor want than that? 
Don't Blink – This Company Is Starting To Move Fast…
 
There is a "sweet spot" moment to invest in a stock–when you can see that the company has achieved critical momentum but the market hasn't figured it out yet.

That is Plant & Co. right now.  The business is on the cusp of massive growth.  They just closed their first acquisition. The opportunity is there and CEO Shawn Moniz and his team are seizing it.

Plant & Co. is preparing to execute on a major roll-up strategy in the plant-based food industry.  While many companies in this industry are reliant on one plant-based food product —— Plant & Co. is going to quickly have an entire portfolio full of them.

The market is going to love it.  Instead of having to bet on a stock that has just one product, Plant & Co. will be a stock that gives investors the option to own an entire portfolio of plant-based products.

This will be like owning a diversified ETF stuffed full of the fastest-growing plant-based alternatives. 
Beautiful…….every vertical in the plant-based space has experienced explosive growth over the past year.
The plant-based food business is just SO PERFECT for a company like Plant & Co. to come in and consolidate some great brands under one umbrella.  The industry is incredibly fragmented today with private companies with niche products all over the place.

These products clearly resonate with the customers that they are able to reach.  But lack of capital / infrastructure / distribution isn't allowing them to scale up and get their product to market.

This industry literally has very successful brands being made by company owners in their basements or garages.  These great products need to be given a life within a company that can properly get them to market.

Plant & Co. management has already done the hard work over the past year, developing relationships with many of the best private brands.  The potential for a fast roll up here is very possible.

As that happens Plant & Co is going to see revenue explode.  As they execute, VEGN-CSE will attract larger and larger investors–who are hungry to buy quality stocks in this sector.

My job is to introduce you EARLY to the fastest growing companies in the hottest sectors…….no question that Plant & Co. fits that bill.

Holy Crap The First Building Block For The Portfolio 

A taste of what is coming can be seen with the "Holy Crap" brand that Plant & Co. acquired in January. It will be one of the cornerstones for growth.

Like so many plant-based products "Holy Crap" has already established a loyal base of repeat customers in its West Coast of Canada niche and is growing like a weed there.  As part of Plant & Co. this brand now gets to step on the gas pedal….the brand will be expanded and distribution will go nationwide. 

I am long this stock because I think management can execute their business plan. As they do that, revenue will grow in multiples. I mean, the whole business model is to GROW! And right now is just the start. There are many, many more companies to bring under the Plant & Co. greenhouse.
Plant & Co. already has the manufacturing space to accommodate that growth—so there are no capacity constraints.  The infrastructure has already been completed–and it's ready to go!

I expect Plant & Co. to repeatedly & continuously acquire great niche brands like "Holy Crap" and give them critical mass. Create a big portfolio to give you retailing power!

I'm convinced that "Holy Crap" is just the first of many acquisitions here. This one is in Canada but I expect them to go across North America.

Plant & Co has a big edge with the incredible distribution reach it has.  The company just signed a partnership for "Holy Crap" with UNFI–which is the single largest distributor of organic and natural food in Canada. 

High quality local or regional brands like "Holy Crap"–which struggle to get nationwide attention–can suddenly get on shelves everywhere. 

That is why this roll-up strategy is going to be so successful….the brands are just so much more valuable as part of a portfolio with distribution reach.

As an investor, I love that this is a premium sector; These are premium brands that are purchased by consumers who are health conscious.  That means much wider profit margins.

This is much like what Starbucks did to the coffee drinker by convincing them that $5 coffee is normal.  That is what "Holy Crap" and these other high margin products are doing.

 
There Is No Growth Model Like A Roll-Up Growth Model
 
I love an organic growth story as much as the next guy…..but organic growth has its limits.  You don't take revenue up 10X in half a year with organic growth. With a roll-up strategy the sky really is the limit. 

Plant & Co can create that kind of exponential revenue growth and do it in an incredibly accretive way for shareholders.  Buy a company 3-5x EBITDA and get valued in the Market at twice that. With every acquisition value is being created for shareholders.

Add on top of that the huge revenue uplift that all of these brands are going to get with the exponentially wider distribution reach that Plant & Co has……and I think I've bought in at the bottom level of a business plan that has YEARS of runway–plant based foods is One Of The Biggest Mega-Trends In The World right now..

That means that we have roll-up style revenue growth on top of the organic growth that these plant-based products are creating themselves.

I'm convinced Plant & Co is on the verge of huge growth. They're funded. They just completed their first acquisition. This is the bottom level for this stock–and the Market WANTS to buy these stocks now.
Plant & Co has reviewed and sponsored this article. The information in this newsletter does not constitute an offer to sell or a solicitation of an offer to buy any securities of a corporation or entity, including U.S. Traded Securities or U.S. Quoted Securities, in the United States or to U.S. Persons. Securities may not be offered or sold in the United States except in compliance with the registration requirements of the Securities Act and applicable U.S. state securities laws or pursuant to an exemption therefrom. Any public offering of securities in the United States may only be made by means of a prospectus containing detailed information about the corporation or entity and its management as well as financial statements. No securities regulatory authority in the United States has either approved or disapproved of the contents of any newsletter.
Keith Schaefer is not registered with the United States Securities and Exchange Commission (the "SEC"): as a "broker-dealer" under the Exchange Act, as an "investment adviser" under the Investment Advisers Act of 1940, or in any other capacity. He is also not registered with any state securities commission or authority as a broker-dealer or investment advisor or in any other capacity.