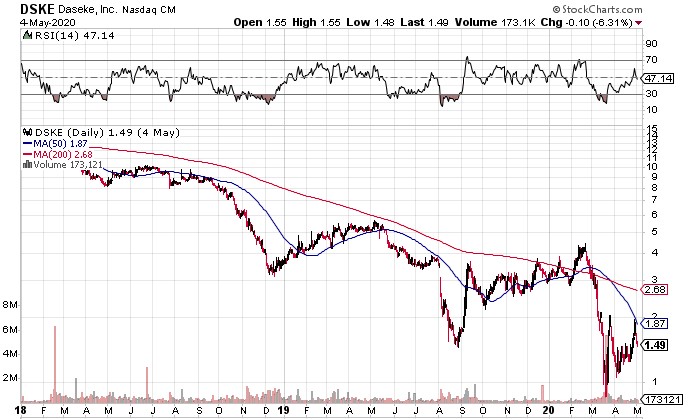 SPACs have gone from hot to not to somewhere in between.
Are we back to a rational market? I would not go that far, but SPACs are once again being valued more on their business and less on the hype.
That's good because the dirty little secret about SPACs is that not all of them work out. In fact, far more of them will fall than rise.
With a deal count in 2020 and 2021 that has dwarfed any previous year (we are up 8x over 2019!) I fully expect the failures to come fast and furious in the coming quarters.
Sometimes the best thing to do is wait for the hype to die down. And then pick your way through the carnage.
SPACs can go down because of all the reasons any stock go down – but often the move down in a SPAC can be amplified.
Why? SPACs are full of new shareholders that usually took their position on big promises. 
After all, the big reason to go public via the SPAC route is that you can make grandiose claims that you could not with an initial public offering (IPO).
When these promises don't pan out, the SPAC becomes a run on the bank with shareholders bailing out left and right.
Daseke Corp – A Failed SPAC
One name that fits this profile to perfection is Daseke Corp (DSKE – NASDAQ).
Daseke is an open deck trucking operation which came public via Hennessy Capital Acquisition Corp (these guys just took Canoo (GOEV – NASDAQ) public – buyer beware) way back in February 2017.
Daseke came to market as a consolidation story
These consolidation stories are as formulaic as network television. Daseke was no exception. 
The company was going to gather up all the mom-and-pop trucking shops, buy them up at 3x EBITDA, realize synergies of scale. With the stock expected to trade at twice that, the price could only go up.
Except it didn't. It did the opposite.
Source: Stockcharts.com
Daseke did what they promised. They levered up, took on $600 million in debt, and consolidated trucking operations. Including acquisitions in the years leading up to the SPAC, Daseke acquired 19 entities and grew from 60 to 6,000 tractors.
But many of these companies were not bought on the cheap. In 2017 Daseke spent over $800 million buying trucking outfits at an average of 5.9x EBITDA.
That could have still worked if they had found enough efficiencies, but that didn't materialize either.
Adding to the woes, Daseke's acquisition of Aveda Transportation, a rig moving company that was one of their largest purchases, turned out to be a complete dud. While Aveda was a good company, Daseke bought it at the top of the oil cycle and the business fell flat as oil prices stalled out.
The Resurrection
Daseke hit rock bottom in the summer of 2019 with the stock trading down to $1.50. 
Now was Daseke really worth just a buck and change back then? Hard to say.
The shareholder base was in full-on "bail" mode. While the business was struggling for sure, a strong case could be made that the cratered share price was also as much a SPAC-effect as anything else.
But that kind of share price collapse tends to bring on change. No surprise that CEO and company founder, Don Daseke, retired from his role. Further mergers were canceled. The company would focus on righting the ship.
Since that time, Daseke has been on a slow road to recovery.
Two years later and Daseke is posting (surprisingly) good results. It turns out that while Daseke did a terrible job of timing their purchases, the businesses they bought were solid outfits.
In the second quarter Daseke posted earnings per share of 42c. Adjusted EBITDA came in at close to $70 million.  They generated over $30 million of free cash flow.
Daseke seems to finally be realizing the cost synergies promised by their roll-up strategy. Their operating ratio – which is basically their revenue less operating expenses – came in at 86%, which is a very fair number for a trucking outfit.
Daseke has also been helped by rates. Yes, Daseke made too many acquisitions and took on too much debt. 
But they were also hit by a sluggish real economy (and poor trucking rates) in 2018 and 2019.
Now we have the opposite. Coming out of the pandemic the economy is strong and shipping is up enormously. 
Daseke operates two segments: Flatbed and Specialized. Both segments are flatbed carriers. Flatbed handles every-day cargo like steel, machinery, and building materials. Specialized deals with more specific cargo like oil field equipment or wind turbines.
Both segments have seen an uptick.
Flatbed rates were $2.50 per mile in Q2 2021. A year ago, they were $1.80/mile. They ended below $2/mile in the previous two years.
In Specialized rates were $3.12 per mile, which compared to $3.05/mile in 2020 and $2.90 in 2019.
Not a Perfect Story
Daseke has not solved all its problems. The big one that still overhangs the company is debt – $532 million at the end of the second quarter. 
But that debt will begin to come down as Daseke generates free cash. They generated $75 million of free cash flow (not including changes in working capital) in the first six months of the year.
Source: Daseke Second Quarter Presentation
And that brings me to the final interesting angle that failed SPACs like Daseke present. Like all SPACs, Daseke came with warrants. The terms of those warrants are the same as any SPAC – they have a strike of $11.50 and were good for 5 years.
That 5-year term is up in February of next year. That gives Daseke roughly 6 months to get them in the money.
A brave soul may be willing to take a spec on these warrants , which trade at between 20-25c right now. With Daseke now over $9, having raised guidance in the second quarter and with the seasonally strong third quarter ahead of us, a case could be made that the stock could top the strike before the warrants expire.
I'm not quite that brave, but the example does illustrate a point. If Daseke does breach that $11.50 barrier, warrants purchased during the darkest days for sub-10c prices could quickly become multi-baggers.
A Template for the Future
The safer play has always been to simply bet on the stock. If you had bought the stock at $2, when the market was pricing in the lights going off, you'd have a cool 4-bagger.
Looking ahead, I have mixed feelings about Daseke. That Q2 earnings number is impressive, but Q2 is also seasonally strong. Meanwhile, the economy seems to be peaking here, which makes me wonder where trucking rates will go.
The analysts are still not sold on the "new" Daseke.  Stifel was willing to up their target price, but only grudgingly did so, from $9 to $10.
Source: Stifel
But you could flip this on its head as well. Another earnings beat would fortify its turnaround and force analysts to give it some respect.
The bigger takeaway with Daseke is the lesson. Not all SPACs work. Those that don't can fall farther than you may think. 
And most importantly, for a patient investor willing to wade through the rubble, SPACs may offer a big opportunity. You just have to wait until no one is looking anymore.