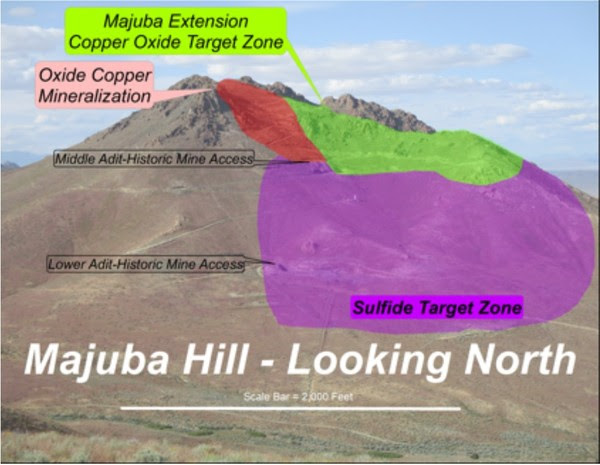 BAM BAM RESOURCES BBR-CSE / NPEZF-OTC
IS MY FAVOURITE COPPER EXPLORATION STOCK–RIGHT NOW!!
NOTE-BAM BAM Resources just announced a 3-for-1 stock split to take effect in February.  That means I am buying THREE shares for every one I buy today.  This will increase liquidity in the stock and make it more accessible to both retail and institutional investors.
The trade for 2021 and beyond is copper.  Bam Bam Resources, Corp. (BBR:CSE / NPEZF:OTC) is my copper junior pick for RIGHT NOW!

Bam Bam has everything I look for in a junior exploration stock.  It checks every box……

Check 1 – An incredibly tightly packed share structure — just 21 million shares outstanding.  That gives huge leverage to investors.

Check 2 – Cash in the bank, fully funded for an aggressive 2021 drilling campaign.  Ready to go, not scrounging for dollars.

Check 3 – An asset that has emerged as having world-class potential with head-turning initial drilling results and ample historical data

Check 4 – A safe, secure and easily accessible Nevada location that is near all the amenities of modern mining and located just 120 miles from Tesla's Giga Factory. All of this will allow for a predictable, low-cost development with no headaches.

Check 5 – Focused on producing a commodity/metal in copper that the world is going to be in desperate need of for the next 20 years.  Supply, demand, government policies are all bullish for copper.

Like with every junior miner I guarantee nothing……but my, oh my.  With that incredibly tight share structure—if Bam Bam's 2021 news flow from their Majuba Hill property goes where I think it might—this could get exciting quickly.

I am on this story now because I spent all of 2020 kicking myself for missing Bam Bam in early 2020.  It was right under my nose as I was covering a multitude of gold stocks in Nevada and I missed it.

In May 2020 the company drilled what turned out to be a fabulous discovery hole.  It was a GAME CHANGER for the company and Majuba.  Starting from the surface the MHB-2 hole intersected an outstanding interval of copper and silver. Using a length weighted average, MHB-2 returned extraordinary results—the most exciting was 146 ft 0f 2.4% Cu equivalent.

Even with COVID decimating commodities in the spring the market rewarded Bam Bam with this stock chart….KA-KA-KA CHING!!!
 

My bad —— I don't ever want to be missing out on junior mining stocks that are operating in Nevada, Canada or anywhere in my neck of the woods.  I've spent 30 years building a network of contacts in this business to make sure this doesn't happen. Bam Bam Resources wasn't even on my radar in early 2020.

To be fair to myself though…..this Majuba Hill success did kind of come out of nowhere.  For over 100 years the project was split across multiple owners and wasn't properly explored.

Bam Bam is the first team to finally consolidate all of the land and early drilling has opened everyone's eyes to the potential.  I missed the 2020 drilling results but I'm ready for the next round.

With the latest assay results pending, I expect the next news (which could be major) within weeks.
 
Timing Couldn't Be Better To Prove Up
A Major Copper Porphyry Project

Coming out of COVID and going into what a massive reflation trade is the perfect time for a junior copper stock to be making some noise.  With every government in the world directing their spending towards making this a "Green Recovery"… copper is going to be the star of the show.

Timing is everything and Bam Bam couldn't have gotten any luckier.

Majuba Hill is located in Pershing County, Nevada ——56 miles southwest of Winnemucca and 156 miles northeast of Reno. Nevada. Copper, tin, silver and gold mining started at Majuba in the early 1900s with production into the 1950s.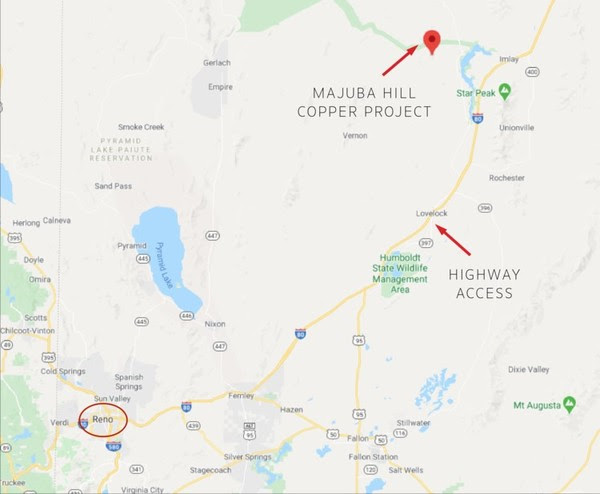 Historic mines in and around Majuba produced 2.8 million pounds of copper, 184,000 ounces of silver, 21,000 pounds of tin, 5,800 ounces of gold as well as lead and zinc.

Last year's drilling by Bam Bam was a pretty good indication that the historic mining likely only scratched the surface.

MHB-2 truly was a spectacular hole.  The Bam Bam team had hypothesized and modelled the potential the hole had.  But until you actually drill the hole and see the grade you don't really know.  The hole showed that the oxide extension was there and so was the grade —— 2.5% copper equivalent.

Suddenly Majuba was a project with big potential that everyone had missed.

The technical presentations that the company made subsequent to drilling this hole is likely what got the stock moving last May.  That is when the market started to grasp the bigger potential of this project. 

Majuba went from an unknown and hypothetical asset to a prospect with impressive actual drilling data and the potential to be something big.

All historic high-grade copper production at Majuba came from outcropping, oxidized copper porphyry mineralization. That previous drilling, geologic mapping and geophysical data show an area containing up to 40 million tons of copper oxide at grades of 0.43% Cu and 12 ppm Ag. 

Widespread supergene oxidation extends up to 600 feet below the surface.  The total potential for the project (stated in Bam Bam's corporate presentation) is 350-500 million tons in sulfide/oxide mineralization at grades of 0.4% Cu, 12 ppm Ag, and 0.175 ppm Au.

The topography is a big part of the story at Majuba.  The mountain sticks straight up out of the ground, so if an economic deposit does get developed there—working the project is basically going to involve taking the top off the mountain and working down.  See the chart below—again, if future results show an economic deposit, Bam Bam will start in the red zone, mine down into the green and then all the way down into the purple.  Oxides down to sulfides.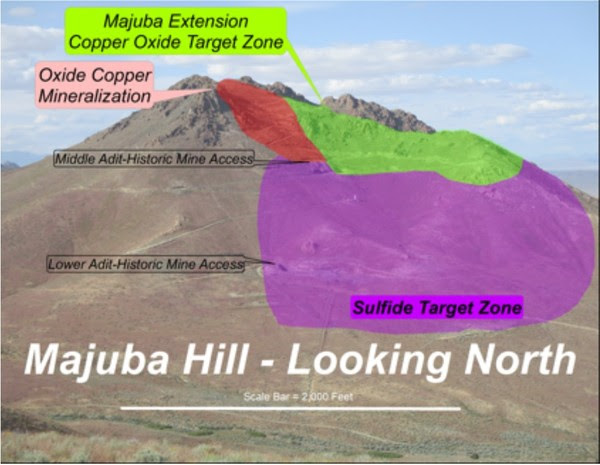 I have to say this is eerily reminiscent of the old days and the central Nevada Paradise Peak Mine. Paradise Peak stuck out of the ground just like Majuba does and as they whacked it down it produced 2 plus million ounces of gold.

Dare we dream?  Yes!  That is why we are attracted to these junior mining stories…
 
Catalysts Are Coming Throughout 2021

The oxide mineralization at Majuba's surface has always been pretty well understood.   What had never really been sorted out was where the sulfide was and how big the oxide might be.

In other words….. Majuba hadn't previously been recognized as the porphyry that it is.  That is a big miss because porphyry deposits are the dominant source of copper in the world.  Bam Bam will be the first to go develop this project through a porphyry lens.
 


Known oxide mineralization has now been confirmed up to at least 800 feet below surface.  2021 drilling will be all about pushing forward and seeing where the limits are to this system.  With 350—500 million ton potential we know that this could be big.

Copper porphyries are a broadly disseminated deposit, which means it will have the exact same mineralogy and grade over a large area.  So if that's what the drilling finds, I think the Street could extrapolate value pretty quickly here. 

And investors can see how much the stock moved last May–it moved fast.

Late 2020 drilling samples are now awaiting assay results that should be out before the end of the month.  If successful, the Bam Bam team would move towards a maiden resource from the new NI43-101 report.  That has potential to be a major catalyst for the stock. We'll see what the assay results are!

Majuba has all the signs of being a fabulous copper deposit right here in the United States just 20 miles from pavement and a railway.

It ticks A LOT of my boxes.  There's amazing leverage here for investors with a good copper drill hole. 

Like the market rewarded gold plays in early 2020 (what a great 8 months for gold investors that was!!), it will now reward copper plays in 2021. 
 

 
Bam Bam Resources Corp has reviewed and sponsored this article. The information in this newsletter does not constitute an offer to sell or a solicitation of an offer to buy any securities of a corporation or entity, including U.S. Traded Securities or U.S. Quoted Securities, in the United States or to U.S. Persons. Securities may not be offered or sold in the United States except in compliance with the registration requirements of the Securities Act and applicable U.S. state securities laws or pursuant to an exemption therefrom. Any public offering of securities in the United States may only be made by means of a prospectus containing detailed information about the corporation or entity and its management as well as financial statements. No securities regulatory authority in the United States has either approved or disapproved of the contents of any newsletter.
Keith Schaefer is not registered with the United States Securities and Exchange Commission (the "SEC"): as a "broker-dealer" under the Exchange Act, as an "investment adviser" under the Investment Advisers Act of 1940, or in any other capacity. He is also not registered with any state securities commission or authority as a broker-dealer or investment advisor or in any other capacity.