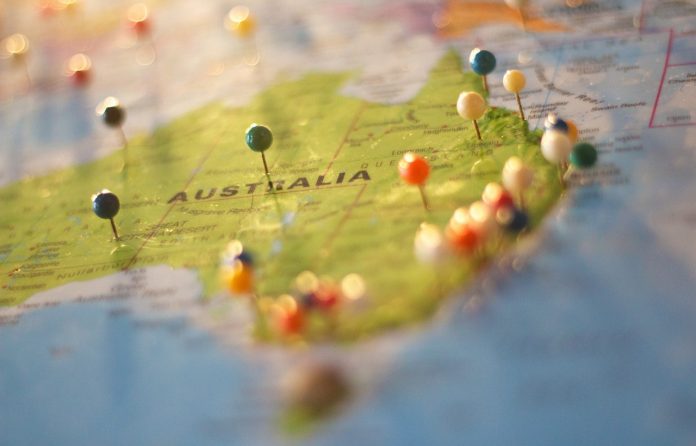 The Kirkland Lake Gold (KL:NYSE/TSX) success story is exactly why intelligent speculators like you and I love the junior resource sector.

In most sectors a really great stock doubles over a couple of years.  In the mining sector, a great stock is a 10-bagger over a couple years.  Kirkland Lake was a 40-bagger over just four years (with almost no volatily)! This is what overnight wealth creation looks like.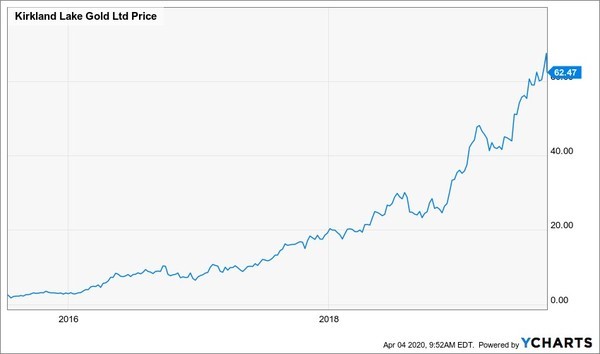 It's rare for a large producer to have capital gains like that…what drove it up was when its super high grade Swan Zone at the Fosterville Gold Mine in south central Australia started going into production. 

The Swan Zone became a 2,000,000 ounce deposit at almost one ounce per ton — about 30g/t.  The stock chart kept getting steeper as the Market realized Kirkland Lake was about to become the lowest cost gold play on the planet — bar none.

No exaggeration… with the Swan Zone, Kirkland Lake's Australian Fosterville Gold Mine ranks as the lowest cost, highest grade mine in the world.

Looking back on this chart and this story, two things surprise me.
that the Market didn't bid the stock up more quickly as the Swan Zone was discovered. 
No area play developed.  Where were all the juniors staking land all around this incredible deposit? 
Little did I know that one local geologist had already started to scoop much of the best ground!!

A geologist who had spent not just his career — but his entire life — in this area studying rocks, and watching all the mines in the area get built.  You could say he grew up in the shadow of the headframe at Fosterville — and he has close to 1400 km2 of the best ground in the area…

You know where this is going now don't you?

This geologist has staked close to 1400 km2 near the Fosterville Gold Mine with reported historical high-grade gold production of over 20g/t. 

He knows what the geological controls are — the last 15 years at Fosterville have shown him that.  He knows and talks to key people in the area who know the region well; they're all his mates.

And he's packed all that ground, and all his knowledge, and teamed up with the most successful junior mining team of the last 18 months.  Some of the highest profile and most successful investors in the mining business fought to get a piece of the seed stock here (like I did!).

They put all this into a very tight public vehicle with a crazy low market cap — there's less than 50 million shares out. And it just listed last week!!

This local geologist started staking all this ground way back in early 2017, just as Kirkland Lake themselves were really starting to understand the potential of the bonanza grade Swan Zone. The Kirkland Lake stock moved steadily, but it wasn't until early 2019 that the stock gained huge attention in the minds of North American investors.

There was no area play because Kirkland Lake had a big land position — and perhaps because this geologist already had so much of  the good geology around it.  This geologist knew where the faults were, how many mineralizing events there were over the eons — where to look and what to look for.

This geologist was born in the area and had spent his early years roaming this gold belt and figuring out its secrets.

And he staked this huge land position just as the Swan Zone was getting developed into the highest grade, lowest cost producer in the world. He was there; he saw it happening long before North American investors got wise.

I think the stock is going to be a HUGE winner.  I'll be giving you the full story tomorrow — name, symbol, management's plan that could make its stock chart move like Kirkland Lake's did.
 
No Sales Pitch Needed – All He Needed Was A Map
 
This story gets better. One thing is — this junior is only recently public.  There is no hangover of old stock or a bad chart to overcome. There are no warrants. The second thing is — it has come public just as the entire world is looking at gold as an investment again.

Third, this junior attracted some of the most successful investors in the history of mining and one of these investors, noted in the company's go-public press release has a history in the Fosterville area second to none.

At the end of the day, the maps and history of the huge land package brought in $35 million in desired interest for a $6 million raise. Investors who knew the region wanted the opportunity to finally get exposure to the ground that had been so prized, but privately held up until now.  Interest exceeded availability by 700% — none of the institutions were able to get as big of a piece of the deal as they wanted.  $35 million chasing $6 million of paper.

To attract this cash there was not dog and pony show required.  All that was needed was a map to show the institutions where the land was.  Once the location was pointed to on the map the most savvy many gold sector institutions that knew the area said "Give me as many shares as you can!"

This included funds run by geologists and specialists who have studied Kirkland Lake in depth and know what to look for.

You literally can't get a better indication of the potential here than looking at the go-public news release and the investor presentation to see who was demanding a piece of the action in the property.
 
Under No Circumstances
Should You Miss My Next E-Mail
 
After a decade of not having any interest in the junior mining sector I became very bullish on the prospects for junior gold miners in early 2019.

There was no question in my mind that gold had broken out and that a wave of high quality junior miners would be coming to market.  Companies that had acquired incredible assets while the sector had been starved for capital over the past five years.

I was right.  I've had several big winners already with more to come.

There is no junior miner that I have been more excited about than this one… and clearly I am not alone.  The recent financing was oversubscribed many times over and included the savviest investors in the gold mining business.  That's one reason why it is my single largest position in terms of dollar value.

I can't wait to watch this story play out.

Tomorrow I'm going to tell you everything you need to know about this junior miner including:
How the geology of this property directly to the south of the Fosterville Gold Mine matches up with Kirkland Lake's high-grade discovery
The historical high-grade samples that have already been pulled off this land
Introduce you to the Aussie geologist who staked this claim and the top management team that has joined him
The name and ticker of this newly public junior miner
Timing will be everything on this one.  You need to be on top of this quickly.

Today, all mining investors know of Kirkland Lake and the Fosterville Gold Mine… but tomorrow… the market will find out who owns what could be the best 1400 km2 around the mine…

Complete with high-grade historical production and kilometres of strike length at surface already. DON'T MISS IT!!