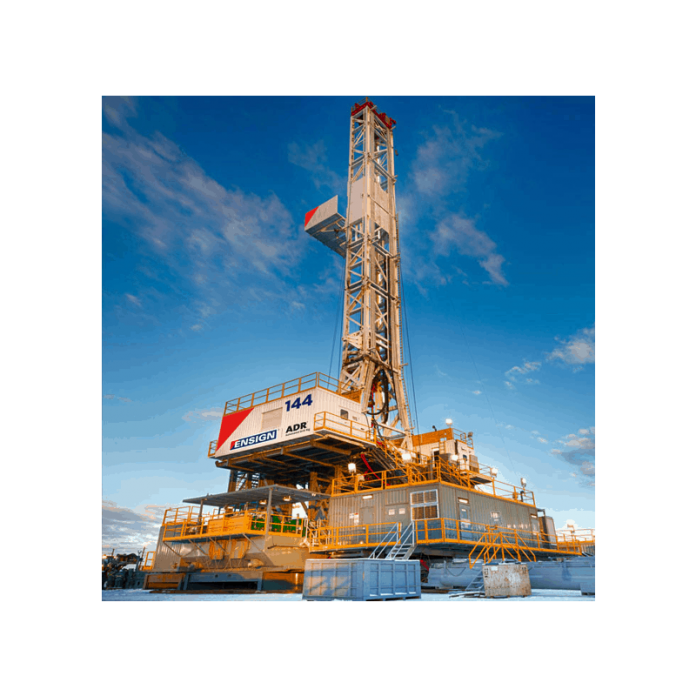 Yes it's true.  Ensign Energy Services ESI-TSX has an official dividend of 24 cents per year—6 cents paid quarterly.  And the stock trades for 24 cents.
 
Ensign is a Canadian-listed drilling company, but is one of the most international stories, with oil and gas rigs around the world.  Only about 30% of its EBITDA comes from Canada.
 
Ensign is a stock with an interesting story—both in the short term and in the long term.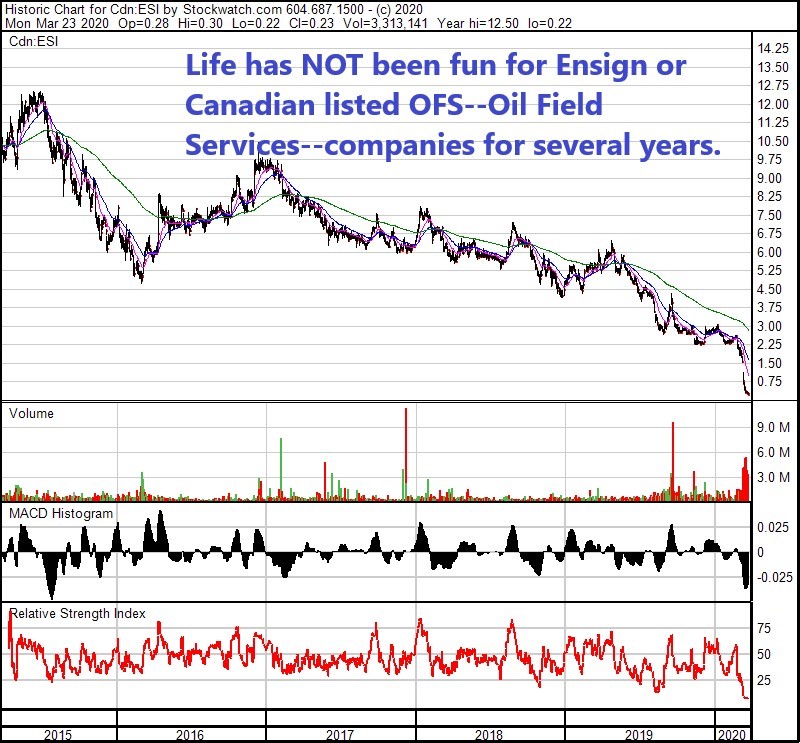 Long term, it is owned 18% by Canadian oil legend Murray Edwards, a Calgary lawyer who founded giant oilsands producer Canadian Natural Resources (CNQ-NYSE/TSX), and is part owner of the NHL's Calgary Flames hockey team, among other business interests (Imperial Metals (III-TSX) & Magellan Aerospace (MAL-TSX). 
 
Wikipedia has him listed as having a net worth of US$1.5 billion, but that page was last updated in October 2019 (with CNQ as the largest oilsands player, it's probably a little less right now—like the rest of us ;-)).

Edwards has been with Ensign since the late 1980's – about the same amount of time he has been with CNRL.  The COO and President of Ensign is Bob Geddes.  Geddes has been with the company since 1991.  Ensign does not have a CEO, which hints at the decision making role that Edwards likely plays.

In that time there has only ever been one dividend cut—late last year.
 
Now, here's the short term interesting thing—on March 23, the company announced several cost reductions including:
Capital budget dropping $40 million, or 40%, to $60 million
Cutting Chairman Edwards' salary by 40%
Cutting President Geddes' salary by 20%
Cutting other executive salaries by 12.5%
 
Guess what they did NOT cut?  The 24 cent a year dividend that costs them $38 million a year.
 
This is a company with $1.57 BBBBBILLION in debt.  Debt to Cash Flow (D:CF) is over 7x.  Now, the company is making enough to cover the dividend.  The Street has the payout ratio this year as 82% of Free Cash Flow (FCF) and 34% of general Cash Flow Per Share (CFPS).
 
But they do have a $750 million credit facility coming due Q4 next year, and for just the 2nd time in living memory (the other being a few months in 2008) the Market can't be sure that this will get rolled over seamlessly.
 
However, Murray would hold huge moral suasion over these bankers.  Nothing would ever get said, but would you be the bank calling a loan on Canada's most rock solid and politically connected oil entrepreneur?  Let's see if you get another piece of business across that empire.
 
Of course, when a stock goes to 100% dividend yield, the Street is pricing in that it will get cut to zero—which it likely will.  The dividend is paid quarterly, and was just paid out, so the board at Ensign has some time to see how Saudi production war and the Coronavirus demand shock plays out.
 
The truth is, likely no one will ever collect their 100% dividend.  But it was intriguing that the board chose not to cut it this week.