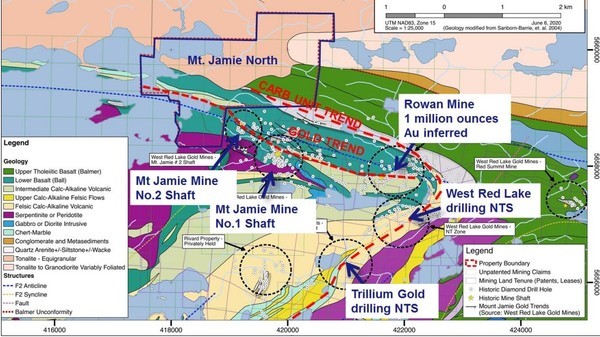 TIM TWOMEY IS GUIDING THE DRILLING FOR
STONE GOLD (STG-TSXV)–IN RED LAKE
 
Stone Gold Inc. (STG:TSXV) is the $3 million market cap Red Lake gold stock that has lured Tim Twomey, Mr. Red Lake himself, back into the game.

With over 14 years and 8 million ounces of high-grade Red Lake gold under his belt, Tim Twomey is now putting all that background to focus on this $2.4 million market cap company. 

How they got him is…well it's not a mystery to me.  He just took one look at their Mt. Jamie North property in Red Lake and said——YES. 

The fact that Stone Gold has an asset that he loves AND has him directing drilling….yet trades at a $3 million market cap is…surprising to say the least.   That is why I personally own 3% of the company. 

Directors, officers and their close associates own about 25% of the company.

The valuation, the team and the asset all line up. At this valuation I don't believe I've ever seen a stock with so much leverage to good news……heck any news!! 

The market is just completely unaware that Stone Gold even exists, much less that it has Twomey spotting the drills.

Twomey is a big game hunter with a very high percentage success rate.  He must see a potential elephant here to be interested.

I can see what he likes about Stone Gold's project—the Mt. Jamie North property. It has had NO modern exploration, despite having a 2 kilometer strike length on trend from a past producer—the Mt. Jamie Mine–and sitting RIGHT BESIDE the recent discovery made by Trillium Gold (TGM:TSXV) (and what a chart they have–25 cents to $2.70!!).

And of course Twomey loves Red Lake.  He told me that he has never seen anything like the Red Lake greenstone belt for having such potential for such high-grade gold.

The company locked down this asset BEFORE Red Lake got red-hot.  This is a great prospect and there is
NOTHING left to stake anywhere now in Red Lake after Great Bear and Trillium started making noise.

Every square inch of Red Lake is now staked!

I own 3% of the shares of Stone Gold because I think this has a shot at being The Gold Exploration Stock of 2021…..with just 23 million shares outstanding and trading at 17 cents—YES 17 CENTS—it is completely off the radar of all investors (until now).

Stone Gold could be an exciting stock to own just on the news that Mr. Red Lake is being involved getting more widely distributed.

Heads up that Twomey is not part of management; he's the consulting geologist but trust me, Stone Gold is only putting the drills where Twomey tells them to.
 
The West End of Red Lake Is Now Open For Business
 
The project that has Twomey so excited is Stone Gold's Mount Jamie North Property.  The property is just 300 meters—along strike—from the historic Mount Jamie Mine No. 2 shaft.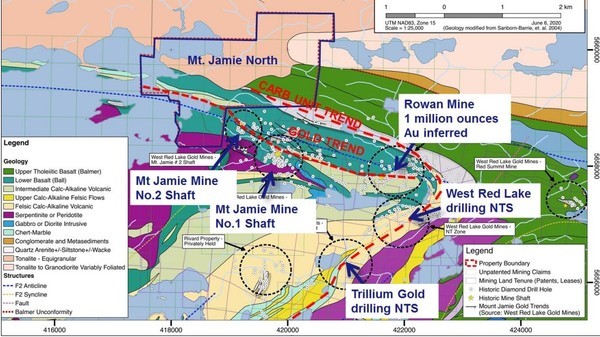 Another deposit on trend is the nearby Rowan Mine, owned by Evolution Mining (EVN: ASX) and West Red Lake (RLG: CNSX) which has an inferred resource of 1,087,000 oz Au at a grade of 7.57 g/t Au.  So this is clearly a well mineralized trend that goes through Mt. Jamie North.

Red Lake is one of the largest gold producing districts on the planet having already produced 30 million ounces of HIGH-GRADE gold.  Twomey was part of the team  responsible for almost one-third of that….. 
Stone Gold's Mount Jamie North had some work in the original Red Lake staking rush in the 1920's—but saw no real work done for decades. There are a few overgrown trenches—likely from that era.

The property was staked again after many years—when the patents were canceled in 2013 due to non-payment of taxes. No modern exploration has EVER taken place on this property.  That's what Twomey has so excited.

Twomey has identified six main targets at Mount Jamie North and the first three have been selected for drill testing.

What Trillium found right beside Stone Gold was gold in the carbonate — not surprisingly one of Twomey's favorite targets is where that carbonate sedimentary unit trends onto Stone Gold's ground.  And then his other targets are on strike with the historic Mt. Jamie property.
 
Stone Gold's News Flow Starts Early In 2021
 
I'm expecting that drilling gets going early next year— the company is targeting February 2021 and the results should come quickly — they are only drilling three holes and they don't have to go down to 10,000 meters.

Stocks run in anticipation of news so time is of the essence here.  That has to be especially true with the excitement that Mr. Red Lake is bringing with his experience of finding 14 million ounces: 8 million at Goldcorp in Red Lake  and 6 million ounces at Premier Gold Mines in Geraldton ON. 

Nobody knows about this company. To be fair, it is very grassroots.  But that makes it a great ground floor opportunity.  This is junior gold speculation at its finest. This stock isn't for Grandma's pension account.  The leverage this stock offers to Red Lake, to Twomey, to a high-grade discovery is off-the-charts.

I have to say that the risk if high, but with just a $3 million market cap nothing is priced into this stock; less than nothing.

In this business you bet on the people, you get on the neighborhood and you bet on high-grade.  With Twomey, with the recent discovery right beside and with Red Lake's legendary high-grade history Stone Gold has it all.

It doesn't get any more exciting than this.  It's a tiny bet with potentially a big payoff. 

EDITORS NOTE–In yesterday's story I said Goldcorp was bought by Barrick; my apologies it was Newmont.