DoubleLine Capital's Jeff Gundlach doesn't just like commodities today.  He thinks that commodities have massive gains coming, his exact words being:
"What I mean by massive is not a 30% gain, it is 100%, 200% or even 400%."
Cha-cha……Ching!
Gundlach is a pretty sharp cookie.  They call him the "Bond King" but he manages money across all asset classes.  His firm DoubleLine Capital currently has almost $120 billion of assets under management.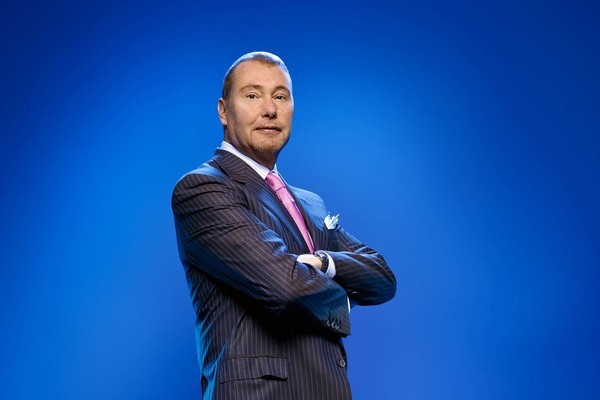 Image Source: Barron's
You don't get that big without also being good.  He is.  Gundlach has outperformed 92% of his peer group over the past five years.   That is why when he speaks, people listen.
These days he is talking a lot about commodities.
History Is Convincing – So Is The Valuation Next To Stocks
At the core of Gundlach's super-bullish view of commodities is the fact that we are now very late in the business cycle.
He can't prove that we are late in the business cycle, but given that we are in the ninth year of an economic expansion — I'll suggest he might have a solid case there.
What he can definitely prove is that every recession in the U.S. since 1970 has been preceded by a massive commodity rally.
Going into each of the last five recessions, commodities as an asset class have experienced a truly massive rallies, sometimes by as much as 400 percent.  During those rallies commodities have vastly outperformed the stock market.
Gundlach finds it almost unbelievable how repetitive commodity outperformance late in the business cycle has been historically.  "Eerily repetitive" was his actual description.
Valuation would also seem to support his bullish case.
Today the S&P GSCI Total Return Index-to-S&P 500 Index ratio is at its lowest point since the dotcom bubble, meaning commodities and share prices of producers are highly undervalued relative to large-cap stocks.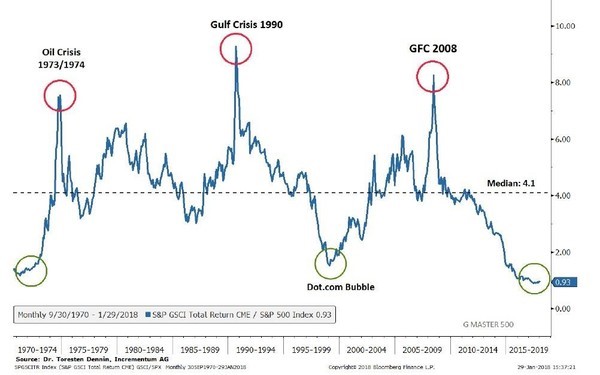 Gundlach believes (and his chart above shows) that commodities today are as cheap relative to stocks as they were in the 1970s and during the dot-com bubble of the 1990s —- both of which are periods that were followed by an incredible outperformance by commodities.
With the relative value shown in that chart it is very hard not to think that commodities today are exactly at the valuation where you want to be buying them.
If history repeats, we should be set up for commodities (and commodity equities) to outperform the overall stock market by up to 800 percent in the near future.
The Fundamental Case For Commodities Is Also Strong
Gundlach is clearly a student of history.  His argument for commodities based on history is convincing.
He also likes the fundamental case behind commodities today.
Four fundamental drivers that he specifically points to as being bullish for commodities are:
Increasing global economic activity
The recent U.S. tax cut boosting growth
"Absurd" stimulus policies from the European Central Bank
A weakening U.S. dollar
As for specific ways to profit from the massive commodity rally that he expects, Gundlach made one recommendation to Barron's earlier this year.
Pointing to the fact that energy has been one of the weakest sectors of the S&P 500 for a multiyear period, Gundlach recommended The Energy Select Sector SPDR [XLE].  XLE is an exchange-traded fund that invests in energy which has underperformed the S&P 500 by something close to 100% in recent years.
Making the case even move convincing is that Gundlach is not the only legendary investor making the case for both commodities and energy companies specifically today.  GMO's Jeremy Grantham wrote this:
By some valuation metrics, resource companies appeared to trade at their cheapest valuations relative to the S&P500 in almost 100 years, and if history is any guide their future returns may well significantly outpace the performance of the broader market.
I'm starting to feel that this isn't a particularly tough one to get your head around.
The overall stock market dominated by the big valuations of the big tech companies (Facebook, Amazon, Netflix and Google) is expensive by any historical metric.
Meanwhile Gundlach and others (like Grantham) are showing us that commodities and the share prices of commodity producers are as cheap as they ever have been.
So cheap, you don't need to go down-market to get leverage—you can buy the best ones at historically low valuations.  That's what I wait for…and I was buying oil stocks this week.
You readers know I do my research.  This US oil stock is so good I've been buying it steadily for months…and they just had news that I think sends the stock to new all time highs…which is why I bought more this week.  Get it working for you right now, by clicking HERE.