The intense tropical storm that's disrupted a number of major oil refineries in Texas is unlikely to drive up gas prices in B.C., according to experts.
Harvey, which peaked as a Category 4 hurricane over the weekend, struck the state's refinery district, forcing companies including Exxon Mobil and Valero Energy to halt production.
Roughly 2.5 million barrels of daily refining capacity, or about one-fifth of total U.S. production, is offline because of the storm.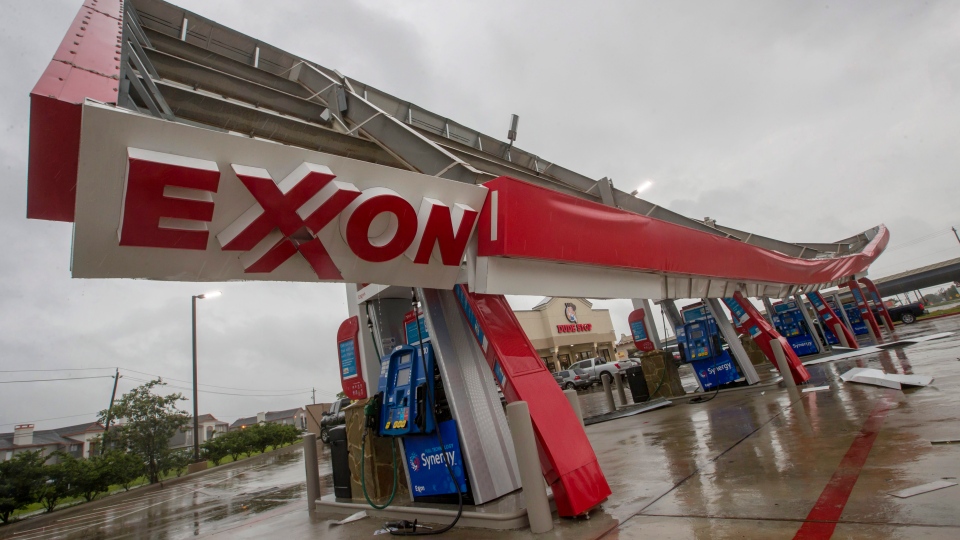 A gasoline pump awning at the Dude Stop convenience store in Webster, Texas, is partially collapsed on Sunday, Aug. 27, 2017, after remnants of Tropical Storm Harvey inundated the area. (Stuart Villanueva/The Galveston County Daily News via AP)
But Keith Schaefer, editor of Oil and Gas Investments Bulletin, said pumps in Western Canada are generally insulated from production issues in the Gulf Coast.
"We shouldn't see much impact at all," Schaefer told CTV News. "We get most of our refinery products from the West Coast of the United States and Alberta."
Schaefer said it is possible, if Harvey continues to disrupt production for long enough, that B.C. could see prices hike at the pumps, but he doesn't expect it would be by more than two or three cents.
During Hurricane Ike in 2008, Canadians gas prices soared by 12 cents in a single jump, but Schaefer said the market conditions are very different now.
"We were at the end of a huge bull run in oil and gasoline prices. Oil had gone from $40 to $140 in five years," he told CTV News. "Here we're at the other end of the spectrum. Oil prices are at close to record lows."
Dan McTeague, senior petroleum analyst with GasBuddy.com, also noted there is a sizeable stockpile of oil and gas, so supply shouldn't be an immediate concern.
The demand for gas is also expected to diminish come September.
"We're into the last week of summer, demand may start to wane, that may actually serve to the a advantage of many consumers who may not see prices rise as much as would be expected say if this had happened a few weeks ago," McTeague said.
With files from CTV Vancouver's Shannon Paterson  
Update: Dan McTeague previously predicted gas prices in Canada would increase gradually as a result of Harvey, but has adjusted his analysis.
http://bc.ctvnews.ca/gas-prices-unlikely-to-spike-because-of-harvey-experts-say-1.3565226