While the S&P 500 has marched relentlessly higher over the past eight plus years the energy sector has had a terrible time.  The result of that is that investors have long since given up on the energy sector and instead enjoyed the easy ride that has been available elsewhere.
But the times they are a changing.
Look at the high valuation in the S&P  right now: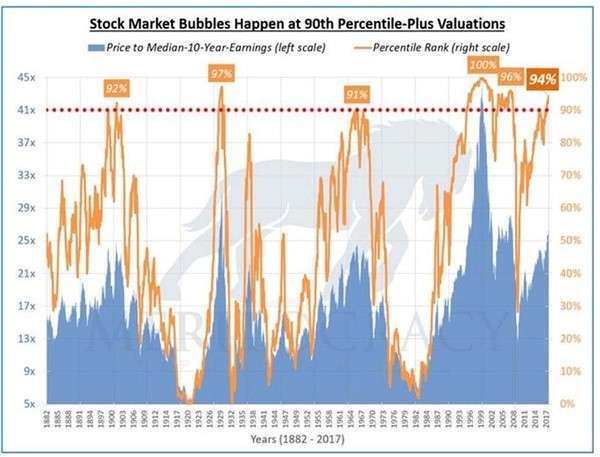 Source: Centaur Capital Value Fund
Five previous times in history the United States stock market has traded in the 90th percentile of its trailing price to median ten year earnings.  In every single one of those instances the stock market subsequently performed extremely poorly.  There were no exceptions.
Now here we are today with the U.S. market trading in the 94th percentile.  This is only the sixth time that this has occurred in the history of the U.S. market. How much upside is left in the 94th percentile?
Oil is at the exact opposite juncture.  The Market has given up…more on oil stocks than oil.
The truly exciting part is that the share prices of oil producers (even the best ones) are priced exactly as you would expect for a sector that investors have long since given up on.
They are dirt cheap.
Combine rock bottom valuations with surging cash flows juiced by a rising oil price and you have a powerful combination for big equity returns…while the S&P 500 struggles.
The stage for the oil bull market that is just beginning is based firmly on supply and demand fundamentals.
IEA data shows that global oil consumption has been growing very rapidly.  Over the past three years daily oil demand has posted increases as follows:
2015 global oil demand up 2 million barrels per day
2016 global oil demand up 1.6 million barrels per day
2017 global oil demand will have increased by 1.6 million barrels per day
That is a 5.2 million barrel per day increase in demand…and natural declines run about 2 million barrels a day per year.  over three years that's 6 million barrels.  The industry has done an amazing job replacing 6 million and adding 5 million bopd.
But we have already seen that impact oil–in both fundamentals and prices. Steady growth in demand and restrictions on supply are now showing up in inventory numbers across the globe.  More importantly those inventory draws have finally appeared in the United States. Year to date the change in U.S. crude inventories shows a decrease for the first time since 2007 (when oil was surging over $100 per barrel).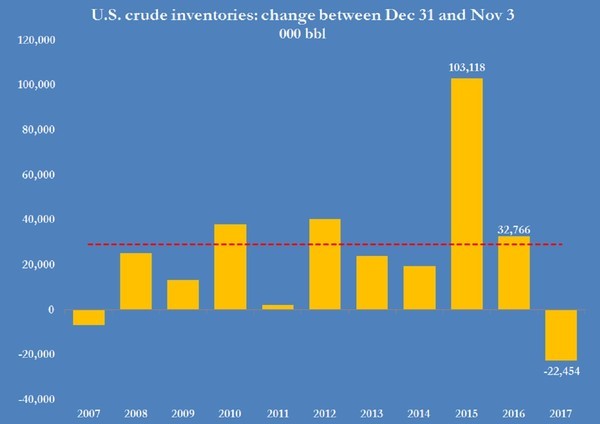 Source U.S. Energy Administration
Making the story even more bullish (and what you can't see in the chart above) is that finished product inventories (gasoline and distillates) have been decreasing even faster than raw crude oil.
While this tightening of the oil market has started to show up in the price of oil but it has yet to shows up in the share prices of oil producers.
This is setting up an incredible opportunity for observant, active investors.
While the rest of the world is mindlessly exposed to a stock market that is historically expensive we can actively pivot to this sector where a bull-run is just beginning.
The best way to make that pivot by owning the one company that I believe is the single best oil sector opportunity on the planet.
This company has the following attributes:
Has more than 90 percent of its production from oil
Runs its business with an extremely clean balance sheet
Is founded and operated by a Tier One Management Team
Has a rock bottom valuation
Owns a huge land position in a top oil play
Has critical mass…produces over 20,000 barrels per day
Can generate IRRs of over 100% at sub-$50 oil
Is growing by 15 percent per year while living within cash flow
This company was thriving with oil under $50 per barrel.  The higher oil prices go the more money this company makes and the faster it grows.
Rather than being part of the mindless herd of investors who are oblivious to the risks in the overall market you can take intelligent action.
You can avoid the frighteningly expensive overall market–valued in the 94th percentile–and instead profit from the bull-run for oil through a dirt-cheap rapidly growing producer–Click HERE to get the best leverage to oil you will ever find.
Keith Schaefer