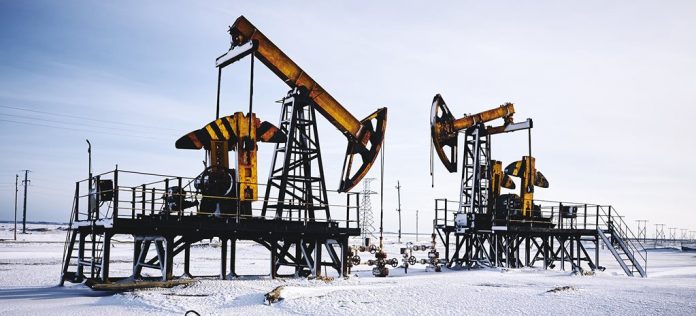 What's the most important factor for the oil price in 2018?
Would you believe me if I told you it was the US natural gas price?
As a minimum, the US natural gas price is one of, if not the most under-appreciated factor in the price of WTI—for one simple reason:
There are no oil stocks in the USA.  They all have huge weightings of natural gas and natural gas liquids—which are worth a lot less than oil.  (I have the two highest US weightings in my subscriber portfolio.)  The actual realized price per barrel of oil equivalent (whic includes the natgas & NGLs)  for US E&Ps is MUCH less than the WTI price.
And what's  more—the older that most US wells get, the more gas they produce compared to oil; in other words the gas-oil ratio increases.  See this chart fromwww.shaleprofile.com on the mighty Permian—it gets gassy very quickly: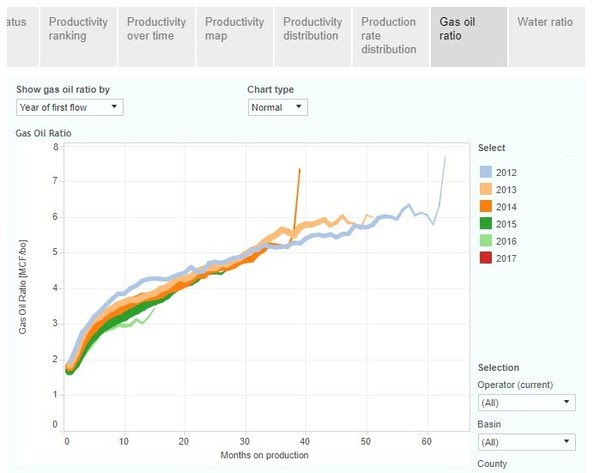 This chart shows the gas-oil ratio for Permian wells…and it's clear that gas becomes a much bigger part of production as the well ages. Another way of saying that is that the decline in oil production is much greater than the decline in natgas.
This is actually a very bullish  OIL  chart.  It says—to me anyway—that The Mighty Permian will be hard pressed to keep its growing treadmill of oil production after a certain time.  But when that is, of course, is anybody's guess.
I think this interplay of oil vs. gas is key to understanding where oil is going in 2018—and this will be the focus of one our keynote speakers at The Subscriber Investments Summit (SIS) this coming Tuesday at The Pan Pacific Hotel in Vancouver B.C.
There are a few spots remaining—you can register (it's free!) here:
https://www.eventbrite.ca/e/vancouver-subscriber-investment-summit-2017-tickets-35124200429?aff=OGIB
Nathan Weiss of Unit Economics in Rhode Island is flying in to show us the granular details of:
What the average crude production is for the US E&P industry
What that means for realized pricing per boe
What is all means for your stock picks in 2018
Nathan has made more money for OGIB  subscribers than anyone else.  Think of Pacific Ethanol (PEIX) going from $3-$23 in 2014, or Green Plains Renewable Energy (GPRE) going from $8-$45 in 2013, or Resolute Energy (REN-NYSE) going from $5 – $48 in 2016…it's very profitable to know Nathan's perspective.
He hasn't spoken at our show for three years…so don't miss his talk!
Our other guest speaker is Andrew McCreath of Forge First Asset Management Inc. in Toronto—a well recognizable Canadian fund manager from his regular TV appearances on BNN-TV (the Canadian equivalent of CNBC)–he is the Anchor of BNN's 'Weekly with Andrew McCreath'.
He has been recognized by both the Lipper Awards in Canada and by Morningstar for outstanding fund performance.
As a generalist, he has just increased his energy weightings dramatically, and he'll be sharing his reasons for why that is…and his favourite stock…in his presentation.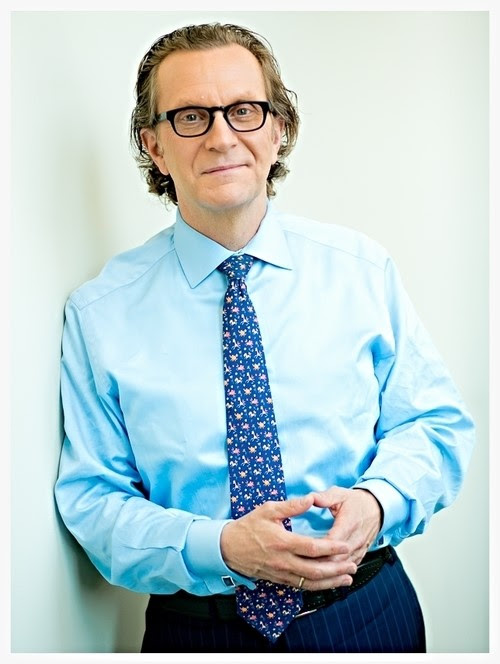 One factor we spoke about was how one layer of the oil trade has increased clarity:
"There has also been an important change in the energy markets in the last few years," Andrew  said. One is a decline in oil focused algorithmic trading.
"You have no clue what's going on there, and (that) can often cause significant volatility in the quote, unexplainable volatility in the (oil) quote.
"Secondly, macro hedge fund traders, who used to be prop traders at the bulge bracket dealers in the States, but because of Dodd-Frank, they went and set up their own shops because the banks had to get out of business. And they raised lots of money and they used a lot of leverage. And consequently, when they repositioned that would exacerbate swings and markets too.
"And then thirdly, you've had big energy pods at all these big hedge funds. And from talking to people, my understanding is that a lot of these energy pods have been closed down.
"I frankly don't have a clue if there's as many of them today as there was six months ago. It's a bit of a black hole. But I think it's fair to say that the black hole is a lot smaller than it was nine, 12 months ago. And therefore, is much less likely to sideswipe the pricing of oil based upon supply demand fundamentals.
"And I think because of the supply side, and decent demand, the fundamentals are getting better."
Andrew also follows  the metals market quite closely, and he has some very interesting  slides and comments on what's happening in China, and what impact he sees China having on several different metals.
Again, here is the link to secure one of last remaining seats for once a year SIS conference in Vancouver.
https://www.eventbrite.ca/e/vancouver-subscriber-investment-summit-2017-tickets-35124200429?aff=OGIB
LASTLY—the very next day after my conference, my colleague Paul Andreola is hosting his first ever conference at the same Pan Pacific Hotel.  Paul scours the quarterly financials that go onto SEDAR every day, looking for big revenue jumps…and he has been very successful for subscribers.  He is very specifically NON-RESOURCE.
He will have some of his top picks presenting on Wednesday October 4, starting at 9 am.
His guest speaker is Dave Barr, who is recognized as one of the best small cap fund managers in Canada.
Located right here in Vancouver, he is President and CEO of PenderFund Capital Management.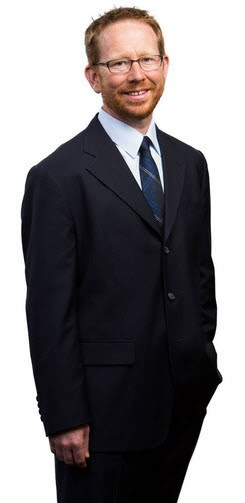 In November 2015, the Pender Small Cap Opportunities Fund, managed by Mr. Barr, won a Lipper Fund Award 2015 for Best Canadian Small/Mid Cap Equity Fund over both three and five year performance periods. In November 2016, the Fund once again won a Lipper Award, for Best Canadian Focused Small/Mid Cap Equity Fund over both three and five year periods.
The Lipper awards recognize consistent strong risk-adjusted performance relative to their peers.
Mr. Barr has over 15 years of investment experience. He initially worked in private equity which gives him a unique background to investing capital.
There are literally only 20 spots left for Paul's show—this is a very high end show with only 120 people attending.  There is a US$50 fee to attend, which is being given to charity.
You can register here: https://www.eventbrite.ca/e/smallcap-discoveries-conference-tickets-34984957951
Keith Schaefer
---