It's quite plausible that The Biggest Winner in Donald Trump's America First energy plan is–Canadian heavy oil producers.
In Trump's "An America First Energy Plan" he laid out his vision for the country's energy policies going forward.  This plan had seven key points:
Make America energy independent, create millions of new jobs, and protect clean air and clean water. We will conserve our natural habitats, reserves and resources. We will unleash an energy revolution that will bring vast new wealth to our country.
Declare American energy dominance a strategic economic and foreign policy goal of the United States.  
Unleash America's $50 trillion in untapped shale, oil, and natural gas reserves, plus hundreds of years in clean coal reserves.
Become, and stay, totally independent of any need to import energy from the OPEC cartel or any nations hostile to our interests.
Open onshore and offshore leasing on federal lands, eliminate moratorium on coal leasing, and open shale energy deposits.
Encourage the use of natural gas and other American energy resources that will both reduce emissions but also reduce the price of energy and increase our economic output. 
Rescind all job-destroying Obama executive actions. Mr. Trump will reduce and eliminate all barriers to responsible energy production, creating at least a half million jobs a year, $30 billion in higher wages, and cheaper energy.
I've bolded the part of the plan that could have big implications specifically for Canadian heavy oil producers.
If Trump means to completely eliminate all oil imports from OPEC nations within the next four years Canadian heavy oil will have to be a critical part of the plan.
Remember – The United States is Still a Major Oil Importer
The Shale Revolution did not free the United States from imported oil—in fact, it didn't even come close.
In August 2016 the US imported a whopping 10.3 million barrels of oil per day.  That is almost as much oil as Russia or Saudi Arabia produce.  Of those 10.3 million barrels the largest source was Canada at 3.8 million barrels followed by 3.4 million barrels from the nations of OPEC.
That's right—to carry out President Elect Trump's plan, the US would have to replace 3.4 million barrels a day.
Now, how can that be you ask?  It's because the US uses A LOT more oil than any other country on the planet.  The US is 25% of the world's economy, after all.
In 2015 US consumption averaged 19.4 million barrels per day—far more than the country produces.  At its peak in early 2015 US oil production did not even reach 10 million barrels per day.  From that peak production has fallen to 8.7 million barrels per day.
In its entire history, US oil production has exceeded 10 million barrels per day for only two months in 1970.
Without much higher oil prices, US shale production—about 4 million barrels per day now—could never completely replace OPEC's 3.4 million barrels.
Even if it could—it can't provide the heavy oil that much of the America's refinery complex requires.
That refinery complex has been built up over a period of 40 years with tens of billions of dollars of investment and can't be switched over to light-oil quickly.
Of the 3.4 million barrels that the U.S imports from OPEC every day, 700,000 are heavy oil from Venezuela.   If they get banned, what replaces that?
Mexico is a heavy oil supplier but the country has little ability to increase production in the near term.  In fact Mexican production is down almost 1.5 million bopd since 2004 to 1.944 million bopd.
PEMEX—Mexico's state oil company—forecasts 2017 oil production will drop  8.7% or 186,000 b/d vs 2016 in its newly released 2016-2021 business plan.  This is a country that couldn't grow production with oil at $100 per barrel so it is hard to imagine it doing it now under any circumstances.
If Mexico can't pick up the slack there is really just one country that can–Canada.
If Canadian heavy oil is to replace Venezuelan barrels the first thing that needs to happen is pipeline expansion.
The Gulf Coast refineries can't refine heavy oil if it can't get to them.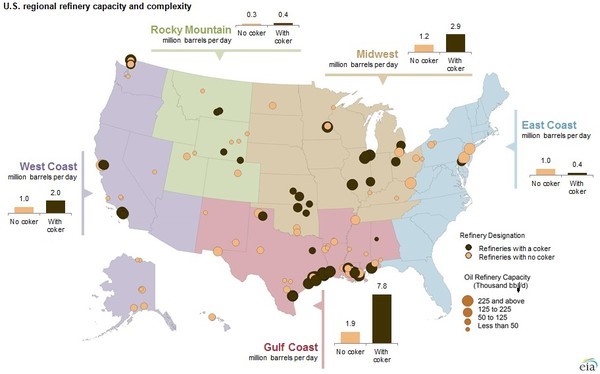 That means that TransCanada's (TRP-NYSE/TSX) Keystone XL pipeline is likely required and Trump has already weighed in on the controversial pipeline.  In his May 26 speech where he outlined his America First Energy Plan he said about the Keystone XL "I would absolutely approve it, 100%, but I want a better deal".
The Keystone XL had a proposed capacity of 830,000 b/d and could clearly replace pretty much all of the US heavy oil imports from OPEC.
If President-Elect Trump carries out his plan, it couldn't come at a better time for the beleaguered Canadian heavy oil industry.  If it wasn't for bad luck they would have no luck at all—and it's about to get worse.
From big price discounts to lack of pipeline space to a real threat from environmentalists to a massive forest fire—everything has gone against Canadian heavy oil companies for a long time.
Canadian heavy oil always trades at a discount to WTI, which is a light oil.  This year that discount has been a steady US$12-$15/barrel—due to Enbridge creating some incremental capacity and the fires in Fort MacMurray reducing supply for a long stretch this year.
But these discounts can blow out (i.e. the price drops a lot more) when pipeline capacity gets tight.
And that is starting to happen again, as it did in 2014.  In 2015 that range was much wider at $10.00 per bbl and 2014 was even wider at $16.00 per bbl.
Heavy oil production is about to increase due to legacy oil sands investments coming on-stream.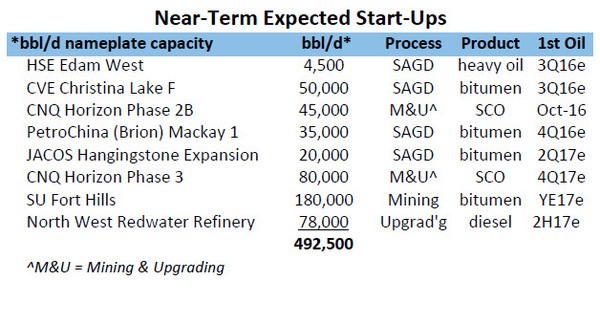 That is almost 500,000 bopd!  And since early 2015–a total of 291,500 bopd of oilsands projects have come online from 11 different projects.
The Canadian industry is already gearing up for lower heavy oil prices–everyone is dusting off their railcars, which haven't been used for over a year now.   But the industry is expecting that these heavy oil discounts will blow out big enough to make it economic to ship heavy crude to the Gulf Coast by rail again.
Unless President-Elect Trump puts his America First plan to work, helping Canadian producers.
Keith