I can't decide it Cobalt International (CIE:NYSE) is one announcement way from being a five-bagger or one news release away from being a disaster.
If a person knew which way this was going to go–there are some Big Fast Easy Capital Gains to be made. But I just don't know how this is going to play out.
Technically, they have had great success–Big Discoveries.  Financially, they are owed $1.7 billion, or $4/share–this on a stock trading at $1.50 or less.  Finally getting paid–that receivable has been on the books for almost a year now–would be a Big Fast Easy Capital Gain for Cobalt shareholders.
This potential trade has a VERY short fuse–if Cobalt doesn't get paid by August 22, the deal is off–Cobalt will never get paid.  It's a helluva story to watch for the next three weeks.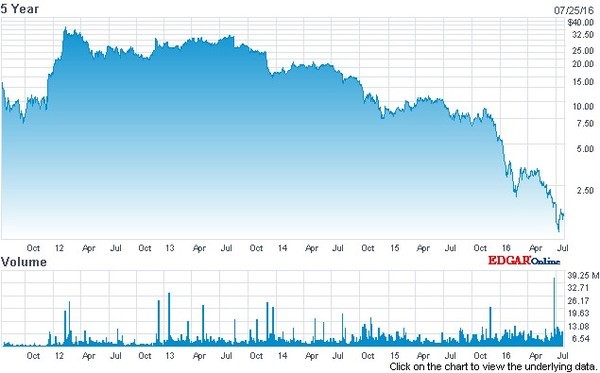 A Business Model Not Made For Widows And Orphans
Cobalt has been an exciting company from the start.
The company was formed by Private Equity money in 2005 and came public in late 2009.  The sole focus for the company from Day One has been to find elephant sized oil and gas reserves under miles of ocean water.
This company is pure run-and-gun Deepwater wildcat exploration–where the exploration wells cost hundreds of millions and any prizes found are worth billions.
This company wasn't just exciting in theory.  The oil and gas discoveries the company has made were exciting in real life.  Giant discoveries no matter how you slice it.
The exploration wells that Cobalt has been involved with have fund hundreds of millions of barrels of oil and gas over the past decade.  The locations of these wells have been offshore Africa and in the Gulf of Mexico.
On news of those discoveries Cobalt's share price soared from under $10 to over $30 in 2012 and remained close to their through 2014.
Then the oil crash happened–the damper for every great oil producer story these days.
Low oil prices haven't been great for a Deepwater specialist.   Deepwater properties require high oil prices to be economic and as an exploration company with little cash flow Cobalt requires access to capital on a fairly regular basis.
Through mid-2015 Cobalt's share price actually did pretty well all things considered.  The company had enough cash entering 2015 to comfortably withstand a year of low oil prices without having to do anything.
Sensing the oil slump was going to be a long one, on August 24, 2015 Cobalt made a move to take care of any balance sheet issues for the foreseeable future.  Cobalt agreed to sell its 40% interest in some offshore Angolan blocks to Sonangol (the national oil firm) for $1.7 billion.
That lump of cash was enough to see Cobalt through no matter how long the price of oil stayed down.
The Cheque Is In The Mail……Maybe
The Angolan asset sale took place 11 months ago.  As of today only an initial deposit of $250 million has been received.
That is a problem.
Things get a little more uncomfortable from there.
On May 31, 2016 Cobalt's Chairman and CEO Joseph Bryant resigned effective immediately with no explanation given.
The market loves when that happens (heavy sarcasm intended).
He was replaced with former BHP executive Tim Cutt who has spent the last three years focused on onshore shale which isn't exactly the same business.
It hasn't just been the CEO position that has changed.  Cobalt has a new CFO and new Chief Operating Officer as well.  That means the top three slots plus the Chairman position are occupied by people who haven't been there prior to 2016.
All of this executive drama….the low oil price, the inability to close the Angola asset sale has pushed Cobalt's share price down to levels that suggest the company's future is in serious peril.
But is it?
In Cobalt's last earnings call in early May of this year management indicated that it is in regular contact with executives at Sonangol and Angolan government officials.  The message from all of them is that they expect the deal to close, the only hold-up being the Government approving the deal.
That would take Cobalt's cash position from $1 billion to $2.9 billion immediately.
With that cash the company would have roughly $2 per share in net cash.  That is considerably more than the current share price.
It is also worth noting that Cobalt has received $250 million from Sonangol so at one point we know there was serious intention to complete the deal.
In addition to that net cash, if the deal closed Cobalt would have something like 600 million barrels of discovered oil and gas resources in the Gulf of Mexico as well as many future high impact exploration opportunities.
With net cash in excess of the share price and all of that oil…..if the deal closes Cobalt shares could double the next day and go higher from there.
(Makes you wish you had a cousin working in the Angolan Government doesn't it!)
The Market clearly believes that the deal is not going to close.   If the market is right Cobalt has enough liquidity to meet its needs for the rest of 2016 but is going to have to do something for 2017.
That is where visibility on what might happen gets very blurry.
Cobalt has some incredibly big Deepwater discoveries in the Gulf Of Mexico that it could sell all or pieces of.  If the deal with Sonangol doesn't close those assets would be included in that mix of those available for sale as well.
The entire company could be put on the block as well.
The problem is that everyone will know the weak negotiating position that Cobalt is in so extracting a decent price will be tough.
Making it even more difficult is the forty-something oil price companies are looking at today and the industry-wide pivot away from long lead time Deepwater projects and towards shale assets.
I've Got One With Similar Upside Potential Without All The Risk
Cobalt will be on my radar but it isn't going to get my money at this point.  I'm not interested in betting on whether the Angolan Government is going to make good on a deal.
I have found another oil producer that offers the same kind of upside that Cobalt does without all of the risk.
This unfollowed company has a huge piece of land right in the middle of the hottest play in the United States.  We just saw the "Godfather of shale" bet his entire company on acreage that is in the exact same county as my little producer.
I'm going to give you a chance to learn all about the multi-bagger upside that this company has before the market does.
To get my full company report–CLICK HERE.
Keith Schaefer