The hottest oil play in the western world is the Delaware sub-basin of the Permian in SW Texas.  Producers are seeing huge increases in flow rates as they figure out proper fracking techniques.  Rates are doubling from 1500-3,000 boepd!  And payout times for wells are now as low as seven months–at $45 oil. 
Nobody saw this coming–especially the Saudis.
Junior producers especially need fast payout times on their wells so they can recycle that money back into another well.  If they have longer than 12-15 month payouts, they really can't grow within cash flow, and end up diluting shareholders through debt and continued equity raises.
In the heart of this Shale Revolution–Resolute Energy.  I added it to the OGIB portfolio on July 12, and added 10,000 shares on Monday Aug. 8 at $7.32 and added another 1000 shares Monday Aug 16 at $16.27.  Here is my original notice to subscribers:
The stock of Resolute Energy (REN-NYSE) has doubled in three trading days, going from $2.80 – $6.07 on the strength of huge flow rates from its Permian Basin play.
And it may double again as the market understands
How close to bankruptcy this stock was priced
How richly other junior Permian stocks are valued at
This is fortuitous, as I'm studying the juniors in the Permian right now.  This is the low cost oil play in North America and Permian stocks are receiving the highest valuation.
Resolute has just 15,000 bopd of production, and a whopping $490 million of long term debt—a Zombie Stock, like I wrote about last week with Athabasca Oil, Birchcliff Energy and PennWest Energy.
Investors have forsaken these heavily indebted companies for good reason.   But as Resolute Energy showed us this week, when a Zombie comes back to life it can be explosive for share prices.
Now, I'm writing about this stock because I did buy 2000 shares at $5.60 today.  It took me that long to notice the stock rocketing up, do the research, figure out what this thing could be worth & decide if I wanted to play or not—because this stock could still double from $6/share–IF oil holds up.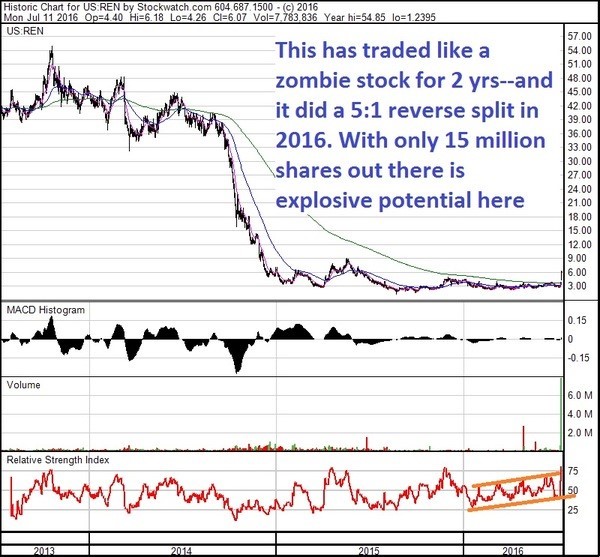 Everything changed for Resolute with just one press release (July 8) proclaiming amazing drill results– but first let me give you some quick background on Resolute.
Since the oil crash in 2014 Resolute has been selling off assets to try and stay alive.  In 2015 the company sold three assets to bring down debt:
March 2015 sold non-core Midland Basin assets for $42 million
September 2015 sold its Powder River Basin assets for $55 million
November 2015 sold the rest of its Midland Basin assets for $177 million
Besides good drilling results, Resolute's most recent press release said it had sold some midstream assets and would be getting $32.5 million in cash ASAP. That hardly moves the needle on the company's $520 million of total long term debt.
A Step Change In The Permian
These recent drill results were awesome (don't worry, details are coming…) and this will significantly increase the amount of cash flow that Resolute can generate—and improve its net asset value.
A company's total leverage is determined by how much debt it has relative to its cash flow.  Just as shrinking debt reduces leverage, so does increasing cash flow.
Resolute did this by getting a whole lot better at drilling wells into the Permian.
Resolute's main remaining Permian acreage is located in Reeves County in the Delaware Basin.  The primary formation that Resolute is chasing on this land is the Wolfcamp A.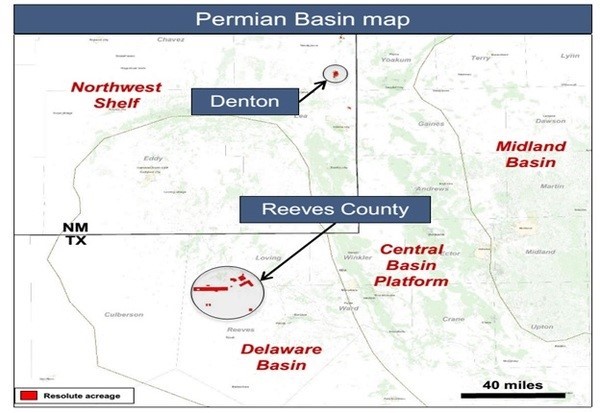 Source: Resolute Corporate Presentation
The last time that Resolute had released details on its Reeves county Permian production was on May 9, 2016.  The company was then able to give IP30s on two recent 7,500 foot lateral wells—which came in at 1,552 boe/day and 1,475 boe/day.
Friday's release on its most recent Permian wells blew the prior (good) wells completely out of the water.

Source: Resolute July 8, 2016 Operations Update
Resolute has now moved to 9,000 foot laterals and production rates are much higher.  The initial production rates on these wells are hitting 3,000 boe/day with the IP30 rates expected to double those of the 7,000 foot laterals previously drilled.
With these new data points on its wells and with results from competitors with offsetting acreage, Resolute has significantly updated its Wolfcamp A type curves.
The 7,500 foot laterals are now expected to recovery 56% more oil and gas and the 10,000 foot laterals 51% more than previously believed.  That is like night and day.

In addition to getting 51% more oil, Resolute said they were able to lower cost 12-18%.
Lower capex and increased flows puts the PV10 value of $10 million per well at these low oil prices.  Wells costs on the longer laterals are $9.4 million and the shorter ones they're targeting $8.2 million. Ideally I want to see a PV10 that's 130-150% of the well cost, but that's…ok.
Resolute has 22,420 gross / 12,940 net acres under lease in Reeves County where it believes it has identified 255 gross Wolfcamp A and Wolfcamp B locations to drill.  The company has 80% of 2016 hedged at $80/b and 25% of 2017 production at $54/b.
What is the stock worth? The secret here is that Resolute has only 15.5 million shares out.  Callon has 118 million. At $6/share the Resolute market cap is $93 million.  Add $490 million debt to get Enterprise Value (EV) of $583 million.  Divide that by 15,000 boepd to get a per flowing barrel valuation of $38,866.67.
Per flowing boe is the weakest valuation metric to use, but consider Callon paid $80,000 per flowing boe for its latest acquisition, you get a sense Resolute stock could still run up.
If all the increase in EV to get to $80K/per flowing boe came from the stock –well, here's the stockbroker monkey math—15K x $80K=$1.2 billion – $490 million debt = $710 million market cap / 15.5 million shares = $45.8/share.
That sounds ludicrous doesn't it? That math shows why per flowing boe is the weakest metric to use.
But this is the Permian and there is a comparative bubble in the Permian.  If someone paid $10/share for Resolute today, that's only $43K per flowing boe.
That's hugely accretive to Callon or Diamondback (FANG-NYSE) or Matador (MTDR-NYSE)—why wouldn't they take it over now just as type curves and EURs are increased dramatically, reducing leverage—and before the Market really catches on.
RISKS
this is all happening as I'm getting very bearish on oil and oil is dropping 50 cents a day.
The wells are only 55-60% oil (though natgas is starting to be worth something!)
Resolute's average working interest is about 60%
Very good hedges are saving the Company this year–which has 6 months left.
The Bonds Are Also Responding
Stock market investors weren't the only ones cheering the news from Resolute.  Bond investors also like what they see.  Resolute bonds that were trading for not much more than twenty cents on the dollar just a couple of months ago are now over seventy cents.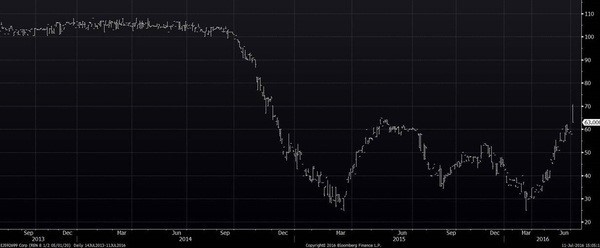 Another thing I have preached on and on about is…share counts matter.  I LOVE finding low float companies with big revenues.  I think it's incredible to find a 15000 boepd producer with only 15.5 million shares out.  That is real leverage!  That's why some monkey math takes this stock to $24-$42…of course commodity prices have to co-operate.  But a low float stock in the highest value play in North America can be a lucrative and beautiful thing.
The other thing I really liked about the stock was how well it traded today–in a straight line, not all over the map.  Steady and real accumulation, not a flood of profit taking from daytraders throughout the day.
The company should be able to use this news to almost get out of the woods and on the path to recovery.  The value of its Permian acreage has permanently increased and will give the company several additional options to bring its balance sheet even more in line.
The stock has since hit a high of $18–a triple in one month from my initial purchase.  I have compiled company reports on FOUR junior Permian plays  that I expect to dramatically outperform the Market–especially if oil prices remain under $50.
Bulletproof your energy portfolio–CLICK HERE to get these four stocks NOW.
Keith Schaefer