I'm always looking to invest my money in oddball places in energy; subs-sectors that are outside the mainstream.  That would include areas like ethanol, which I've done quite well at, and technology stocks–where I have sometimes lost a lot of money.
Other examples include small oil and gas trusts, small refinery MLPs, downstream power stocks…wherever I can make money.  My line is–there's always a bull market somewhere in global energy.
And avoiding the losers is just as important as finding the winners.  I did my semi-annual look at crude oil tanker stocks this week and….yuck.  Tanker stocks would be companies like Frontline (FRO-NYSE), Euronav (EURN-NYSE), DHT Holdings (DHT-NYSE) and TeeKay (TK-NYSE) among others.
The first thing I do is check their stock charts–if they're still going down and not even started to base yet…then forget it.  I have no intention of guessing a turnaround.
DHT is a good example here, as it now has a very juicy dividend yield, with higher revenue and EBITDA lately.
So why does its stock chart look like this?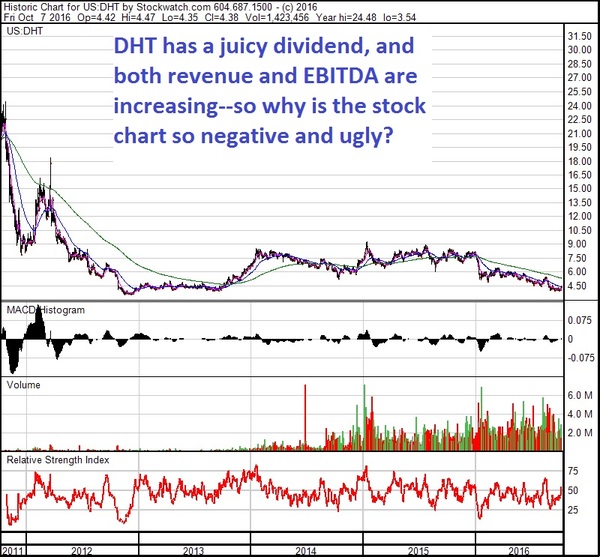 When a stock can't even catch a bid with…decent financial numbers…there must be something wrong.
And there is.
Here are three charts that show how the increase in the number of tankers–those that are
a) working
b) at anchor
c) on order
And they're all high and rising.  Pay special attention to c)–the number of new tankers on order recently has SOARED–setting the industry up for a potential massive oversupply in the coming 1-2 years.  The only chart I don't have is the number of vessels being scrapped–which would mitigate some of this new supply.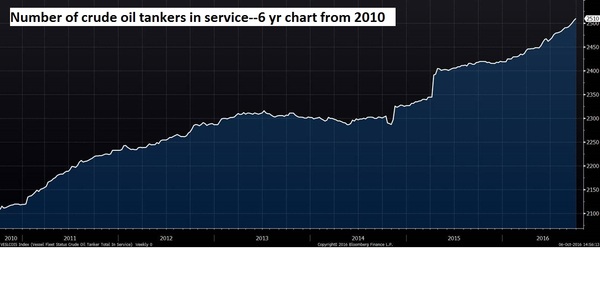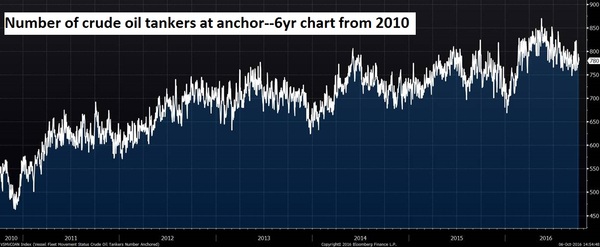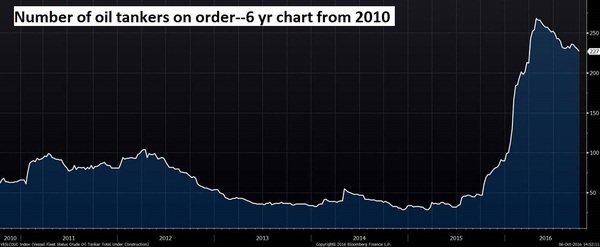 That last chart…kind of says it all.  Those ugly stock charts on tanker stocks?–that's the stock market pricing in a rough couple years ahead for tanker stocks–now.
Those fundamentals with those stock charts mean that–for now–I can start checking out other sub-sectors for other long trades (these tanker stocks are still possible shorts, but I don't do much of that) , looking for under-the-radar companies, or just under-followed (example–most ethanol stocks still only have 3-4 analysts following them at most).
Gotta find the next Resolute Energy–which went from $3-$30/share in just 3 months earlier this year for me and OGIB subscribers.
You could hear about it as early as next week.  Stay tuned.
Keith Schaefer