Crescent Point's Torquay Discovery Reignites Southeast Saskatchewan
Just when you thought The Bakken couldn't get any better—it does.
Oil producers are now "cracking the code" on the Torquay, or Three Forks formation below the Bakken, and coming up with incredible economics—these wells are paying back in only seven months.
This news has completely re-invigorated the Canadian side of the Bakken. And on the US side, the Three Forks is causing industry to leap-frog estimates of the amount of recoverable oil available–by about 57%!
It's hard to imagine that the #1 oil play in all of North America could have such a huge increase in size—usually this happens in increments. This map from the Province of Manitoba shows how much potential theTorquay/Three Forks has—it ranges from 1.5 – 7 x as thick as the Bakken!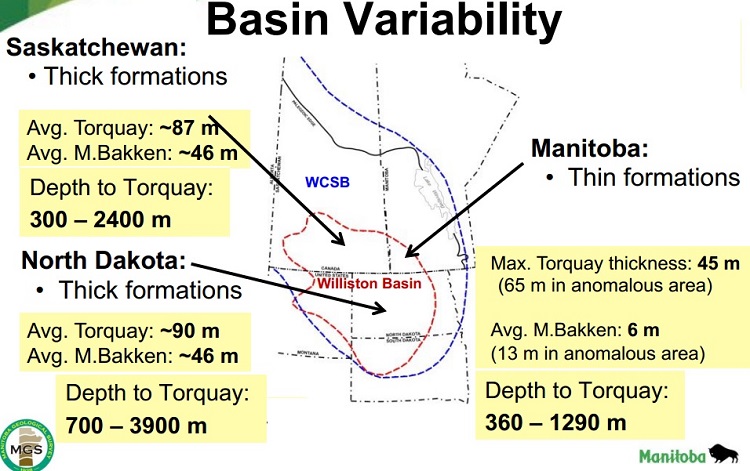 Results from Crescent Point Energy (CPG-TSX/NYSE) in Canada and Continental Resources (CLR-NYSE) onthe US side of the border are showing this could be an incredible discovery. The Torquay/Three Forks could prove to be another multi-billion barrel catch for the North American oilpatch.
Now when I say discovery; what I really mean is the industry has discovered how to produce from it profitably. Theindustry has known it's potential for several years now.  But the Bakken source rock itself has been so prolific, there wasn't much incentive to drill deeper and go through a new learning curve at the Three Forks.
On April 14 Crescent Point Energy (CPG-TSX) announced a Torquay discovery in its core Flat Lake area in southeast Saskatchewan, right along the US border. In just 12 months, the company grew production from 0 to over 5,000 boe/d by drilling 36 wells. These are low-decline, high-rate-of-return wells that payout in less than 7 months.
(A 7 month payback is incredible. It's the simplest measurement for retail investors to know how good a play is. I like to see 12-15 month payouts, and don't like to invest in plays that have more than 18 month payouts.)
CPG says each well costs $3.5 million all-in on a 1–mile horizontal. These well economics are fantastic:
1. More than $73/boe in operating netbacks (netback=profit per barrel)
2. A recycle ratio greater than 6–that's profit divided by costs. That's 6 times your money! 2 is good; 6 is great!
3 Generates an IRR > 300%. I like to invest in anything over 70% IRR.
CPG believes the Flat Lake Torquay discovery has the potential to match its core, Viewfield Bakken play in southeast Saskatchewan. The oil field is estimated to hold 4.6 billion bbls OOIP.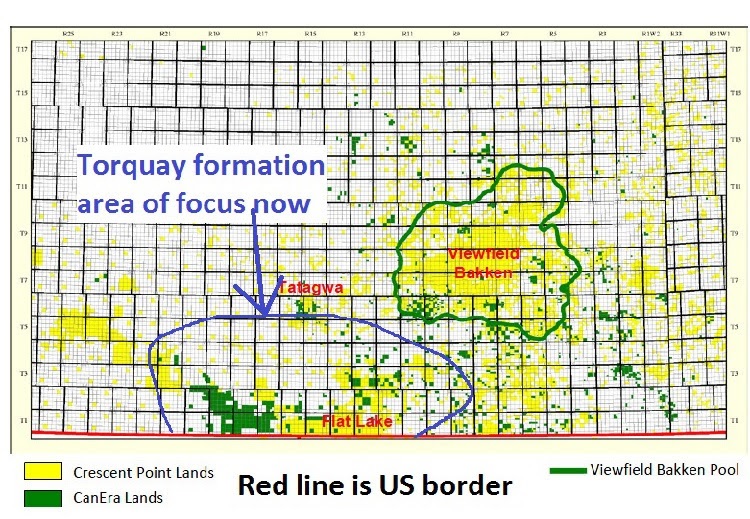 This eye catching news triggered an acquisition spree; Crescent Point was the first mover with the acquisition of privately held CanEra Energy with 10,000 boe/d and a large Torquay land position only 10 days after its discovery announcement.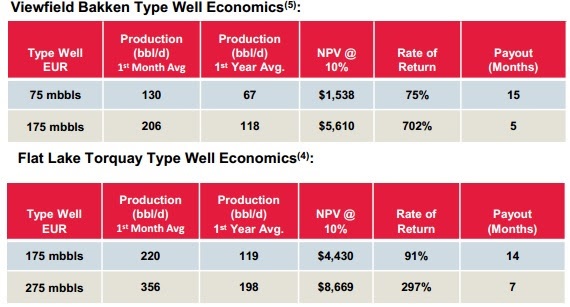 Crescent Point's acquisition locked in more than 880 net sections of Torquay potential land with more than 280 net sections in its delineated core area. The largest Bakken producer in Canada is positioning itself to becomethe number one Torquay player.
Legacy oil and gas (LEG-TSX) and Vermillion Energy (VET-TSX) have also made acquisitions of their own buying up privately held companies with land in the emerging play at Flat Lake—all at high metrics of over $100,000 per flowing barrel.
Production out of the Torquay/Three Forks has a lot more history on the US side of the border.
GEOLOGY BACKGROUND
The Bakken formation is located within the Williston Basin encompassing 25,000 square miles across southern Saskatchewan, upper Montana, upper North Dakota and western Manitoba. Unlocking this formation propelled North Dakota from the 9th largest oil producer in 2006 to no 2 behind Texas with more than 900,000 barrels of oil per day.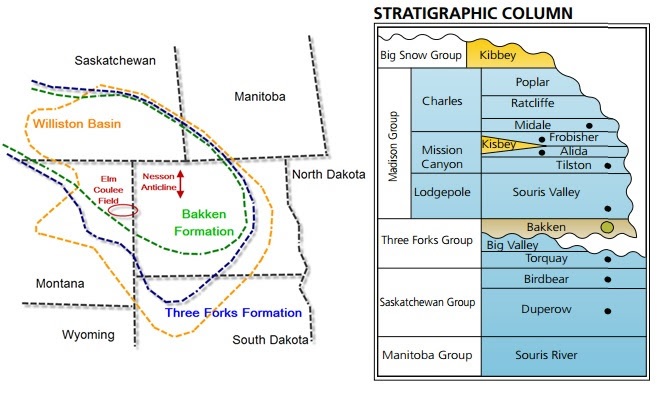 The Bakken formation is actually three layers of rock—Upper, Middle and Lower–and is situated above theTorquay/Three Forks. The underlying Torquay actually has four layers of tight rock identified as TF1 (upper layer), TF2, TF3 and TF4 (deepest layer).
Last year, the US Geological Service (USGC) updated its assessment to include the upper part of the Torquay, about 50 feet in thickness. For the two formations, the US Geological Service USGS estimates mean recoverable oil resources of 7.38 billion barrels. Estimates for the Torquay account for 3.7 billion bbl.
These estimates seem very conservative to Continental Resources; the largest acreage holder in the Bakken is more optimistic about the total amount of oil that could ultimately be recovered.
In its own assessment, Continental believes that including the deeper parts of the Three Forks increases the total amount of oil originally in place (OOIP) from 577 billion barrels of oil to 903 billion, and the amount that is technically recoverable from 20 billion barrels to as much as 32 billion, 36 billion or even 45 billion.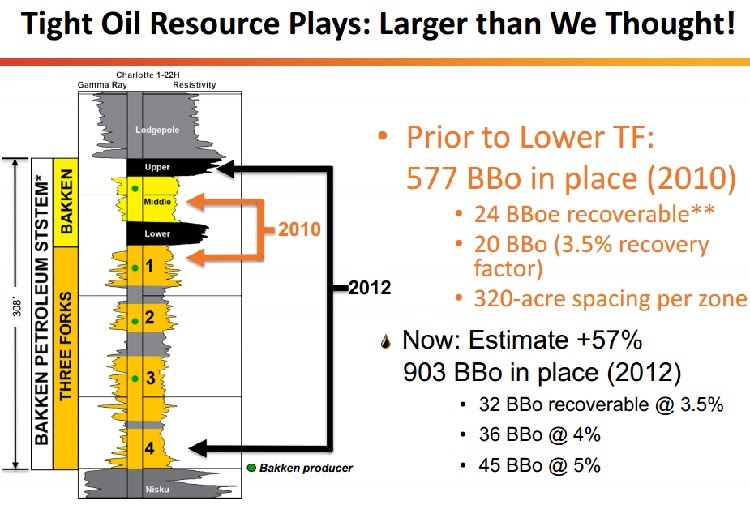 Only the upper layer (TF1) of the Torquay has been de-risked leaving the remaining 3 layers up for exploration. Continental has a pretty good reason to be optimistic. The company got impressive IP rates from drilling into thelower layers of the Torquay/Three Forks formation in McKenzie Country, North Dakota.
In its Q1 release, the company reported drilling eight new wells (two in each of the MB, TF1, TF2 and TF3) with a combined maximum 24-hour initial rate of 22,460 Boe per day or 2,810 Boe per day per well.
Continental also reported that seven newly completed TF2 and TF3 initially produced at approximately 285 Boe per day in its Tragsrud Unit in Divide County, ND. That's right across the border from the Flat Lake area.
For Continental the play is simply getting bigger and better. But despite these successes, the Torquay remains largely unexplored. Continental barely scratched the surface of this play as more wells will be needed to test thedeeper layers of the formation.
For all this positive news, it's important for investors to remember that the Torquay/Three Forks is still in its early stages and different areas and formations may respond differently. The Torquay is as much as 270 feet thick inthe central part of the basin.
In Canada, the formation is shallower but with similar thickness. This translates into lower drilling & completion costs per well than the other side of the border.
The Torquay is heating up with the potential for being the next big light oil resource play. The size of the prize is just too big to ignore and bodes well for other smaller players in southeast Saskatchewan like Painted Pony (PPY-TSX) Spartan Energy (SPE-TSX), Legacy Oil and Gas (LEG-TSX), TORC OIL & GAS (TOG-TSX), Surge Energy (SGY-TSX), Vermillion Energy (VET-TSX) and Lightstream Resources (LTS-TSX).
In the US, companies like American Eagle Energy (AMZG-OTCBB), Emerald Oil (EOX-NASD) and Triangle Petroleum (TPLM-NASD) stand to benefit from Torquay/Three Forks development.
To conclude, the Bakken was the hottest oil play in North America last decade. Investors made fortunes with theBakken in its early years and a similar investment scenario may now unfold as the Torquay/Three Forks zonegets increasingly tested in the coming months.