Canadian natural gas producers are hoping to spend a minimum $20 billion on shipping Liquid Natural Gas (LNG) to Asia in the next 2-9 years. The size of the prize is huge—spot natural gas in Japan can be as high as $17/mcf—more than 10x Canada's spot price of $1.50 now.  But competition is fierce from Australia, Qatar, and United States…as I wrote about here.
And those prices could be going higher. Asian demand for LNG is expected to increase 45% from the 20 bcf/d (billion cubic feet per day) now to 29.1 bcf/d by 2016—just four years from now.
In this article I'll outline:
a.     who the Canadian players are
b.     the estimated size and cost of their projects, and tentative timelines
c.     some simple economics
d.     and what has to happen still for shipments to actually start
Shipping LNG to Asia is not just a great opportunity for Canadian producers, it's a necessity. US gas production is expected to stay strong—and prices low—for years.  In 2008, the U.S. imported 13% of its total natural gas supply–almost all of it from Canada–but the U.S. Energy Information Administration (EIA) estimates that by 2035 that figure will be lower than 1%. And this shift is already happening.
Now, if all of these projects had been fully operational in 2010, Canada would have been the second-largest LNG exporter in the world, behind only Qatar.  Each of these facilities is now forecast to be built in the small town of Kitimat B.C., located at the end of a long narrow (protected) ocean water inlet… where Alcan has had a large aluminum facility for decades.
Here are the three most advanced LNG export projects in Canada:
KM LNG Operating General Partnership
Who:
Apache Corp. (APA-NYSE)           40%
Encana Inc.  (ECA-NYSE; TSX)   30%
EOG Resources (EOG-NYSE)       30%
Capacity:                                        1.4 bcf/d (11.66 million tons annually)
Projected cost of facility:              $10 billion (but $5.6 billion if only do 0.7 bcf/d)
Approved?                                     Yes—20-year license
Projected completion date:           Late 2015
This group—all upstream producers—is also the only one to have approval for a pipeline to transport the gas from the field to the LNG facility—the Pacific Trails Pipeline. Despite the approvals, the partners haven't made the final decision to build the project.
What's left to bring the project together? Money and customers. They're still looking for money, which should come from, potentially, the pipeline company, but certainly from an anchor customer in Asia who would come in for 20% equity on the project AND the upstream resources; the gas itself.  Everybody would reduce their interest pro-rata in that case.
The Globe and Mail reports that the project has two deals already signed with Japanese power producers, and other potential customers are lined up.
But analyst Gerry Goobie with Purvin & Gertz Inc. told the Calgary Herald that the fact that the partnership is looking for equity shows that it still needs to secure long-term customers.
"The bottom line is they're still trying to strike a deal," he said. "The assumption is the deal that they have will be sufficient to cover off all the capital costs that they are going to spend to build this thing and give them a reasonable return."
BC LNG CO-OPERATIVE
Who:        13-member group (includes LNG Partners LLC of Houston and the Haisla First Nation)
Capacity:                                     0.22 bcf/d (1.8 million tons annually)
Projected cost of facility:           $360 million – $450 million
Projected completion date:        2014
Approved?                                   Yes—20-year license
This proposal has the earliest (tentative) start date—early 2014. This is by far the smallest of the three proposals, and would be unique in that they will be located on a barge 7 km south of Kitimat, and grounded on the shore.
"This thing should be fun to get it off," Tom Tatham, the managing director of BC LNG (and of LNG Partners LLC of Houston), told Reuters. "There's really nothing that's ever been done like this in the LNG industry."
The project is partially intended to allow smaller natural gas producers to ship LNG abroad to more lucrative markets.
Specifically, an operating company at the facility will liquefy a cooperative member's natural gas for a fee. Companies can buy into the cooperative for $50,000 or can receive membership for free by writing a letter to the National Energy Board stating an intent to buy or sell gas through the terminal (cooperative members can be buyers or sellers).
What's left to bring the project together?  Pipeline capacity.  It only makes sense for them to use Pacific Trails (I think it would be politically difficult for Apache et al to not allow small producers access, including those with First Nations ties, for a toll fee), but it may not be ready by then.
Shell
Who:                           Royal Dutch Shell   40%
Mitsubishi                    20%
Kogas                           20%
CNPC                           20% (China Nat'l Petroleum Corp)
Capacity:                                     1.44 bcf/d (12 million tons annually)
Projected cost of facility:           $12.35 billion
Projected completion date:        2020
Approved?                                   Pending
What's left to bring the project together? Approvals, pipeline capacity and pipeline approvals.  All the players together in that consortium have lots of financial ability.
The project could come online at the end of the decade and might be able to send as much as 2 bcf/d abroad per year. Shell has a lot of experience in LNG, operating 2.4 bcf/d export capacity in other areas of the world, and another 2.9 bcf/d coming into production by the end of 2015.
Shell first announced its plan for the venture last fall, shortly after it (and some of its partners) purchased the Methanex marine facility in Kitimat, which is no longer in use.
That's the Tier 1 list of Canadian LNG exporters.  Other groups looking include:
Petronas-Progress (PRQ-TSX)
Petronas is a large Malaysian oil and gas company with This 80/20 partnership aims to build a 1.0-1.2 bcf/d LNG plant in B.C., bringing the first 0.5 bcf/d online in 2017-2018 and the rest a year later.  A feasibility study on the project should be complete by the end of Q3 2012.
INPEX-NEXEN (NXY-NYSE; TSX)
Inpex is a large Japanese oil and gas producer.  In November 2011 they joint ventured 40% of Nexen's holding in the Horn River, Cordova and Liard basins, all in B.C.  There is little doubt they will be going after an LNG license. Do they do it on their own or join one of the three more advanced projects?
Potential issues with Canadian LNG projects
There are still potential speed bumps for Canadian LNG exports.  These pipelines need to get built, which means passing through areas that have attracted so much opposition to the Northern Gateway oil pipeline.
Where will all the electricity and power that's needed come from, and what infrastructure is required for that?
The economics of Canadian LNG exports to Asia should be similar to those of Australia, says Canadian brokerage firm CIBC Wood Gundy in a report earlier this year.
Japan is the largest LNG market, and the shipping route from Canada to there is 4300 km, vs 3100-4300 km for Australian projects.  They add that Japan will want to have several sources of LNG.
Long-term LNG contracts are usually priced at 12-15% of Brent crude, which at $100 Brent means US$12-$15/mcf—still 8-10x Canadian spot prices.  CIBC is forecasting Canadian LNG exports can earn a 17% internal rate of return at $4/mcf gas.  That would be higher at today's low gas prices.
They broke down how the costs of getting the gas from the field to a Kitimat LNG facility, liquefying it, and shipping it to market would cost: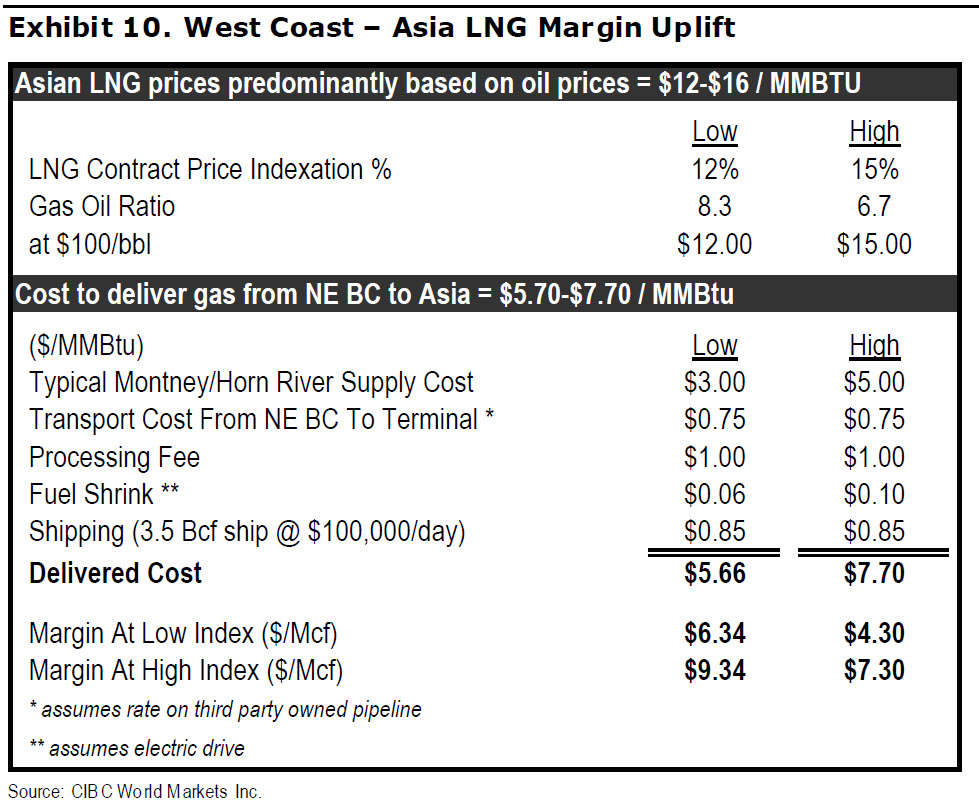 So you can see a 50% gross margin here, under their pro forma model.  If cost inflation doesn't escalate out of control, and Asian demand meets expectations, then the size of the LNG will make a very healthy return for Canadian exporters.
The top LNG exporters are Qatar, representing nearly 25 percent of global LNG exports with 7.3 bcf/d.  Then there's Indonesia (23.7 million tons, 3.03 bcf/d), Malaysia (23.1 million tons, 2.96 bcf/d), Australia (19.1 million tons, 2.45 bcf/d), Algeria (18.7 million tons, 2.39 bcf/d), Nigeria (18 million tons, 2.31 bcf/d) and Trinidad and Tobago (15.4 million tons, 1.97 bcf/d).
Note how Canada – the world's third-leading natural gas producer – is nowhere to be found on this list. However, that could soon change with the three projects in Kitimat.