Dear reader,
Hi, my name is Keith Schaefer. I run my own trading service – the Oil & Gas Investments Bulletin.
It's unlike any other trading service and investment newsletter you've probably ever come across.
That's because OGIB is my Personal Investment Portfolio – the very stocks that I buy and sell using my own money.
In other words, I back up the stocks I cover…because they're my investments – not "beta" or "paper" trades.
In fact, just below you'll see a chart that shows my recent trades. (I sold a number of portfolio stocks on the same day…not because I didn't favor the companies any longer – but rather to take profits, and raise cash for newer trade set-ups I'm evaluating.)
So my service is exactly how it sounds:
Subscribers Get Access to
My Full Trading Portfolio:
Nearly $2 Million of my own Money
That means subscribers can use – for their own portfolios – the same research I use to make my investment decisions.
I talk to the management teams of the companies I'm invested in.  I get to know them, and sometimes fly to their offices to meet them, or have dinner with them while they're in town.  Subscribers benefit greatly from me being closer to the source.  I can provide unbiased color on events—both direct to the stocks and to a more macro view of what's happening in the energy patch.
My research has been referred to as "thorough," "conclusive," – even "exhaustive." (You can read my list of subscriber emails, shown to the right.)
And yet, at the end of the day, I know that almost no one has the time, or energy, to read through the mountains of hard energy research I do.
That research includes paying for services I know add value to my subscribers.  I pay for extra technical analysis from one of the best technical charting minds I know of in the industry.  I use his technical analysis to identify patterns, and to complement my own fundamental analysis – and I think my subscribers and my portfolio benefit greatly from this.
I pay to have all the US energy research delivered to me each day. 
And now I'm excited to be part of an exclusive institutional-level research group.  It has already given huge gains to my subscribers with ethanol stocks.  Everbody hated them when this service convinced me to own them—and now that they are up 300-500%, everybody wants them!  This service costs more than what most people take home in a year—but with these kinds of gains, it's worth it.
But even with all this profitable information, I have to make it so plain and simple – my job is distilling all my research down into key, actionable insights… that help my subscribers make money.
In other words, I still do all the legwork.
And that makes it easy for my subscribers to be able to profit from my research and analysis.
Now Oil prices have recently dropped 30%–both in North America and globally.
But that is nothing compared to oil stocks….the seniors are down 35% and the juniors are down 45-55% or worse.
The culprit is fast growing production out of North America; particularly light oil in the USA from the Shale Revolution.  Production is up almost 1 million barrels a day each of the last three years.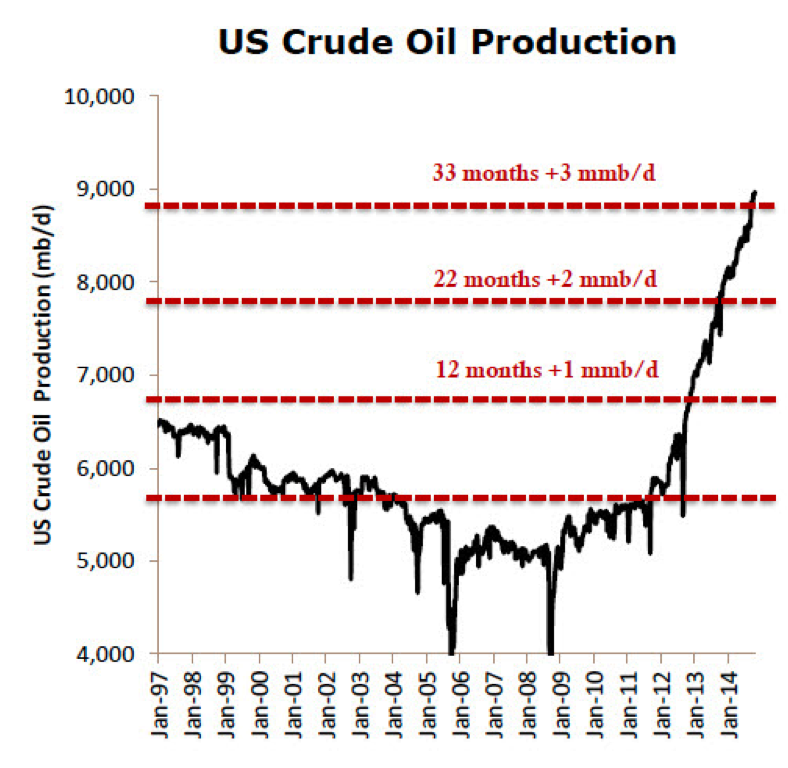 Shale oil is the most expensive to produce in the whole wide world.  So when shale oil production stops growing so fast, the oil price will stabilize.
Global demand is expected to increase 500,000 barrels a day next year.  Through each of the last 40 years, demand has increased about 1 million barrels a day.  Oil can be $90-$100/barrel and have shale oil growth continue—just not at the huge pace of the last three years.
And there are some convincing arguments that suggest shale oil production could slow down sooner than most would expect.
Oil rig counts down several weeks in a row in the USA
Operating costs for most shale plays is roughly $40/barrel. So when oil drops $25/barrel, cash flow drops by 30-40%—less money to drill.
Production in shale oil wells declines very fast in their first and second years.  And there are a lot of first and second year wells.
That means that now is the time to act.  I've laid out in my most recent special subscriber report the three premier junior oil producers to own for an upcoming oil price rebound.
These junior oil companies offer not only huge leverage to a rebound in oil prices but also are the companies best suited to ride out lower oil prices.
These three companies have the
top management teams
best balance sheets and
highest return oil plays in the business.
Before I tell you how to access my report risk-free, let me quickly explain why this oil slump may not last for long.  This oil rebound isn't about a gut feel, this is about simple mathematics.
First off, increased heating demand in the northern hemisphere adds 1 million barrels a day demand in the winter.  Second, gasoline prices in the USA are low and will stay low because all the margin for refiners is in diesel for cars and jets that get exported.
But the one bigger reason is the market could be underestimating how quickly North American oil production will decline with lower oil prices.
The time to act is now. I started buying junior oil stocks in early November.
Because production from a shale oil well declines by up to 70% in the first year, the industry must keep drilling at a feverish pace to make up for those huge declines.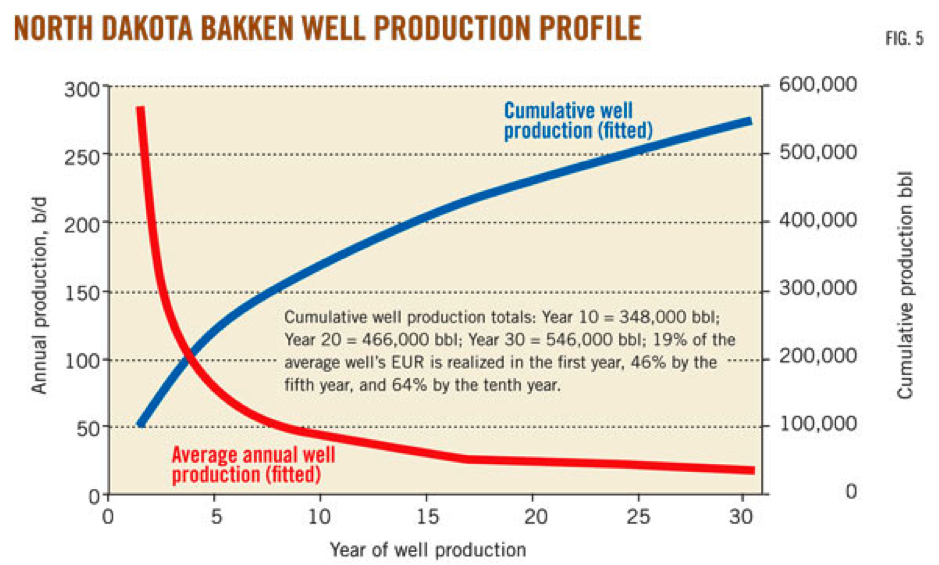 Source—www.ogj.com
First, a drop in oil prices means that these producers have less incoming cash flow from their oil sales.  Less cash flow means fewer wells that can be drilled.
Since few companies hedge all of their production, the moment oil dropped so too did the number of wells that the industry can drill.
The industry says they can make money at $80/barrel for WTI oil, or West Texas Intermediate pricing—but the reality is only a few truly can turn a profit large enough to keep growing.  I will outline three of them for you RISK FREE below.
But here's one very important fact almost nobody gets—most producers in the US get $8-12/barrel LOWER than WTI.  If one area or basin produces more than the local refining capacity, they end up having to discount their barrels to get the refineries to take them.  Look at the discounts producers have to take in different American oil basins: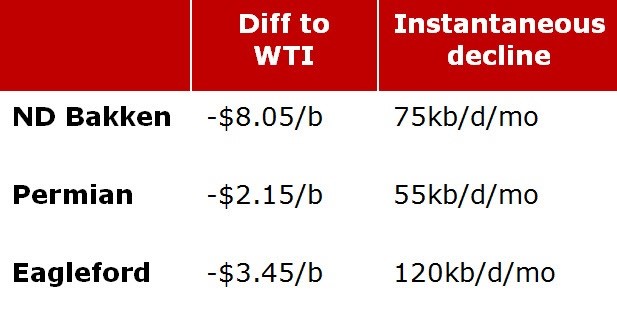 Bakken prices are more than $8/barrel below WTI and that's what the oil marketers get.  Producers get a $1-$4/barrel below that as their field price—so at $80 WTI, producers are only getting $69-$70/barrel.
The drop in cash flow restricts the ability to drill wells.  The drop in cash flow also greatly reduces the desire for producers to drill wells.
And what happens if they stop drilling?  The third column tells us—production in the Bakken would drop 75,000 barrels a day every month.  The Permian would drop 55,000 barrels a day every month.  Production in the Eagle Ford would drop a stunning 120,000 barrels a day each and every month.
That totals 250,000 barrels a day less oil each month.  In just four months, American oil production would drop 1 million barrels a day, wiping out a years of hard fought gains.
Of course, that isn't going to happen.  But it speaks to the large amount of initial "flush" production the industry has now.  This high level of initial production goes away very quickly, and just a few rigs not drilling could send production dropping in the US—and acting as a big support for North American oil prices.
Because production from these shale wells is so heavily front end loaded—remember how fast that production comes down in the first year?—it means that the price that oil is selling for immediately after the well comes on production is critical.
A shale oil well may produce oil for 30-40 years, but 20% of that production occurs in the first 12 months.  Those 12 months will make or break a shale oil well.
If the producer drilling the well puts it on production into a low oil price environment—that well is likely going to lose money.
Even if oil prices bounce back up 18 months after the well is drilled it isn't going to save the economics of that well.  The first 12 months, and especially the first 3 to 6 months are absolutely crucial because that is when the rate of production is multiples of what it will be in later years.
From day one of their life, shale oil wells need high oil prices to make money.
For every oil producer drilling shale wells today, the current oil price is going to be the key determinant in whether or not that well gets drilled.
This is simple economics, but there is actual data to support this based on what has happened over the past three years.
An examination of US oil production data dating back to 2011 reveals that in the three times when WTI fell below $85 a barrel; US output fell up to 200,000 barrels a day in literally a span of eight weeks.
That is one fast production response! And that data is based on a much lower total base of flush US shale production.  This time the decline in number of barrels will be larger because US shale production is now greater.
The Top 5 North Dakota Bakken producers—Continental, Whiting, Oasis, Northern and Kodiak—have seen 2015 cash flow estimates fall by $870 million since oil prices dropped in the summer. That's $870 million that won't be going to increase production over the coming months.
And with the high declines in tight oil production, the impact of that should be immediate.
The old saying in the industry is that "the best cure for low oil prices is low oil prices"……that is exponentially more accurate in the current world that relies on production from high decline US shale.
Profit from oil—the capital gains potential is best when oil prices are low.
Get my special report on the three best oil focused juniors to own.  They are the low cost producers that can grow at $80 oil—but if oil moves up again, these companies become the biggest profit centres in the industry.
As a new subscriber, you'll also begin receiving:
Regular issues of the

Oil & Gas Investments Bulletin

:

  You'll get full updates on the positions in my personal portfolio — what I'm buying, what I'm selling, and why. In other words, every time I make a move, I'll show you exactly how to get into position for profits.

Buy / Sell Alerts:

You'll get these alerts sent directly to your email inbox. That way, you'll have the opportunity to take quick action on your trades.
NEW FOR OGIB SUBSCRIBERS

:

 Quarterly conference calls — These are live Q&A sessions where subscribers can get updates directly from me on any position in the OGIB portfolio.

Interim Bulletins:

I'll send you these updates whenever I have a time-sensitive insight to share that could impact an existing position, or set the stages for a new position.

24/7 Members-Only Web Access:

You'll get a dedicated password for accessing the OGIB portfolio, along with every weekly issue, Buy / Sell Alert, Interim Bulletin, Special Report, and Guest Commentary I've ever published.
Get closer to the source with my service.  Get access to proven money-making institutional research, presented in simple English. Take a few seconds to sign up below, and get risk-free access to my service, right away.
Kind regards,
Keith Schaefer
Publisher, the Oil & Gas Investments Bulletin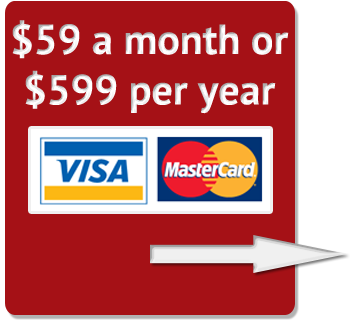 P.S. Remember, this 100% RISK-FREE offer to get OGIB for a full month is ONLY available on this web page. That's 30 days to test drive my service.
Subscriber emails:
I have a substantial position in an OGIB position and own it because you made me aware of this unbelievable opportunity. $400 dollars for your subscription has netted $50K in the last 10 months.
- Bob W.
————————————————
We have made some serious dollars following Keith, and look forward to more. Thank you. Best Regards.
- Dave A., Ontario
————————————————
Hi Keith, I want to Thank You Very Much for showing us your Personal Portfolio! You show us what you bought and sold and at what price. More importantly you show us How Many Shares, NO newsletter I know show this! You put your money where your mouth is… Thank You Very Much, and Very Much Appreciated.
- Diane Q.
————————————————
Hi Keith, as a new subscriber and long time investor, I find your style refreshing and honest. Thank you… I have already paid off my subscription many times over!
– Bob B.
————————————————
Keith, I subscribed to your newsletter in February this year and I must say I really enjoy reading your reports and tips – you have really educated me as I am a relative novice when its comes to investing.
– Dr. Chris C.
————————————————
I am very pleased with your service so far. I find your writing style easy to read and understand and I value the amount of research you do to arrive at your conclusions and recommendations.
– Geoff D.
————————————————
Please renew my subscription. Tell Keith that this is the most well-researched, accurate newsletter I have ever received. [His top 2 picks] have paid for my subscription until eternity — or hell freezes over. Thank you.
- Ian S.