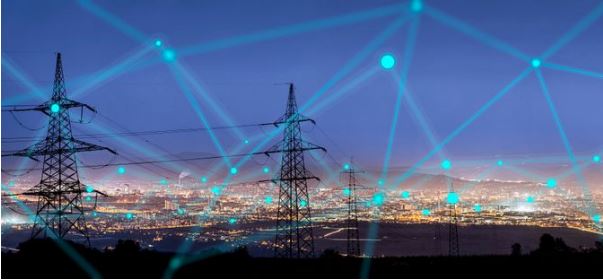 US$9 M Today from New York State
Zinc8 Energy Solutions (ZAIR-CSE / ZAIRF-OTCQB) has the best energy storage solution for 50,000 large New York City building owners who are rushing to comply with the Local Law 97 of the city's Climate Mobilization Act.

Zinc8 is rapidly preparing to supply their technology to New York in time.  I told you yesterday that they've been recognized by the New York City Department of Buildings, the New York Real Estate Board and by NY state senator–and Senate Majority Leader Chuck Schumer–for their low cost, safe, and sourced-in-the-USA technology.

And when I say low cost–I mean MUCH lower cost per kilowatt hour.  Remember this chart from yesterday?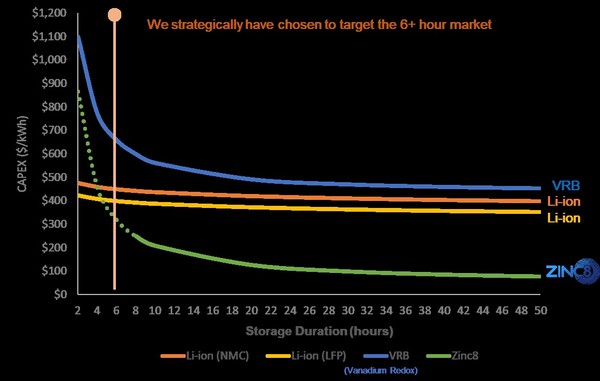 With those cost savings, OF COURSE the NYC Department of Buildings, the Real Estate Board of New York, New York State Governor Kathy Hochul and NY State Senator–and Senate Majority Leader–Chuck Schumer love Zinc8. Safe. Cheap. Sourced-in-USA. Zinc8's technology is key—maybe THE KEY–to renewable energy use for thousands of buildings in New York and across the USA.

And the stock is 24 cents, with millions in the bank before they even get started.

But yesterday, I didn't tell you how potentially lucrative this could be for Zinc8 in both the near term, and long term.
 
Again, almost all buildings in New York that are over 25,000 square feet are subject to carbon caps in 2024. 

Landlords face BIG penalties for being offside on the carbon cap is going to mean unacceptable financial penalties for these landlords.

Twenty-four US states have targets to reduce their carbon footprint, so this will be a multi-billion dollar market for a couple decades.  But in NY state, there is a pressing 2024 deadline. Time is short for New York building owners to find the right solution and install it.

That's a lot of money that will be getting spent very quickly.  That makes the business case for Zinc8 VERY compelling.

This morning, we saw the HUGE funding mechanisms set up to deliver this storage very quickly:
There are federal, state and local programs in the billions of dollars
There are others in the tens of billions of dollars
There are even those in the hundreds of billions of dollars
This US$9 million is just ONE of several potential funding sources. This funding is both up-front, and in after-the-fact tax credits.  Senate Majority Leader Schumer–who put out his own press release on Zinc8 this year–is very public that he is having his office help Zinc8 get the best possible benefit from these programs.  TODAY WAS A GREAT START.

I hope you see where this is going–and fast.  There is a problem with a deadline.  Zinc8 has the solution, and now has vocal friends in high places.
 
The kicker here is—if you are a qualified producer of energy storage, you automatically qualify for funding.  Some of this US$60 billion in funding is available up-front, some in back end tax credits (which can be SOLD! for hard cash).
 
Have I mentioned this is a 24 cent stock this week?  And Zinc8 already has millions in the bank, before any of these non-dilutive funding programs kick in?

And folks, this money is in addition to what they sell their energy storage unit for; this is above and beyond their regular business.

"We're extremely lucky to be in this place at this time," Zinc8 CEO Ron MacDonald told me in an interview.

Now look, MacDonald and his team have to execute on this plan still.  But it has all been laid out for them by NY State and their 2024 mandate, and with these non-dilutive capital sources.  MacDonald is a former federal politician in Canada, so he speaks Hochul and Schumer's language.
ZINC IS POSSIBLY THE HOLY GRAIL
OF ENERGY STORAGE 
Zinc-air energy storage is so simple – zinc and oxygen – but it took years of research by the Zinc8 team to make it ready for industry to install it in a large way.

Here is how it works:

1-Power from the grid or renewable source generates zinc particles in their proprietary machine called a Zinc Regenerator. Oxygen is the only by-product.

2-The zinc particles flow to the Storage Tank and are kept in a potassium hydroxide (KOH) electrolyte until required.

3– When power is needed, zinc particles are sent to the Power Stack, mixed again with oxygen to generate electricity. The zinc oxide (ZnO) by-product is returned to the storage tank for later regeneration.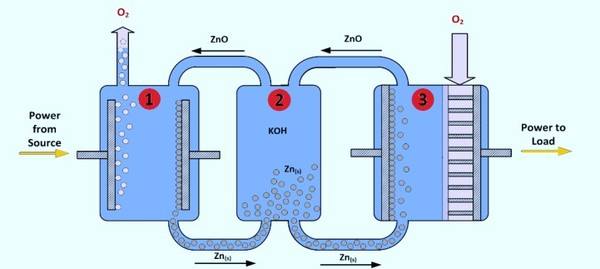 Cheap, long-lasting (forever!) and safe (almost no heat!).  After millions of charges and discharges, there is NO loss of charging capacity in the Zinc8 energy storage battery;  ZERO LOSS.

And the primary ingredients of zinc-air batteries are plentiful–which keeps costs low.  Lithium prices have soared–zinc, not so much. Air remains free. When it comes to input costs, free is good.

Zinc-air batteries are also safer because they are not flammable (have you seen those lithium batteries on fire in Tesla's?), and are non-toxic.

But what clinches the deal here is that for long duration energy there is no comparison on a cost basis.  No comparison.
CONCLUSION: New York Is The Catalyst
But The Future Is EVERYWHERE 
The near-term revenue opportunity in front of Zinc8 is obvious. That will be the rush from tens of thousands of buildings that stand to benefit from utilizing Zinc8's energy storage to comply with Local Law 97 carbon caps.

For the building owners Zinc8's energy storage doesn't just help them comply with carbon cap regulations.  It also helps them save money. 

By allowing the building owners to tap into energy supply away from peak hours and store it (rather than consume it live during peak times) Zinc8's management believes that building owners energy cost can drop to 10 cents per kilowatt hour versus 30 or 40 cents during peak times.

Suddenly the only storage solution also looks like it can pay for itself.

There is a 'catch' of course. Zinc8 has to manufacture their energy storage machines in the USA to be able to sell there (current manufacturing is in Canada).  But I have laid out all the non-dilutive capital that will position Zinc8–in just a few months–to begin selling in the US.

Everybody wants this.  Zinc8's technology provides the longer duration energy storage that the world desperately needs to make The Big Jump to renewable energy. 

Even better is–the longer the energy storage is needed, the cheaper the energy price Zinc8 can deliver.

Zinc8's technology fixes that multi-trillion-dollar hole. And the full scale of opportunity in front of this $40 million company is basically…limitless.

The economics are now as compelling as the need for Zinc8 technology. Everything is ready to roll out.  Industry recognition is in place. Political support is in place.  Zinc8 already has millions in the bank. 

The stock is only 24 cents.  The timing could not be better. I'm excited, and I'm long.

Zinc8 Energy Solutions has reviewed and sponsored this article. The information in this newsletter does not constitute an offer to sell or a solicitation of an offer to buy any securities of a corporation or entity, including U.S. Traded Securities or U.S. Quoted Securities, in the United States or to U.S. Persons. Securities may not be offered or sold in the United States except in compliance with the registration requirements of the Securities Act and applicable U.S. state securities laws or pursuant to an exemption therefrom. Any public offering of securities in the United States may only be made by means of a prospectus containing detailed information about the corporation or entity and its management as well as financial statements. No securities regulatory authority in the United States has either approved or disapproved of the contents of any newsletter.
Keith Schaefer is not registered with the United States Securities and Exchange Commission (the "SEC"): as a "broker-dealer" under the Exchange Act, as an "investment adviser" under the Investment Advisers Act of 1940, or in any other capacity. He is also not registered with any state securities commission or authority as a broker-dealer or investment advisor or in any other capacity.