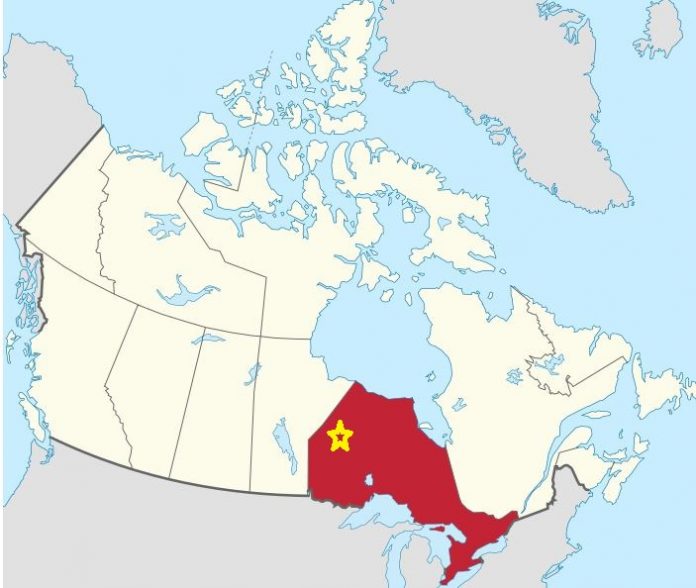 The lithium sector just keeps producing winner after winner. 

No surprise—the world is desperate for lithium.   Specifically, it's desperate for a thriving lithium industry outside of China.  Until that's secure, every country and company with an interest in securing lithium supply is on edge.

Lithium demand keeps surprising to the upside.

Forecasts now show that lithium demand could reach between 3 to 5 million tonnes by 2030.  If you actually do the math on the supply, what you realize is that the world needs up to 200,000 tonnes of new lithium supply EACH YEAR.  That is bigger than the entire lithium market was a decade ago. (2)

There is some visibility on development projects to come online by 2025, but beyond that there appears to be a big gaping supply hole.

For more perspective, consider that Tesla is targeting manufacturing 20 million electric vehicles per year by 2030.  To produce those vehicles in a year, Tesla will need more lithium than was produced in the world last year.

The world needs more lithium.  Badly.

Tomorrow I'm going to introduce you to what I see as The Big Lithium Play of 2023—and what I see as the best company in it. 

This is the right team, with the right asset, in the right industry, in the right play at exactly the right time.  With near-term catalysts to move the stock.

This company is well funded, and just announced a geological rockstar hire to join the team.  Rockstars don't join companies for paychecks.  They join companies that they think are going to be big winners.

Value is being realized at a rapid pace in the lithium sector:  two of my picks—Neo Lithium and just recently, Arena Minerals have been bought out. Both of those are brine plays which was my original focus, but what we have seen recently is that the big stock winners are coming from Canadian assets in Ontario/Quebec. 

These are hardrock plays, not brine.  The market now LOVES THEM.  No new technology, like DLE—Direct Lithium Extraction—is required.  Hardrock is simple, understood, and now loved more than anything in lithium. Tomorrow's stock is one of them.

See the market love.  Check out Frontier Lithium (FL-TSXV)–one of these Canadian plays which is up more than tenfold for its shareholders in just a couple of years…..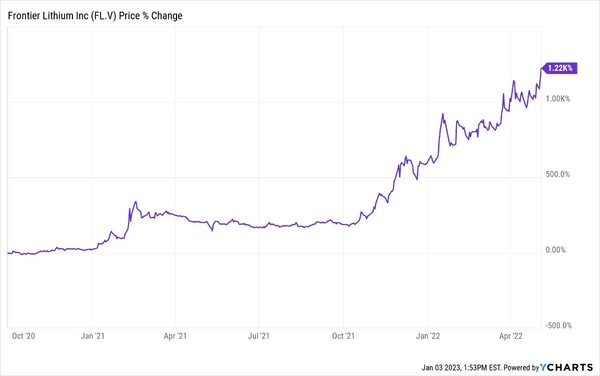 See the market love.  Patriot Battery Minerals (PMET-CSE) is a similar Canadian lithium stock that also has had a tenfold share price increase in an even shorter timeframe….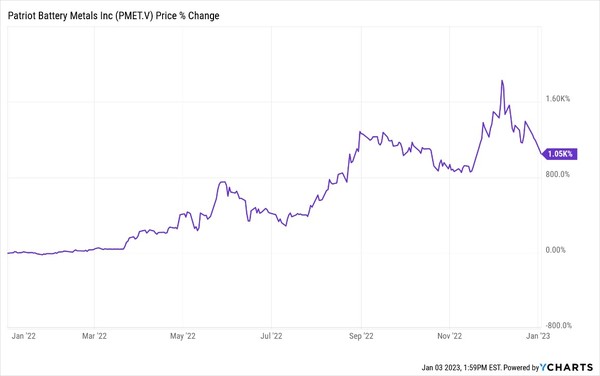 There is no sector that has rewarded investors faster than lithium over the last three years—be it Sigma ($5 – $50), Standard Lithium ($1 – $15), Neo-Lithium (60 cents – $6) and Frontier and Patriot.

It's a big list, and I've played a lot of them. I see discovery continuing to get richly rewarded in 2023—and the Big Lithium Play this year is in Canada.
 
Canada's Lithium Hotspot Is Ready To Rock


The lithium plays in Ontario and Quebec have 1-2% lithium, near-surface, in multiple areas.  This is the top emerging lithium area and for the first time ever, tens to hundreds of millions will get spent here—in just the next few months.

As the money gets spent, the results will just keep coming. As soon as the Street gets a sniff that a few successful holes could create a 43-101 compliant resource—that stock could quickly have A Big Run. 

The junior brine stocks that I've covered have been bought out or had big runs. Look for that to happen with solid hard rock Canadian projects in 2023.

Keep an eye on mining super-giant Rio Tinto (RIO-NYSE; US$88 billion market cap) which has openly said that they are on the hunt for lithium acquisitions and is targeting North America. 

Rio got burned on a $2.4 billion lithium project in Serbia where it had its licenses revoked.  Who wouldn't prefer secure sources of lithium within the borders of North America?  Especially since Rio already has a lithium concentration plant located on the doorstep of this emerging play.

The big move in the stocks of Frontier Lithium and Patriot means that discoveries here will get rewarded in the market immediately.   Plus—the market is desperate for a non-Chinese lithium supply chain. 

This quickly evolving Ontario/Quebec play is going to be it.

The lithium extraction here is really straight forward. 

It is simple, hard-rock mining; no new tech required. It's cookie-cutter mining, (very) good grade, right jurisdiction—and like I say, as soon as the Street sees that an asset is good enough to get to a maiden resource report – any stock in the region will fly.

Tomorrow's stock has a key project that is located right in Frontier Lithium's "Electric Avenue" where the Pak and Spark deposits have turned into two major deposits in Canada.  That puts tomorrow's company in the best lithium neighbourhood in the country.

It is an incredible land package with the best showings of the host rock called pegmatite, which is the host rock for the lithium deposits now being found in Ontario and Quebec.

Tomorrow's company is looking at is the same geology, on the same trend and the same fault as Pak which has 9.3 million tonnes averaging 2.06% lithium oxide and Spark which is 14.4 million tonnes averaging 1.4%.

Two other significant pegmatites, Bolt and Pennock, have also been discovered by Frontier Lithium along this strike.

One good drill result and the market is going to be able to infer that this company has something similar.

 
This Team Literally Wrote The Book
On Ontario Hard Rock Lithium
 
While this company may have the right asset in the right location—junior mining is all about people.  If you have followed me you know my line—good people are always the most valuable commodity.
This is the best of the best of the best.  In this business you always bet on the people.
 the project was staked by the same crackerjack who originally staked the asset which made Great Bear Resources (GBR-TSXv) which grew from 15 cents to $29 in four years, and was bought out for a cool $1.8 billion in December 2021. He is a legend in the business, and a serial finder of major assets.
they have the geologist who discovered the behemoth Oyu Tolgoi mine in Mongolia which contains an estimated 2.7 million tonnes of copper and 1.7 million ounces of gold.  Another legend.  
When junior companies start attracting people like this…I don't just pay attention.  My 30 years experience tells me that there is something big cooking.
just last week, this team hired the person who wrote their PHD on pegmatite lithium in Northern Ontario.  
This is like getting Einstein to join your school to teach a course on his theory of relativity.

This woman had multiple offers, but came here—because of the value that she sees in the pegmatite lithium that the company has.

She was one of the people with the Ontario Geological Society that actually found Frontier's discovery.

I can't overstate the signal that her joining this venture means.  Here resume:

-she has co-authored twenty-two scientific journal articles on pegmatites

-she completed a Ph.D. thesis on Tourmaline in Granitic Pegmatites in 1999 at the University of Manitoba under Dr. Petr Černý, a world-renowned expert on pegmatites.

-she worked for the Ontario Geological Survey for about three years during the tantalum boom in the early 2000s. During this time, she travelled all over Ontario and visited/worked on about 90% of the lithium pegmatites in the province.

-a compilation of pegmatite exploration techniques she acquired in academia and government is published and her Open File Reports are still used by exploration companies to aid in their exploration.

This is the foremost expert on lithium-bearing pegmatites in this neck of the woods.  She could have her pick of the litter and she has chosen to join this company because of what she knows about the assets that they have.
 
Do Not Miss My E-Mail Tomorrow!!!!
 
Early-stage stories need management that can raise money AND use it to buy the best assets AND then also attract a high-quality technical team.

Tomorrow's stock checks those boxes and then some.

They literally have the technical person that wrote the book on Ontario hard rock lithium assets.  A legend staked this property.  Another global legend in exploration is on board as well.

I'm not a patient man. My sense is that this company is not going to make me wait.  I've spoken with the CEO, and he is chomping at the bit to spend money here——his plan is to build this into a billion-dollar company and he wants to do it quickly.

The charts of Frontier Lithium and Patriot show what a good hole in this region does for a stock.  This stock is a 2023 story that is going to play out quick.

Tomorrow I'll break down all the specifics for you including:

1—the names of the best of the best technical team
2—full details on the project itself
3—timing of drilling plans and how the catalysts for this stock break out
4—a little extra special free secret option that comes with this company and offers lottery-ticket-like-blue-sky-potential
5—and of course the name and ticker of this stock

If you've been on my mailing list for a while now you will know that we have had tremendous success in the lithium sector.

Get ready for my e-mail tomorrow.  Do not miss it.
 
Sources:
https://investingnews.com/lithium-demand-keep-ballooning/