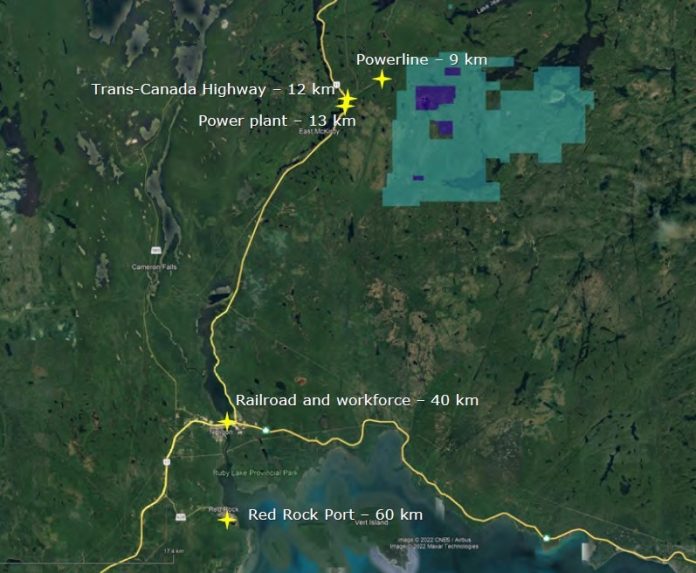 General Motors has re-started the lithium bull market.  By injecting $650 million into LAC Minerals (LAC-NYSE/TSX) on January 31, GM lit a fire under ALL lithium stocks (though they had started to move up before that).

GM purposefully bought into LAC for a US-based asset—LAC's Thacker Pass project in Nevada.  Capex is a huge US$2.3 billion, but EBITDA is expected to be US$1.1 billion, and produce enough lithium to supply 1,000,000 cars a year when it gets into production.

The western world wants a western supply chain from top to bottom for lithium—which is now dominated by China.  GM's investment into LAC is a blinking neon sign for investors—lithium stocks have a great run ahead of them still.

Lithium producers' stocks (ALB-NYSE) and other market proxies (think–Tesla) were up 40-80%.  Even the junior lithium explorers caught fire, with Canadian leaders Patriot Battery Metals (PMET-TSXv) almost tripling from $6 – $17 in a month: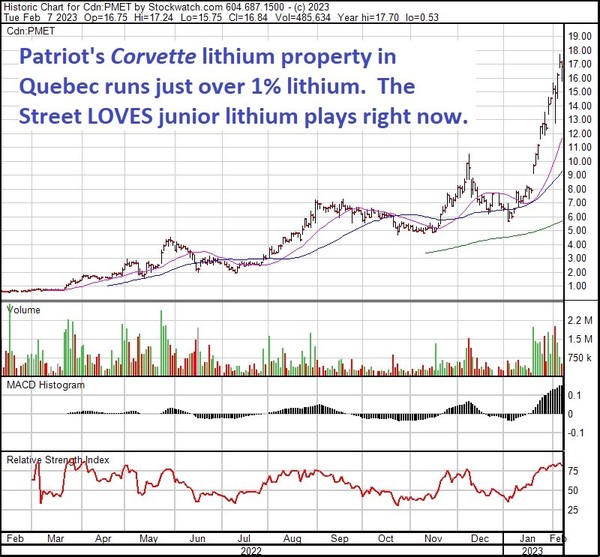 Ontario's Frontier Lithium moving up 30% very quickly: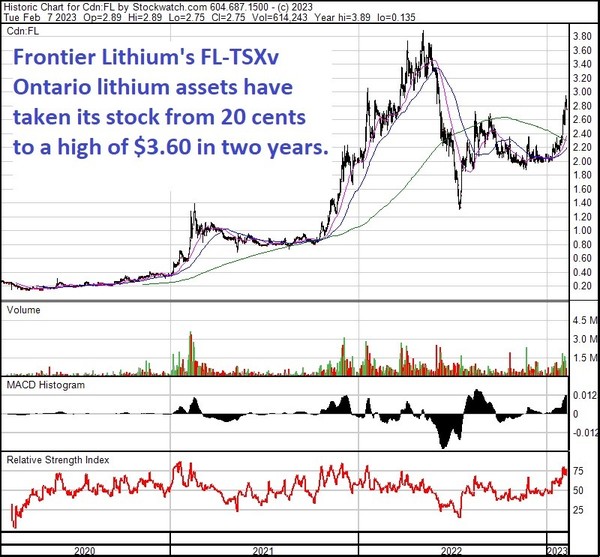 Over the last three years, juniors developing high grade lithium brine plays—big underground lakes with a high lithium content—have given most of the big capital gains to investors—not hard rock lithium plays.

That started to change in a huge way in 2022, as the charts of these junior lithium stocks had unbelievable runs—here is the 3 year stock chart of Rock Tech Lithium in Northern Ontario, Canada: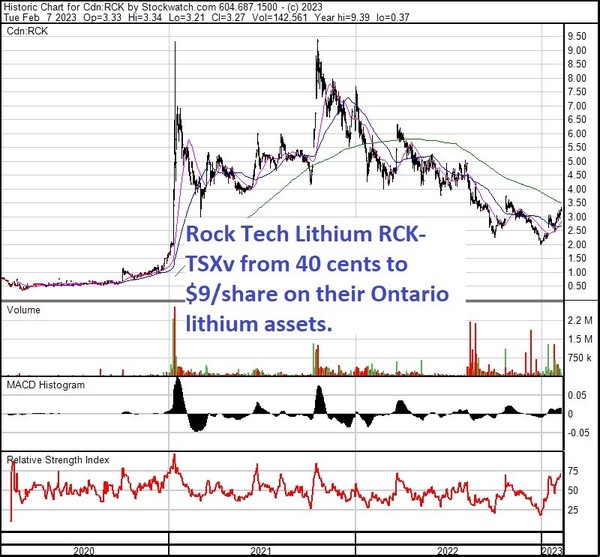 Why do these charts look so good; why are investors making so much money in lithium in Ontario and Quebec now? 

Because at today's lithium prices, the 1% grade being found by most explorers across these two provinces is VERY profitable!  Look at this chart comparing gold (which most investors know a bit about) to lithium (which most investors DON'T):




That chart is probably the best kept secret to investors who don't understand lithium economics over the last year—and now YOU know it. Lithium is CRAZY profitable, and GM's buy-in to LAC Minerals just confirms prices are going to stay high.

No wonder hundreds of millions of dollars will get spent exploring for lithium here in 2023.  If prices hold up (no guarantee) a lithium mine at these grades would be lucrative.

There is fast growing evidence—from exploration—that there is A LOT of near surface lithium across the Canadian Shield, a very old and very large rock formation that stretches all the way across the northern sections of both provinces.

These junior explorers are finding—regularly—lithium deposits in a rock type called pegmatites, very similar to what has been found in Australia.

The lithium is found in what I call "rivers of rock"—dykes that are tens of meters wide and hundreds of meters long, and close to surface.  These dykes are very white, and easy to see at surface.

I think there is a high likelihood that several big deposits get discovered this summer in Ontario and Quebec—the best jurisdictions.  First Nations are on-side. The governments WANT green-tinged jobs like gigafactories and lithium mines. It's a bit of a perfect storm for lithium development. 

The stock charts say that investors are very open to lithium explorers in this hot play of 2023—and are rewarding stocks in a big way, both on initial discoveries and as more data comes in and these companies build up enough size (tonnage) to potentially be economic.

I've said this before—The Big Lithium Play in 2023 will be Ontario and Quebec.  Junior stocks will go from pennies to dollars even more than they did in 2022.

 
So….Which Stocks Do You Buy?


I think there is a method to this bull market madness:
Ideally, you find a stock that already has a 1% lithium deposit on their ground!
If the lithium grades found are consistent across most of northern Ontario and northern Quebec (2000 miles/3200 km), assets closest to infrastructure—roads, power, rail, people—will get developed first.
You need a management team the Market has confidence in, meaning that they have built and sold juniors before, and can raise money
That management team should own a lot of stock in their own company, and be aligned with shareholders
TOMORROW—I show you the stock—that trades UNDER 20 CENTS—that meets all that criteria. 

The closer we get to drilling season, the more anticipation is going to build in these junior lithium explorers. 

It's only early February, so the early bird will get the worm.  These stocks are already starting to move up. 

Getting in EARLY will matter a lot this year.

 
DO NOT MISS MY EMAIL TOMORROW!!!!!


 
After a lot of research, I have found the PERFECT lithium explorer. 
To start, it already has a historical resource over two million tons over 1% lithium! It's near-surface, open at depth and along the ground.
They are SO CLOSE to infrastructure—rail, road, port, power—NOT way up north—here's the map: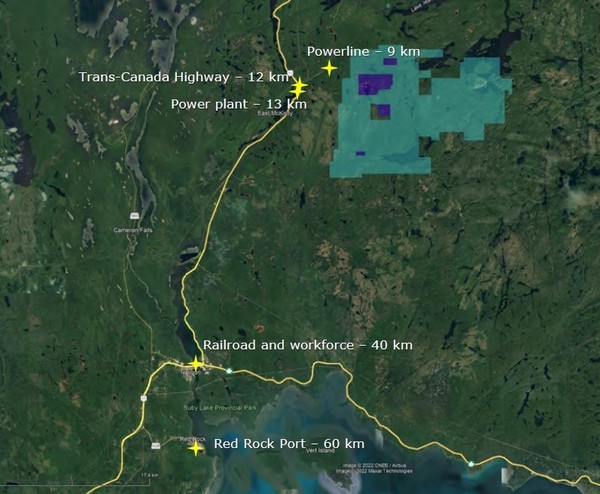 One of the key team members here also prospected and staked the land that became the 36.6 million tonne Whaboutchi lithium deposit that Nemaska developed. This man KNOWS lithium. (He also runs a junior mining company that went from 5 cents to $4/share in just two years!)
Management, the board and advisory group own 20% of the stock.  They are committed.
This stock trades well under 20 cents—because management has never talked up the story!  My email tomorrow is the very first time any group of investors are being told about this story.
Oh, and I don't think I mentioned—they are 12 km (7 miles) away from one of the today's leaders in this play—which has 16x the market cap of this sub-20 cent stock?

CONCLUSION—the lithium bull market is back.  North America is desperate for a local lithium supply chain. 

Assuming most grades are the same across this vast lithium belt, quality assets close to infrastructure will get the first and best lift.

I think this company has ALREADY hit the jackpot—the Market just doesn't know it yet.