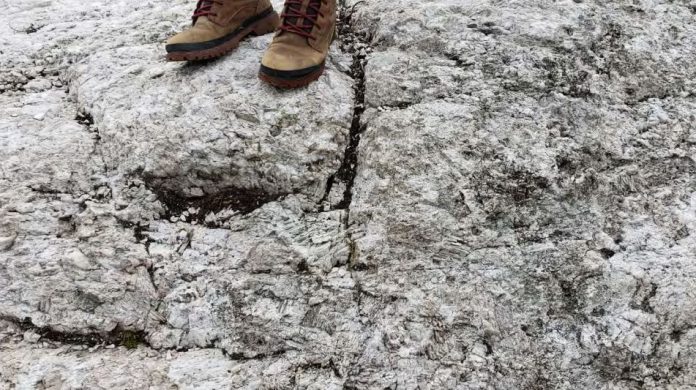 Imagine Lithium (ILI-TSXv / ARXRF-OTC) has a HUGE headstart in rewarding shareholders in the red-hot Ontario lithium play.

These junior lithium stocks are soaring from pennies to dollars with good exploration results, and Imagine announced their best ever results TODAY, making their Jackpot lithium deposit even larger. 

After today's news—extending Jackpot to 900 m long and 300 m deep with grades over 1% lithium and still open for more exploration—I think the Market will put the pieces of this puzzle together very quickly:
Their Jackpot lithium deposit already has a historical resource of over 2 million tons of Li2O, and it's open both at depth and at both ends. Drilling last year has already confirmed all that mineralization, and a compliant resource is coming in 2023.
A 1% grade at today's lithium prices is equal to roughly half an ounce or 15 g/t gold—hard rock lithium mines being built today (think Sigma, SGML-TSXv; $44) are forecast to be the most profitable in the world right now.
Imagine's Jackpot deposit is only 9 km from a power line, 12 km (8 miles) from a highway, 13 km from a power PLANT, and 60 km (42 miles) from a port on Lake Superior—where lithium can be cheaply shipped to the new Giga-Factory being built in Windsor Ontario.  The lithium resources closest to infrastructure will get developed or bought out first.  This is simple economics.
Here's one thing I know—and now you know—that nobody else really knows (or the stock would probably not be 12 cents!)

Board advisor and large shareholder Victor Cantore identified the potential of this property years ago when nobody was looking for lithium.  This man has an incredible nose for lithium and buying properties that turn into big deposits. He is a big part of this company.

In 2009, Cantore found, staked and sold Nemaska Lithium their big lithium asset in Quebec—which ended up being 36.6 million tonnes of just over 1% lithium.  It is still the single largest hardrock lithium deposit ever found in North America. And Cantore was the first to recognize it.

Shareholders of Imagine Lithium could not be in better hands.  He has an amazing track record and this stock is only 12 cents!!

He also founded AMEX Exploration and took it from 5 cents to $4 in two years. 

Now….honestly folks, if you want to stop reading now–you can.  When you have
a lithium team with this high quality
buying an asset that already has a historical lithium resource
that's open at depth and along strike in both directions
closer to highway, port, labour and infrastructure than anyone else
in a Tier 1 jurisdiction in The First World…
…that's kind of all you need to know as a junior resource investor.  I asked Victor why they haven't talked up this story yet—I mean, the stock is 12 cents, and it has everything investors want—a hot play, good results, great team…what's going on?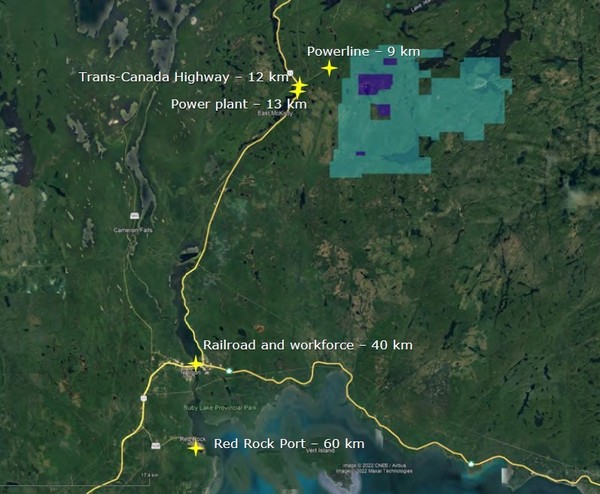 He told me—look, we have funded this ourselves.  We put a lot of our own money in to get this far.  NOW, we are really confident. In early February, Imagine Lithium CEO JC St.-Amour put out their metallurgy results—which showed that they could create a 6% concentrate very easily, with no issues.  That's what lithium refiners want.

And they also enlarged their property—this is now 19 km (12 miles) x 14 km (9 miles) so the potential here for another very large lithium resource is now HUGE.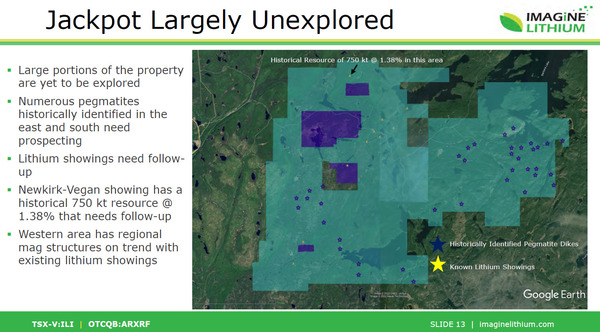 Cantore is quick to caution, hey, there's no guarantees, but they REALLY like this asset now.  The KNOW there are swarms of pegmatite dykes that are mineralized with lithium. And the property is 18,800 hectares, or 46,400 acres with over 50 known pegmatite dykes—room for multiple lithium deposits.

"When I first visited the property in 2017, I was basically walking on spodumene crystals in the pegmatite dykes.  When you look at those things, they look like these big long sidewalks.

"You really fall in love with this project when you're walking all over this and you know there's a lot of potential. What it's going to take now is real drilling to move it forward."

They completed 10,000 metres of drilling last year, and results—like the amazing ones announced today—are starting to roll in.  Between the upcoming 2023 drill program and prospecting on the broader property to find more drill targets—there will be LOTS of news for investors to digest.

That's the guts of the Imagine Lithium story, but there are a cast of highly supportive facts that make this even better.

One is that they do have high grade lithium as well—at depth, they hit a 3% lithium interval over 5 metres. Three per cent is off the charts good, BUT it's a bit deeper. That's a much bigger prize, but it will cost a bit more to develop. 

Second, Rock Tech Lithium—RCK-TSXv–is 15 km north of Imagine Lithium, with a market cap of $300 million, about 15x that of Imagine.  It was triple that about 18 month ago as they were announcing their lithium development strategy. That stock hit as high as $9/share.

Their lithium asset so far is 7 million tonnes of 0.8% Li2O.  Imagine Lithium has very similar geology and grade.

Third, the First Nations in the area have been great to work with and are really supportive of lithium exploration.

Fourth, Ontario's lithium industry is BOOMING!  For sure, 2023 will set a record for lithium exploration in the province. But investment downstream, in the Electric Vehicle space, is now well into the billions:

In March 2022, Stellantis (STLA:NYSE), the parent company of Jeep, Fiat, Dodge, Ram, Chrysler, Maserati, Alfa Romeo and many more, partnered with LG Energy Solutions and they invested CAD$5 BBBBBillion for Canada's first large scale EV gigafactory in Windsor ON, planning on launching by 2025.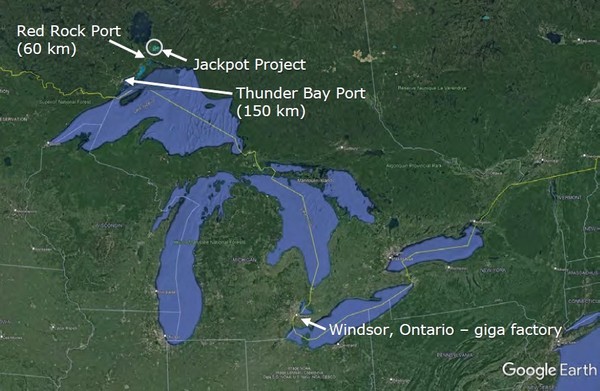 With obvious ties to the Windsor Chrysler manufacturing and the Stellantis factories just across the border in Detroit, it is in a strategic position to feed their growing EV product lines. 
 
In June 2022, Honda announced a CAD$2BBBBBillion plant in Alliston ON for hybrids (which still need a lot of lithium).
 
In July 2022 – the Umicore (the ADR symbol in US = UMICY) announced a CAD$1.5B investment for a battery facility for EVs in Kingston ON, specifically for cathode production.
 
I could keep going, but you get the point. EVs have revived the auto manufacturing sector in Ontario and they are scrambling to secure enough of these critical resources for their ambitious plans. And they need to find their supply SOON.
 
Many global automakers are making deals with lithium producers, and soon-to-be producers. Investors are looking to Northern Ontario to fuel a reliable and economically feasible lithium supply.
 
At 1% lithium, perfect metallurgy, near infrastructure, a huge property and a team that already found the ground that ended up being Canada's biggest lithium deposit to date….I imagine that investors could hit the Jackpot here. 
 
I am long Imagine Lithium!



Imagine Lithium has reviewed and sponsored this article. The information in this newsletter does not constitute an offer to sell or a solicitation of an offer to buy any securities of a corporation or entity, including U.S. Traded Securities or U.S. Quoted Securities, in the United States or to U.S. Persons. Securities may not be offered or sold in the United States except in compliance with the registration requirements of the Securities Act and applicable U.S. state securities laws or pursuant to an exemption therefrom. Any public offering of securities in the United States may only be made by means of a prospectus containing detailed information about the corporation or entity and its management as well as financial statements. No securities regulatory authority in the United States has either approved or disapproved of the contents of any newsletter.
Keith Schaefer is not registered with the United States Securities and Exchange Commission (the "SEC"): as a "broker-dealer" under the Exchange Act, as an "investment adviser" under the Investment Advisers Act of 1940, or in any other capacity. He is also not registered with any state securities commission or authority as a broker-dealer or investment advisor or in any other capacity.