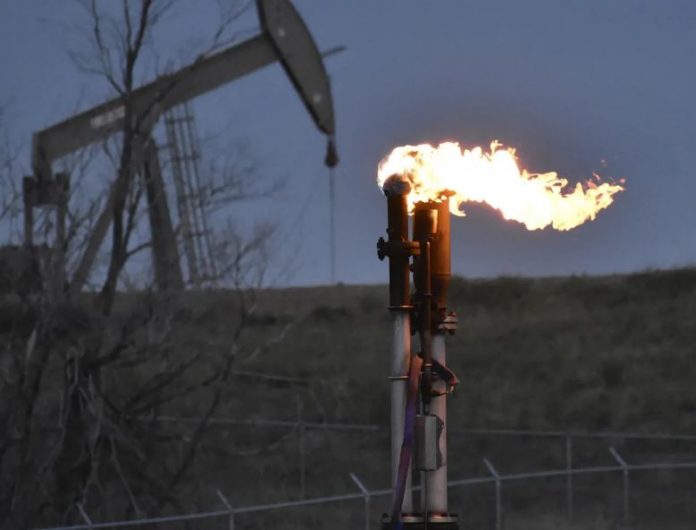 Understand this—demand for carbon credits is about to go ABSOLUTELY PARABOLIC, as businesses and governments try to meet strict CO2 emission targets by 2030—only seven short years away.

In 2020 demand for carbon credits equalled roughly 100 million tons. By 2030 Global management consultant McKinsey estimates that the market will need 1.7 billon tons of carbon credits, or 17X higher than today. By 2050 McKinsey sees the market at 10 billion tons, which is 100X higher.

Why that much? Because scientists and governments believe we must keep the earth's temperature from rising no more than 1.5 degrees Celsius this century to save the planet.

To do that, governments signed The Paris Agreement, aiming to lower emissions This is what was agree to in The Paris Agreement.  Here's what that gap looks like: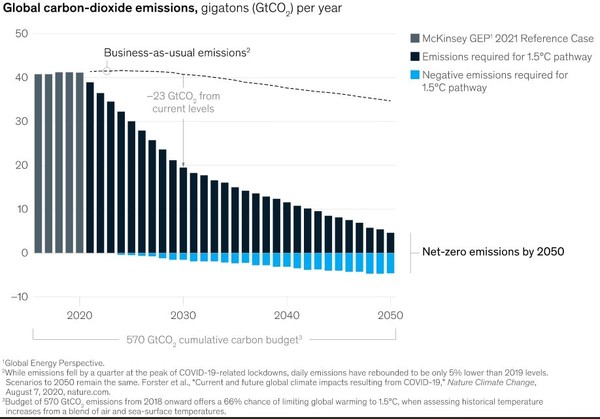 Filling that 23 Gigaton gap will be one of the most profitable businesses of the next 30 years.  NOBODY—no business, no government—has the ability to get even close to Net-Zero on their own. EVERYBODY has to buy carbon credits.

If you want to get even a short term snapshot of the political and social will building to make this happen, look at this one year chart of the groups committing to NetZero: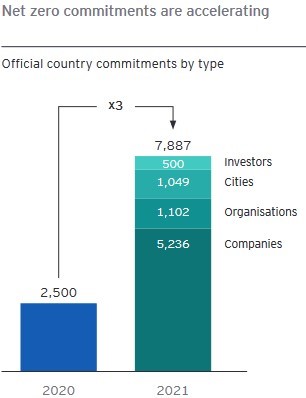 That is a HUGE increase in demand—in just one year!  No wonder that Ernst & Young, another global business consultant, sees the price of carbon credits going from US$10 per credit (1 credit=1 ton of carbon) rising up to $100 or even $200 per ton over the next 30 years: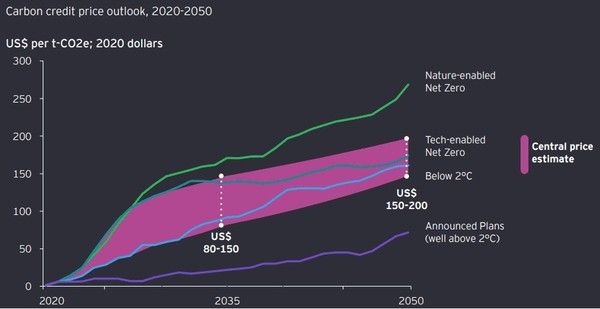 The Big Problem is—supply.  There is nowhere near enough carbon credits being created to meet this tsunami of demand. 

Imagine if you were a business that could create, verify, and sell carbon credits on that scale? That 23 Gigaton supply gap could mean gigatons of cash flow!

Tomorrow morning, I'll show you the management team who can do that. Their company lists—and I mean Day One of trading—tomorrow. This team already has contracts in hand and a fast growing pipeline of business in what I see is one of the biggest new industries of the next decade.

Every medium to large business on earth—is your customer. Every level of government—ENTIRE COUNTRIES—is your customer.  And they have to buy—no matter the price.  The price of carbon is being legislated higher in many countries.  They are all hungry for your supply.

That is a great gig, right?  It gets even better.  They can use their turnkey solution—to go to a business or city and do all this for FREE—create, verify and sell carbon credits they generate for clients.

All of sudden, cities and businesses find that carbon credits are a huge source of free money to pay for their NetZero commitments! This company finds the technologies, sets up the carbon credits and monetizes them—and receives a performance fee—a royalty essentially—on one of the biggest markets in the coming years.

 
DEMAND WILL COME FROM EVERYWHERE


 
And when I say entire countries, I'm not exaggerating. Japan for example has promised to buy ONE HUNDRED PERCENT of their reductions required under the Paris Agreement from credits. 

You read that right, ALL of Japan's carbon reductions will come from buying carbon credits because they would otherwise have to pump the brakes on their economy to bring down emissions.

Over 100 countries committed to the Paris Agreement and set incredibly ambitious climate goals.  Every country is promising 40% and 45% reductions in carbon emissions by 2030.  That's just seven years from now. 

There are no countries that are going to be able to reduce emissions by that amount in 7 years———they are all going to need to be buying carbon credits.

Canada promised a 40% reduction of emissions by 2030. Catherine McKenna, the Minister of Environment at the time, signed the Paris Agreement––––then the very next thing she did was take a plane from Paris to Taiwan to sign an agreement with the Taiwanese carbon credit exchange to buy credits!!!

Because she knows—as one of the biggest signatories—that Canada, like other countries, can't meet their targets without buying credits.

The number of corporations that have pledged to be net-zero emitters of carbon just keeps growing. 

Currently 698 of the largest 2000 publicly traded companies in the world have made the commitment. 

Many more private companies have. All of them will eventually get there.  Not adhering won't be an option.

 
HOW TO SOLVE THE SUPPLY PROBLEM
THE SILVER BULLET


 
The world wants to reduce emissions by 23 Gigatons of carbon per year.  But since this industry started, the total credits issued only total 4.5 Gigatons—in the history of the world so far, 4.5 Gigatons of supply.  And we need 23 Gigatons annually.

That's because entrepreneurs and buyers have been focused on nature-based carbon credits.  I'm talking about things like—saving forests and mangrove swamps by NOT logging them.  Re-forestation is a similar sub-sector of supply that is growing (pardon the pun).

This will not work for the future, for so many reasons.  Many of these credits come from the developing world, where verification and transparency—did this really happen—can be hard to trace. And of course growing trees takes decades!  And none of this scalable—each forest is different.

Nature-based carbon credits can NEVER come close to filling this 23 Gigaton supply gap.  No, for this the world needs technology solutions.

 
DO NOT MISS MY EMAIL TOMORROW!!!!


 
The solution to this global, multi-Gigaton problem may not be as difficult or as high-tech as you think.

That's because there are already MANY technologies we have developed that greatly reduce energy consumption, and therefore oil and gas use.  There are many other technologies that are low carbon—low carbon asphalt, low carbon cement, low carbon steel—that can greatly reduce emissions in the coming years.

All of these things and processes are MEASURABLE.  We know how much less energy an LED light uses than incandescent.  We know how much energy savings there is in upgraded water tanks, boilers, HVAC systems (buildings are a HUGE emitter of carbon!) etc.

But nobody has been figuring out how to put all these everyday, regular business energy savings and low carbon improvements into carbon credits.

Tomorrow I'm going to tell you everything you need to know about this company including:
How the company's carbon credit technology works
The sectors that are low hanging fruit—immediate, global, and profiitable
What the incredible economics are of their capital light business model
The backgrounds of the people involved, so that you can see that they are the most credible operators in the industry
And of course the name and ticker of this stock!
This is a high-growth, fat-margin, exciting tech story that is going to be playing out in 2023.

There is zero doubt that carbon credit demand is going to skyrocket higher.  This company has a direct royalty on it.

Do not miss my e-mail tomorrow.  We are kicking 2023 off with a bang!

Sources:
https://carboncredits.com/carbon-credits-volume-increase-prices-rise-2035/#:~:text=Credit%20Prices%20Will%20Rise%20to%20US%2480%2D150%2FTon%20by%202035&text=The%20projection%20further%20assumes%20that,end%20of%20the%20range%20explored.