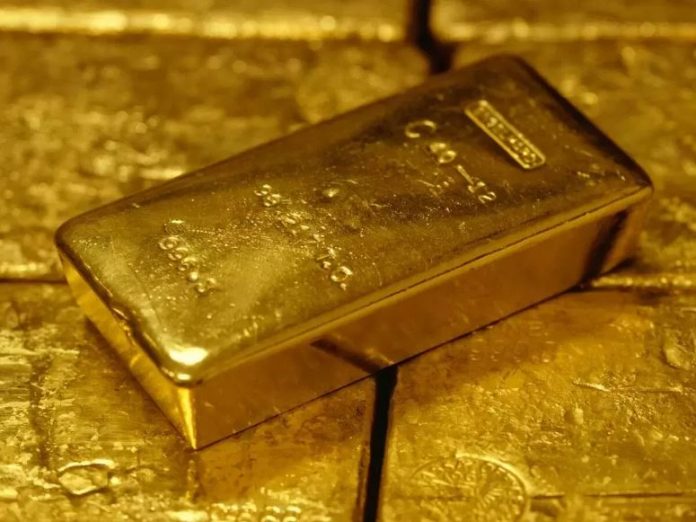 When gold started to make its big run in 2019, my readers and me made A LOT of money.

If you were on my e-mail list in 2020 you know how incredible our run was. Together we had a blast. 

Winner after winner after winner:

Fosterville South (FSX:TSXV) — from 40 cents when I participated in the financing to $5 in months.

Prym Mining (PRYM-TSXv) from 40 cents to $5

K92 Mining (KNT:TSX) — from $2 to $9.50.

Galway Metals (GWM:TSXV) — 29 cents to $2.00

Vizsla Silver (VZLA:TSXV) — 25 cents to $2.50

I can go on, but you get the point.  These companies made DISCOVERIES. It was fun.  It was exciting.  It was lucrative.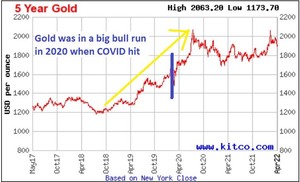 In mid 2019-mid 2021, we had the right market AND the right teams/companies. I've spent 30 years in the junior mining market, and I know who The Winners are—who are the good jockeys.
 
In Junior Mining
You Buy The Jockey
Not The Horse
 
If Leo Hathaway were to come to me and say "Would you like to invest….." my answer would be YES without even hearing the rest of his sentence.

Leo is a serial builder and monetizer of junior mining companies.  Leo and Marshall Koval have been the lead technical staff for the entirety of billionaire Ross Beaty's legendary Lumina Group's run that has seen them build and sell———SEVEN, count them SEVEN different junior mining companies.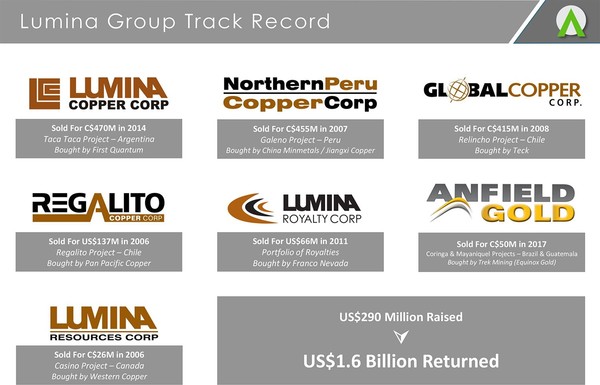 All of those wins came from the original Lumina Copper, which acquired 10 copper projects in the Americas. This company was star-burst into 6 daughter companies in May 2005.  They were then sold  over the following 10 years for combined proceeds of $1.6 billion.  There were many discoveries.

Leo has been with Beaty for 18 years.  It is no mystery what the formula for success for Lumina is.  It is just very hard to do.

They find incredible assets with massive unrealized potential, buy them a cyclical low for the sector or region, build those assets and then monetize. 

Then repeat, repeat, repeat.

In addition to those seven….Leo also identified the Cangrejos porphyry gold-copper project in Ecuador that was within a much-undervalued company, with no resource.

Lumina Gold acquired 80% of that company for $5M—the market cap now is over $200 million based on this sole asset, now with a gold resource with 10 million indicated ounces and ANOTHER 6.7 million ounces in the Inferred category, and is at the prefeasibility stage.

Another big win for Leo's partners was an investment in Ventana. He visited their South American gold project in its early days, and he liked what he saw so much he and his partners bought 12% of the company.
Ventana CEO Richard Warke sold the company to Brazilian mining magnate Eike Batista for $1.43 billion. HUGE WIN!

Leo makes money for shareholders like few other geo's on the planet.

 
Here is Leo's Next Company—A Micro Cap Still


 
Leo has found a brand new asset he likes—a lot. He went off the beaten path and was able to get a large acreage.

He has just put it into a very well structured company—less than 30 million shares out!!!  It trades well under $1/share.

So investors have an opportunity to get in on the ground floor with him.  Backing Leo's company on this is the Inventa Capital group which we know and love from our huge win on Vizsla Silver in 2020.

Leo has other deep, deep and really smart pockets backing him on this one too. His only equity raise was taken down mostly by billionaires–who know how smart Leo is.

Then Leo connected with the single most qualified man on the planet to be the CEO of this company—this man ALSO has a multi-million ounce discovery—but this one is in the country where Leo found his new asset.

More on this region and this CEO's track record tomorrow——otherwise I'll spill all the beans today! 

The bottom line here is that I would buy this team before I even know what they are planning to do EVERY DAY OF THE WEEK.  Yes, they are that good.
 


MOMENTUM IS ALREADY BUILDING…

 
And in their first—and only—exploration program, they achieved not one, not two, but three geological milestones that clearly show multi-million ounce potential:
Found a huge array of high priority targets to drill, thanks to reinterpreting detailed geophysics flown by helicopter over the entire property. No previous operator had done this. Surface prospecting confirmed exactly where to find gold mineralization. So the table is now set!
Drilled a hole of 50 metres of 9 grams per tonne gold on the first program!!
Confirmed big grade potential at depth AND potentially opened up a big new zone of mineralization
 
That's all. In a pile of needles, they managed to only find the haystack!

But the reason I want you to know about this new company NOW is because—in the near future, follow up drill results are coming and a second drill program is starting.

So many mines get developed like this—a property that was massively underexplored with old techniques lands in the hands of a new, first-class team that unveils the true value.

Leo and the CEO have done their preliminary work—and they think they can see BIG low hanging fruit that has been completely missed by prior work. 

On top of that only 5% of this highly prospective property has been explored. There are seven other prospects just like this.
 
Do Not Miss My E-mail Tomorrow!!!!
 
This stock is setup to be just like all of our 2020 big winners.  There is a proven team at the helm—both men have discovered big deposits worth hundreds of millions of dollars.  The asset is in a low-priced, low-float stock. 

What's different is that this venture is backed by billionaires, and came up with an amazing drill hole on the very first try!  I believe they are on the cusp of a delineating a major discovery.

Tomorrow, I will tell you everything about what Leo and this company, including:
Specific details on the asset——including the sizable historic resource already in place
The steady stream of near-term catalysts that could be coming
The incredibly tight share structure that provides big leverage for shareholders
How the team has changed (improved!) the geological thinking on this big asset
Why this mining-friendly region is suddenly BOOMING
And of course, the name and ticker of their new company
Leo will get a big premium for a discovery—he has the track record.  The Street knows he will have money thrown at him if good drill results keep coming.

With more results from the first drill program still pending, AND a second program ready to start, Big Money will want to get positioned in case this turns into a Big Win.

So be ready tomorrow morning!
 
Sources:
1) https://strategic-res.com/corporate/about-the-lumina-group/