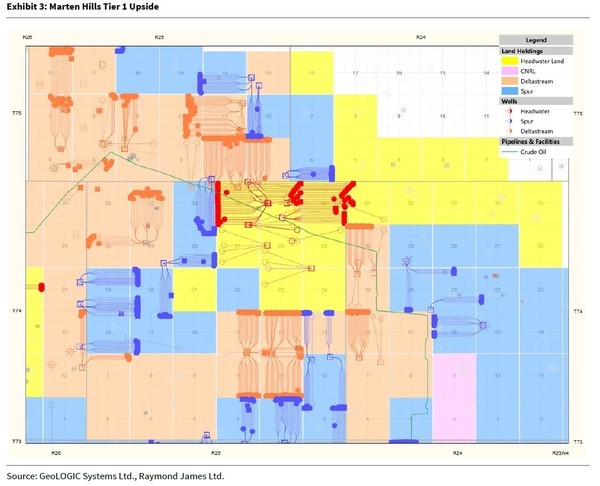 I bought into Headwater Exploration (HWX – TSX) about last May – during the darkest days of the oil market.  Headwater was a bet on management – Neil Roszell and his team–the same guys who, over the last decade, brought us Raging River, Wild Stream and Wild River.  I put Roszell in the Top 3 of junior company oilmen in Canada (and arguably #1!).

In a market where nobody knew what would happen to oil, I just stuck with the basics.  Buy the best team you can.  They had over $100 million cash already–unique in the Canadian juniors.

Roszell et al have done exactly what I had hoped. 

After six months of a very flat, very tight stock chart, in November Headwater bought 100% of Cenovus' (CVE-NYSE/TSX) assets in Marten Hills for $100 million ($35 million cash, $65 million equity). This gave them 270 net sections of Clearwater rights and 2,800 bbl/d of medium oil production.

The Clearwater is probably the most economic play in the entire history of Canadian oil.  So the best team is now operating the best asset.  The fact that most of this play is private says how profitable it is.

When they announced it, the stock took off.  It was a textbook breakout and screamed at investors to get long.

At the time they acquired the assets Headwater guided Q4 2021 production to 7,500-8,000 boe/d.

The first quarter results came out a couple of weeks ago and they pushed that estimate up.  They raised Q4 guidance to 9,000 – 9.500 boe/d.

The Q1 results matched expectations.  Production for the quarter came in at 4,800 boe/d – which is 192% over the prior quarter.

A short refresher on Clearwater at Marten Hills.  Clearwater wells are shallow (675 meter), heavy oil (18-19 API) wells that produce IP30 ~40-50 bbl/d per lateral.

Headwater is drilling these laterals 8 at a time, so a single wellbore is producing more than 400 bbl/d IP30. 

You can get an idea of how tightly spaced these laterals are from the map below: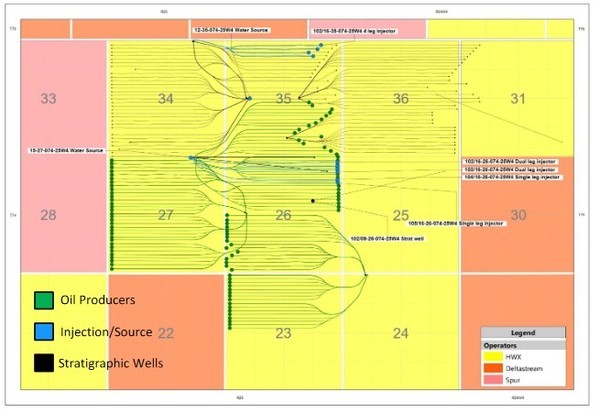 Source: Headwater Exploration May Presentation

What sets these wells apart is the economics.  The IRR of the Tier 1 acreage is >500%.  As context–when I was studying every new play that came up in the early 2010s, my threshold was 75% IRR for an unconventional shale play, and 60% for an old-style, conventional oil pool like we have here.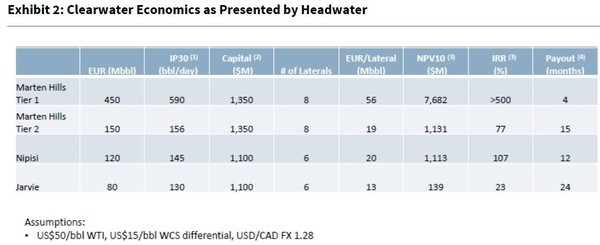 Source: Raymond James

The Canadian arm of brokerage Raymond James put it like this a couple of months ago:.

"We can safely say we have never seen play economics quite as strong as the results coming from the Clearwater at Marten Hills."

These are some of the best netbacks in the industry, second only to Parex (PXT – TSX) (who of course is producing in Colombia down in South America, not Alberta).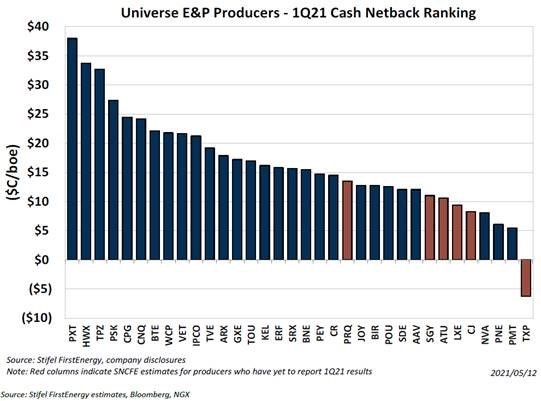 Source: Stifel

Raymond James estimated in their February initiation report that the Clearwater wells had an NPV of $8.4 million per well based on their mid-February strip.

Oil has moved from $57 to $68 since that time. 

The outlook for oil looks solid if not spectacular.   I'm not yet a believer that $100 oil is on the horizon.  There is still plenty of OPEC production that can be brought online.

But as long as the United States is not ramping production OPEC seems be in no hurry to bring back capacity.  The US rig count is far away from looking worrisome.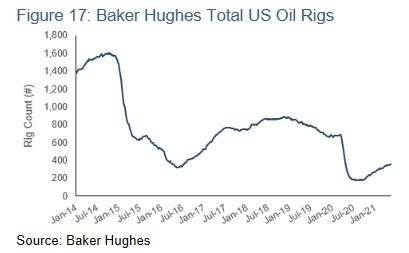 As a result, US oil production is looking remarkably flat.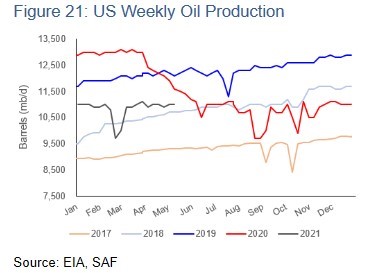 These fundamentals bode well for Headwater which can do just fine at $60 oil.  Stifel is estimating $40 million of free cash flow in 2022 based on the forward strip.  But the end of next year, Stifel is predicting the company will be positioned for $160 million of cash flow and $110-$120 million of annual free cash flow.

Headwater has a market cap of ~$840 million.  There is no debt and a net cash position of $80 million.

That means the stock is trading at ~7x FCF.  So it's hard to say it's expensive.

April results for the 4 most recently drilled sections were released in the latest company presentation.  They appear inline with what Headwater has been achieving over the past few months.

Source: Headwater May Investor Presentation

Headwater will keep drilling through their Tier 1 inventory but there is a lot of room left.  Below in yellow are the 15 tier-1 sections that the company owns.  The map is pre-Q1.  In Q1 they added laterals to section 23, 26, and 35.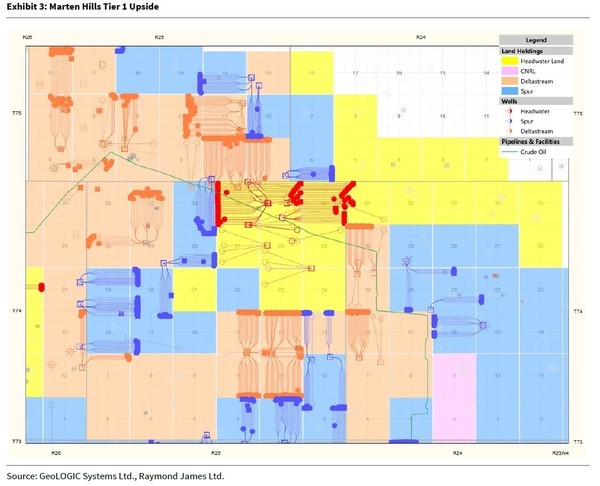 Source: Raymond James

Growth after 2021 will come from exploration and a waterflood.

In Q1 2022 Headwater plans to start exploring on the larger land package.  Remember, they have 127 sections, and the core area is only 15 sections.  Some early results from Headwater and Spur Petroleum are showing 20-30 bbl/d lateral from a couple of these sections.

Headwater is also working towards a waterflood on the core area.  They are still evaluating but with only ~5% of the oil expected to be produced through primary recovery, a waterflood could be another big cash generator for the company.

What I like about Headwater is that they do not need $80 oil to generate a lot of cash.  They can do very well at $55 oil and extremely well at $65.

The stock has likely priced in 2021.  What may not be priced in is the free cash generation beginning in 2022. 

What is definitely not priced in are successful waterflood results or exploration success.

The stock is up 4x since I bought it.  While the fast big run may be over, I think the slow big run could still continue.  You have the best team operating in the best play, and their stock now has the highest multiple I see in the space–all of it deserved. 

That makes M&A much easier–they can likely get a turn or two multiple lower on their M&A now and make it a bit easier to have instantly accretive acquisitions.  (Nobody else really has that in the junior sector yet.) And sellers want to sell to someone they know can develop it properly–because most of these deals are stock and just a bit of cash.  HWX has instantly become the consolidator of choice for all the small privates operating there.

In the ivory tower world of Calgary CEOs, nobody will be embarrassed if they get bought out by Roszell & HWX.  For those CEOs who want liquidity and an ongoing increased share price–ideally, Roszell or someone like Grant Fagerheim at Whitecap (WCP-TSX) buys you.

The Canadian junior oil sector is nowhere near as exciting as it used to be–there's no new plays, no new teams.  But it is now incredibly profitable–as profitable as it has ever been really.

We haven't seen M&A in the junior oil patch for awhile. But the stage is now set for it here at HWX.  The Big Slow Run will continue I think.

DISCLOSURE–I'M LONG HWX.