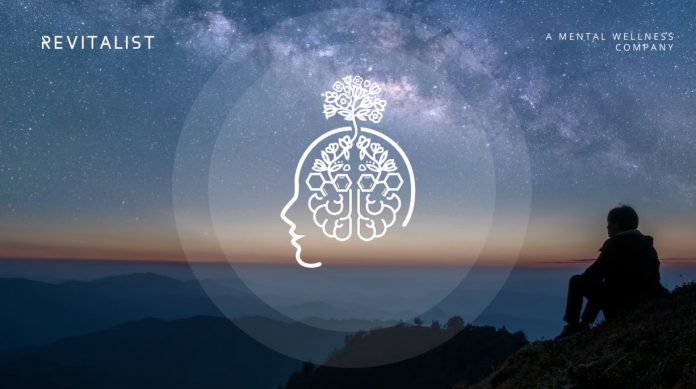 Revitalist Lifestyle and Wellness (CALM-CSE) is rolling out more than 150 ketamine clinics in the US in the next few years, giving investors the ability to help improve life for thousands of people suffering from mental health.
They have five clinics in three states right now, and the goal is to be at 156 clinics by the end of 2025.
These clinics have low start-up costs (under $100,000), can accept health insurance in many cases and can serve as a first line defence for mental health issues in communities. EVERYBODY WINS.
As I told you yesterday—ketamine is starting to revolutionize how mental health is treated. The clinical and real-world successful results from ketamine treatments are overwhelming—and positive.
While existing anti-depressant treatment methods have a 25% success rate (arguably less than a placebo)—the ketamine psychotherapy success rate is more like 85 PERCENT…..which means ketamine psychotherapy is going to be a flat-out GAME CHANGER. 
So much so, that while many people will return several times for their $500 ketamine infusions—many stop coming after a few treatments. That's because ketamine infusion WORKS.
Ketamine treatment growth is going to have an exponential growth curve over the next five years. Yale University concluded that Ketamine is nothing less than the biggest breakthrough in mental health treatment in 50 years. (1)
The world doesn't NEED a lot of new things. But it needs this. That's one of my top criteria for investing (the world doesn't need another gold producer).
Literally hundreds of millions of people are not receiving satisfactory treatment for depression, anxiety, PTSD, OCD, CTE, addiction, suicidal thoughts, opioid addiction. So there is clearly a massive market for ketamine psychotherapy.
The percentage of those hundreds of millions of people now being treated with ketamine is miniscule—so the growth in this new treatment option will be parabolic. There is no question about that. Just look to the data…….from a 25% success rate to 85%.
Canadian brokerage firm Stifel GMP published an in-depth report on this market on January 14, 2021. They believe that psychedelic-assisted psychotherapy clinics have an addressable market opportunity of US $10 to $11 billion in the US alone.
Hospitals and established medicine infrastructure are overwhelmed with people and need now. These clinics are a very low cost, effective place where patients can get individual care at a very low price compared to any traditional practise. That is HUGE. 
The medical Ketamine treatment has been on the fringe until recently. But now, with the overwhelming volume of clinical and real world results it is now going mainstream in a hurry.
That is the MACRO story——Revitalist is my MICRO story on how to play this huge opportunity.
Revitalist Has Already Been Treating Patients For Years….
CEO Kathryn Walker, CRNA, has a deep passion for her mental health patients.
She worked for years as a critical care nurse, and after earning her Certified Registered Nurse Anesthetist designation, she spent 10 years as a practising CRNA. Then she opened her first Revitalist clinic in Knoxville, TN in early 2018.
Again, it's the anesthetist nurses who know ketamine better than anyone else—they have been giving it to patients in ORs since 1970. (Ketamine is a public domain drug; no Big Pharma getting rich here.)
Her passion has attracted a very talented group of business support people who see that this can be an incredible win-win-win for patients, medical professionals (who now get to treat people properly and with respect) and investors.
But she is all about the mission of helping millions of people with this life changing treatment.
Under Walker, Revitalist has given more than 7,000 infusions since 2018. Revitalist has the treatment process down, the clinic blueprint is perfected, and they have already positively changed the lives of thousands of people. They will be helping millions more in the future.
Each infusion is administered by a CRNA with a therapist in the room for the patient. The data on ketamine effectiveness is so solid that Revitalist CRNAs can alter the milligram dose by the minute or less to ensure a patient gets the best treatment. This is already a very exact science.
Revitalist already has 5 clinics in operation now in Kentucky, Tennessee and North Carolina—and now Revitalist is gearing up for a huge national roll out of clinics.
Revitalist works closely with Ketamine Media, one of the largest marketing firms focused on the ketamine clinic sector for patient awareness and acquisition. The agency claims to reach at least 30 million Americans on Facebook alone.
I expect this relationship to be a significant driver of new patients as Revitalist adds more clinic locations across the U.S.
I think this company has a very real chance of being the global leader in this space that is on the edge of moonshot growth.
Again, rather than speculate I like to look to the hard numbers that I can see——in addition to those 5 clinics in operations, three additional clinics are expected to be operating by Dec 31 2021. Further agreements are also signed for licenses to operate clinics in 10 additional cities.
That gives us a clear path from 5 clinics now to 8 clinics by year end and then quickly ramp up to 22 clinics by mid-2022. But that is just the start of a some really big plans.
The full medium term business plan clinic count actually looks like this:
8 clinics by 2021
48 clinics by 2022
84 clinics by 2023
120 clinics by 2024
156 clinics by 2025
My neck hurts thinking about the chart that captures this growth. With this plan Revitalist offers investors a chance to ride on what should be the fastest growing psychedelic clinic model in the world.
I think they can pull it off. Let me tell you why.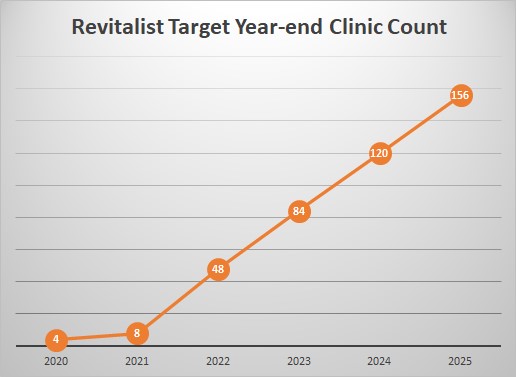 First—These clinics require almost no up-front investment; roughly $50,000 of construction and capital expenditures and then they are up and running. 
Every clinic is estimated to have revenue capacity of $3 million per year generating EBITDA of $1 million.
Second— Revitalist can accept commercial and federal insurance plans. Not only do they help with civilian insurance, but they are also able to accept Veterans through the VA System (a contract that takes many years to acquire).
Third—thousands of qualified medical professionals want to work in these clinics. One recent local add got more than 1,100 qualified applicants for 1 position.
Qualified medical personnel having been working in nightmare scenarios since the outbreak of COVID——basically war-zone type pressure cookers.
These folks flat out hate their jobs. They are burnt-out. They are done.
To get out of that nightmare and work at a calm, slow-paced, Revitalist clinic where you are changing patient lives for the better is A Dream Job. 
The New Front Line for Mental Health
I don't want to dilute this story for you—but Walker and Revitalist will be doing a lot more than ketamine infusions.
Walker believes her clinics can greatly reduce the load on emergency cases in hospitals. These low-cost Revitalist clinics could become a front line for communities and patients reeling under the stress of mental health. Each clinic will have an Intensive Outpatient Program (IOP) to treat many of the same conditions that ketamine can help with. With this, medical insurance kicks in for most applications.
What that means is—the medical establishment will adopt / co-op these clinics, referring them patients and cementing their place in communities. When you have the greater industry rally around you—you're made.
These low cost clinics make so much sense for the American health care system, reeling under increased mental health pressures from COVID.
CONCLUSION–Revitalist is in line to roll out a national growth plan and grab a dominate share of this opportunity. The company is already established, credible and incredibly passionate about changing people's lives for the better——with 7,000 ketamine treatments done already. Revitalist is the expert in this area.
I spoke with CEO Walker, and she is PASSIONATE about the difference here company can make in mental health. She is equally passionate about the better quality of life she can provide the medical professionals who are lining up to work with her.
The business plan that this company has built involves getting really big, really fast. Each clinic has a low start up cost, and has the capacity to do $3 million in revenue and EBITDA of $1 million. Their 2020 financials showed positive EBITDA in their clinic operations.
They aim to grow the clinic count from 5 to 156 in four years. The plan here is nothing less than becoming the largest owner and operator of ketamine-assisted psychotherapy and pain relief clinics in the entire United States.
BUT REMEMBER– business isn't easy and managing that kind of growth WILL create all kinds of unexpected issues. The future is always uncertain, and we don't know what we don't know.
Can they do it? It already has positive cash flow, and new clinics are opening steadily. I think they can, so if you want a stock with off the charts blue sky potential, then this is it for sure.
Sources:
1) https://www.bbrfoundation.org/content/biggest-breakthrough-depression-treatment-50-years-says-national-public-radio
Revitalist Lifestyle and Wellness  has reviewed and sponsored this article. The information in this newsletter does not constitute an offer to sell or a solicitation of an offer to buy any securities of a corporation or entity, including U.S. Traded Securities or U.S. Quoted Securities, in the United States or to U.S. Persons. Securities may not be offered or sold in the United States except in compliance with the registration requirements of the Securities Act and applicable U.S. state securities laws or pursuant to an exemption therefrom. Any public offering of securities in the United States may only be made by means of a prospectus containing detailed information about the corporation or entity and its management as well as financial statements. No securities regulatory authority in the United States has either approved or disapproved of the contents of any newsletter.
Keith Schaefer is not registered with the United States Securities and Exchange Commission (the "SEC"): as a "broker-dealer" under the Exchange Act, as an "investment adviser" under the Investment Advisers Act of 1940, or in any other capacity. He is also not registered with any state securities commission or authority as a broker-dealer or investment advisor or in any other capacity.