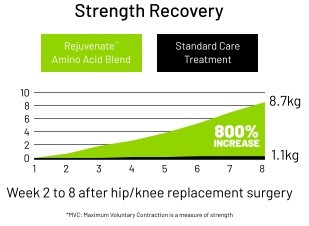 Investing is so easy right? You just find a proven management team with an incredible new product…that is just hitting its growth curve. Simple.  I mean, it happens all the time in business.
Of course I'm being silly—if it was that easy, all of us investors would be rich.

But tomorrow, I'm going to tell you about just such a company—on its first day of trading. You don't get more ground floor than that!

And the starting point is always people in these junior companies.  You want a successful CEO. This CEO is an entrepreneur—he built a $40 million company (soft gummy vitamins) from scratch, and successfully exited.  He also increased international sales 14x to over $10 million for a major vitamin/nutrition brand.  He went on to play a key role in increasing revenue from $40 million to $200 million at IOVATE Health Science in 24 months.  That company sold for a Billion Dollar valuation two years ago.

So by the time he founded the company that has its IPO tomorrow—he had done it all in nutrition and vitamins, and had a small personal fortune. 

That means two things:
He was able to recognize an AMAZING product when he saw it
He was able to put $3.2 million of his own hard dough into this company
But even that happens—a lot.  To me, here's what's exciting:

He already has his first product developed and selling into 7,500 locations, through major chains like CVS, Loblaws, Rexall and Shoppers Drug Mart.

And his second product–a Ready-to-Drink, organic, plant-based protein beverage—just launched into 1,000 locations across the U.S. Their first shipment sold out in just three weeks—they got their first re-stocking order in just THREE WEEKS.

So this is not a story that's about to happen. It IS happening—now. How many junior pubcos come to trade with distribution for their products like that? NONE THAT I KNOW OF.  And the IPO price tomorrow is 25 cents.

So we have a crackerjack CEO who has made him and shareholders money in the past.  He has leveraged that experience to get incredible distribution on his product ALREADY. (I am so excited for the next quarterly report!)

But let me tell you about the…remarkable…science behind this product.

As we age, we lose muscle mass.  All of us do—all 7.9 BBBillion of us on this planet (and I'm not even counting your PETS—and many of you will buy this for them before yourself!).  As we age, we lose energy, vitality and strength. 

There is actually a medical condition for loss of muscle mass called Sarcopenia. Medical giant Abbott Labs (ABT-NYSE) says sarcopenia is the new osteoporosis (an $8 billion market).  Health regulators are now after muscle loss like they have been after bone loss—that's osteoporosis—for the last 50 years.

After age 40, everyone's muscles start to decline faster than they rebuild. Degenerative muscle loss – Sarcopenia – affects strength and mobility with age.

For every single human being over 40 the clinical data shows that this product can build muscle and improve our quality of life.
 
25 Clinical Studies With Data That Is Impossible To Ignore
 
The US Centers for Disease and Control Prevention (CDC) only recognized Sarcopenia as a distinct medical condition in 2016.

But even if you don't officially have this condition—if you are over 40, you are losing muscle mass.

This CEO found and commercialized a unique and powerful combination of amino acids—starting with one called leucine—that stimulates muscle health like nothing else the world has ever seen.

There are 25 clinical studies that back this up.  One of those studies was published in the Journal of Aging Research and Clinical Practice.  When I was first researching this company, I read the results of this study—then literally went to Amazon.com, and immediately ordered a month's supply of this company's product. 

The study looked at a group of patients who had recently had hip-replacement surgery and were working towards strength recovery.  Some of the patients were given the usual standard of recovery care, the rest of the patients used this company's product. 

The results were absolutely astounding.  Mind-blowing to me.

The patients who used the product experienced an 800% increase in strength relative to the control group which were using normal protocols.
I would call it a miracle cure, but it isn't that.  It is science.  Not science that was developed overnight——but patent-protected science that has been developed over 17 grueling years with $20 million of research spent on it.

As we age, our muscle protein synthesis slows down.  Protein synthesis is the process of building new protein – the main building blocks of your muscles.  This is vital to healthy aging.

This product immediately increases muscle protein synthesis with a unique combination of essential amino acids, allowing your body to fight back in this battle against age-related muscle loss.

Again—what grabbed my attention was the 25 published, peer-reviewed clinical trials by some of the world's top researchers in protein, amino acids and muscle metabolism.

Next study.  Same jaw-dropping results.  A group of patients after surgery…bedridden, unable to exercise, guaranteed to experience muscle loss—were given the product and compared against a control group.

In those bedridden patients–obviously unable to exercise—they actually gained significant muscle!!

The study found that this patented, proprietary amino acid combination increases the ability of the body to synthesize muscle by 57% with no exercise required.
Now that is what I'm talking about!!!

Gaining muscle at rest without doing anything——that is why I immediately went to Amazon.com after reading this data from the clinical studies.

I think millions of other people will as well.  Millions.
 
The Adult Nutrition Market Is About To Be Disrupted
.
My first thought was—why wouldn't every person over 40 drink this daily?  It's light, tastes good—and doesn't bloat them with so many calories and sugar like BOOST or ENSURE.

Those products just throw more protein, sugar and calories at your body—and that doesn't work. There has been no significant innovation in this market for 40+ years.

The problem is—our aging bodies can't properly synthesize protein into muscle.  This product does that—in spades, and is backed by 25 clinical studies.

That is why the bedridden patients in the clinical study gained muscle when they weren't exercising–when they should have been wasting away.

Medical giant Abbot Labs (ABT-NYSE) owns Ensure and knows that it isn't the answer.  That is why they have publicly disclosed that they are actively looking to create a product that targets the massive sarcopenia opportunity that they have identified.

I believe that this product sells itself, but the team behind this company knows how to build and monetize a consumer brand product.

This company is a great combination of a top jockey on a thoroughbred horse. 

Three team members here have grown consumer brand products from scratch to hundreds of millions of dollars of sales.  And they sold them for Big Money.

Those decades of experience have allowed them to secure shelf space for their products with mega-chain North American retailers.  Getting that shelf space is the hardest part of trying to build a new consumer brand.  This team did it with no problem thanks to great connections and a potentially game-changing product.
 
Do Not Miss My E-Mail Tomorrow!!!!
 
Tomorrow I'll explain—in detail—why I think this IPO could be one of the best performers of 2021.

They have the team—the CEO has a graduate degree in nutritional science, and is a proven entrepreneur. He has built up sales for big companies, and built and sold a start-up in this space already for Big Money.

They have the science–25-peer reviewed clinical studies that point to the almost unbelievable muscle health results that this product generates. 

The clinical studies show that a single dose of just 3.6 grams and 5 calories increases muscle protein synthesis by 57 percent, and that's at rest.  If you throw exercise on top of that it is even better.
 
They already have the distribution—their main product is in 7,500 locations already, and their 2nd product is in 1000 locations—and they already have their first re-stocking order after just 3 weeks!

And they packaged all this into a 25 cent IPO. Twenty-five cents.  That's what I call ground floor opportunity!  You will learn about it all tomorrow morning.  Be ready.

Sources:
https://www.statista.com/statistics/566261/sales-of-the-leading-us-adult-nutrition-liquid-and-powder-brands/
https://www.foodnavigator-usa.com/Article/2018/02/27/Sarcopenia-is-the-new-osteoporosis-Abbott-continues-to-explore-solutions-to-counter-muscle-loss#