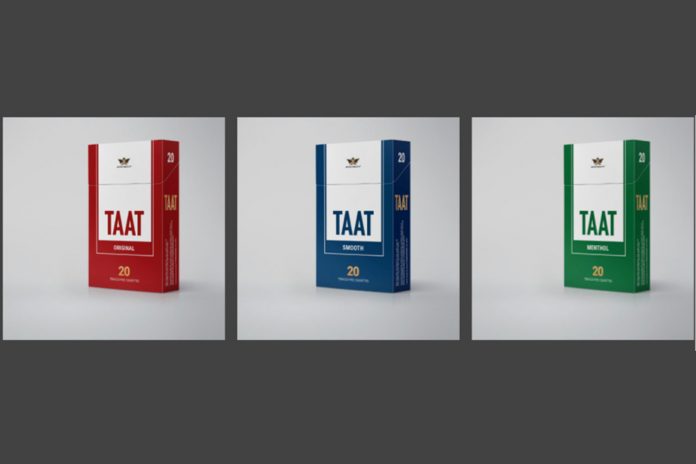 With sales ramping up quickly in the United States, TAAT is about to go truly Global—in more ways than one.
When I introduced you to TAAT Global (TAAT-CSE/TOBAF-OTCQB) just over a year ago, it was little more than an idea. It has since become a thriving business as smokers in the USA have embraced the no-tobacco, no-nicotine sticks. It looks, tastes, smells and smokes like a tobacco cigarette.
Selling "smokes" is an incredibly lucrative business—and it's an $800 Billion ++ market globally. 
The fast-ramping sales of TAAT—they're announcing more states now on a monthly basis—validates their product and model. Distributors WANT their product. 
And without tobacco or nicotine, TAAT can both sell at a lower price and market their product in many more ways than Big Tobacco. That's a big reason sales are soaring—see high profile boxer Floyd Mayweather branding TAAT earlier this year?
But the game is about to change for TAAT—and its investors. Right now, TAAT is listed in Canada, and sells its sticks in the USA.
TAAT has applied for NASDAQ listing in the United States. And they have received their first order out of Europe—a distributor in the UK.
TAAT has applied for NASDAQ listing in the United States. And they have received their first order out of Europe—a distributor in the UK.
Europe is a huge leap forward for TAAT:
Much more profitable market per stick (prices are more than double North America)
 WAY more smokers per capita than North America
Europe is already buying a lot more non-tobacco products—they are leading the way—away from traditional cigarettes
CEO Setti Coscarella tells me that Europe has the potential to be MUCH more profitable than the USA for TAAT.
The tobacco market in the US is US$75 billion. That's big for sure, but incredibly, the US accounts for just 3% of the total smokers worldwide. The global market is exponentially larger, valued at $975 billion.
To me, this says TAAT is on the cusp of an even steeper growth curve.
And of course, if TAAT is successful in getting their NASDAQ listing (they announced they were applying for it back in April)—a much larger investor base could benefit from this.
That's why I wanted to bring this story and stock back to you NOW—both the product and the stock should have their reach increase A LOT—and very soon.
The chart on the stock looks great now:
The Big Risk with junior stocks is—management takes forever to deliver. 
But look what TAAT has done in just over a year:
hired a CEO who worked at tobacco giant Philip Morris
raised over $20 million to support sales and fulfillment
increased sales distribution through to several US states
attracted top tier celebrity brand support
Got their first distributor in Europe
The Stock Has Consolidated
And Is Ready To Respond To New Catalysts
I'm now as excited on TAAT as I was when I first introduced it to you a year ago…and the stock chart looks great—just starting to break out of a multi-month consolidation…WOOHOO!!!
TAAT was able to land a distributor in the UK very quickly. They literally signed an agreement the day they saw the first samples.
I expect the same thing to happen with other large distributors across Europe who want to partner with TAAT.
Coscarella told me that European consumers are already educated on the benefits of using a combustible hemp product versus a combustible tobacco product.
In the United States—TAAT needs to educate the consumer and convince them to try a hemp cigarette. In Europe the consumers are actively looking for the product.
It is a lot easier to sell when the market is already demanding what you have.
As an investor what you need to appreciate is the magnitude of the distribution scale in Europe is so much bigger than what TAAT currently has in the U.S. that could really take this business——not to the next level, but up several levels.
With customers who are already educated about the product and ready to spend.
The past year has been so much better than I expected. When I update this story again a year from now, I think I'm going to be singing a similar tune.
I'm still long TAAT. And I now think Europe could easily be The Next Big Catalyst—and it has come way faster than I would've ever imagined.
The American market is just the jumping off point for TAAT. The big prize is global and TAAT is launching outside the US now. TAAT is about to truly go Global.
Keith
TAAT Global  has reviewed and sponsored this article. The information in this newsletter does not constitute an offer to sell or a solicitation of an offer to buy any securities of a corporation or entity, including U.S. Traded Securities or U.S. Quoted Securities, in the United States or to U.S. Persons. Securities may not be offered or sold in the United States except in compliance with the registration requirements of the Securities Act and applicable U.S. state securities laws or pursuant to an exemption therefrom. Any public offering of securities in the United States may only be made by means of a prospectus containing detailed information about the corporation or entity and its management as well as financial statements. No securities regulatory authority in the United States has either approved or disapproved of the contents of any newsletter.
Keith Schaefer is not registered with the United States Securities and Exchange Commission (the "SEC"): as a "broker-dealer" under the Exchange Act, as an "investment adviser" under the Investment Advisers Act of 1940, or in any other capacity. He is also not registered with any state securities commission or authority as a broker-dealer or investment advisor or in any other capacity.