Relay Medical–The Testing Stock We All Need

Relay Medical Corp. (RELA:CSE / RYMDF:OTC) has the COVID solution that government, industry and labour want to have to get everyone working, flying and meeting again—and safe while doing it.

As COVID infections start rapidly declining in a few weeks, these Big 3 groups will be under HUGE pressure to have a co-ordinated, working testing program.

Relay Medical has that—with its Fionet device can rapidly read ANY & ALL lateral flow tests in minutes, and store that data so travelers/customers/workers can have updated health data to prove they are safe. 

Hundreds of people can be processed in an hour.  It doesn't require special medical training.

The Fionet platform has been used for years with Ebola and malaria in Africa. It is proven. It has had upwards of US$70 million spent on it.

And Relay Medical has added high-throughput software that allows a lot of people to be moved through testing really fast—and so it can be used it for COVID in western settings and beyond (ROW).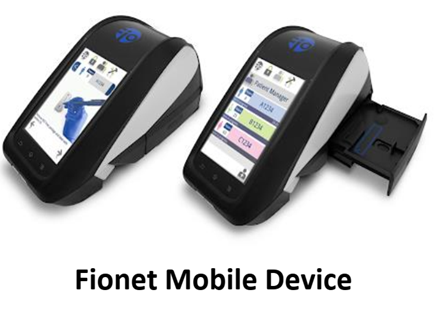 I'm convinced that the Fionet platform will be a huge catalyst in getting us flying, dining and working together again.

A pandemic requires continual testing at a fast, cost-effective pace.  That is exactly what Fionet delivers and is why COVID-19 and infectious disease screening will be so important for a COVID-20, COVID-21, COVID-22, H1N1 swine flu resurgence…andfor the mutating strains of the disease that we are now seeing.

Fionet isn't for what was—it's also for what may come.

Relay's shareholders will also see a big benefit—their model is to get paid per test given.  How many people fly, go to concerts, sporting events etc in a year normally?

The scale here is incredible. 

Fionet can be used in hospitals, seniors homes, stadiums, churches, car manufacturing plants.  Fionet is the best solution for any instance where we want to get back to safely having large gatherings of people.

After talking to the company and watching a demonstration of the technology I'm so excited. I'm excited as a person who wants to get back to living life. 

For the next few years at least, COVID screening and testing will be just like security screening at an airport—an accepted part of our lives.  And there will be lots of different tests.

The point is that Fionet reads them all, and can share data within privacy laws to make sure that not only does the concert venue know you are safe, but so will the restaurant and hotel you're at that night.

Fionet makes it simple, seamless and safe.  It's also cheaper faster and accurate.  With a low cost, and a few minutes waiting—which at an airport is nothing because you have to be there two hours early now anyway—the impact is minimal to people.

That's what has me excited about Relay.  It's not just a test, it's a solution.  It can be networked. 

Relay Medical's interest here is through a royalty on revenue, obscenely fat profit margins and premium valuation multiples.  The timing here is perfect, as vaccinations and warmer weather will make us all want to get meeting again.

But The Big 3—government, industry and labor—have a huge liability to make it SAFE for that to happen.  Understand that vaccines don't lessen the need for this—vaccines greatly increase it. Now we all get to be in very close contact again.

You think people are going to be a bit nervous for the first few weeks to months? You bet they are.  We will overcome, but it will be through covid screening and testing and monitoring along with the vaccines.

The easiest way for you to appreciate my excitement is to understand how the Fionet platform works.  Once you grasp that—you'll get how big this is.

Fionet is more a card reader than a testing device. It looks like something that a waiter would bring to your table to scan your credit card….Instead of reading a credit card the Fionet device reads COVID tests.  The device is compatible with all the lateral flow COVID tests.

That is a big advantage.  The only competitors that Relay Medical and Fionet have work with only one specific test.  They aren't universal. 

That is no good during a pandemic when supplies get tight…..the device needs to be able to work with any kind of test not just one.

Using the device is simple.  A little compartment opens up, you pop in the diagnostic test.   If it is an approved rapid diagnostic test, Fionet reads, record and interprets the test in minutes.  It is perfect for fast, mass testing. 

Just like a credit card device, anyone can accurately operate the Fionet device.  No medical expertise is required and it reduces HUMAN errors when interpreting the test results. 

It could literally be operated from the back of a van.  And it is so accurate, the US Department of Defense has actually said that the Fionet testing platform is as accurate than the testing done in a lab. 

Folks this is not new—it has been used in Africa for pandemics there for several years.  This solution is TRUSTED and PROVEN.  That's a huge leg up in getting rapidly adopted by institutions.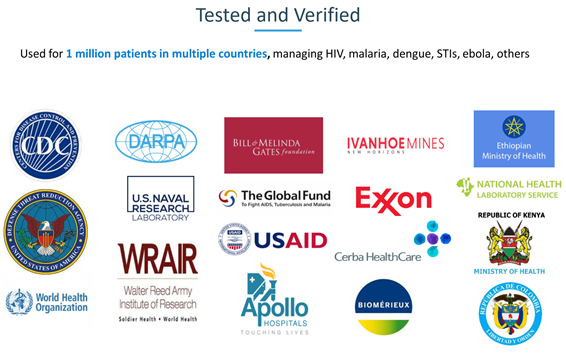 Without the Fionet platform, the current testing error rate on rapid test can range from 10 to 23 percent with non-medical personnel.  But with Fionet, people with very little training can operate it and get lab-style accuracy. AND you could literally scale up to whatever level you need to have.

It is simple to appreciate why I think that Fionet is about to go everywhere but I haven't even yet considered what may be the most important part —— THE DATA that Fionet's testing accumulates.

 
Cheaper, More Accurate, Scalable, Proven, Ready Now


When I say Fionet is proven, I really mean it has been used successfully to battle pandemics in Africa in 12 countries, with over 1 million patients creating 50 million data points.

I told you how Fionet works and I'm sure you can appreciate how this is a step change for all of us.  It is the better solution by every measure.

1 – It is cheaper. Regular labour and fewer re-tests.
2 – It can be done anywhere.  That means that devices can be on location at immigration/borders/airports so every single person entering a country is tested. 
3 – It is fast.  The test and the reading take just minutes.  (Here in Canada you can wait two DAYS to get results.  That is a giant hole in any control that is trying allow for a mass gathering.) 
4 – It can be as accurate as lab results and minimize human error.
5 – It is scalable.  Just like you have enough people screening every passenger for metal objects you can have enough people screening every passenger getting on a plane for COVID.

The only limit is the number of devices and the number of people you hire to use them.  And guess what….there is no limit on either of those!!

Like I said, this is all GREAT for society.  But shareholders will get a huge spillover bit of news flow.  Relay will be able to aggregate a large number of tests in many locations where thousands—or tens of thousands—of people move through.

The small price per test can mean big things for Relay shareholders.

Then there is the data–the invaluable data. 

This is where the device automation has such a HUGE ADVANTAGE and why Fionet was so important in Africa for controlling pandemics.
 
As soon as the Fionet device reads the COVID test the results can be instantaneously shared to a database.  Not only does the patient get the results, but so does the airline.  So could immigration on the other end of the trip.  So could the hotel where you will sleep that night, or the restaurant where you and your beloved will done.

This data is how we get confidence that everyone indoors with us isn't carrying COVID. 

This is basically wrapping a lab around rapid COVID testing.

 
Fast Testing And Data Controls Pandemics

 

If all COVID screening and testing since the outset had been done with a Fionet device–that automatically uploads data–just think about how much more under control this pandemic would have been.  At times the lag between testing and results has been up to 7 days in many places. 

You can't control a pandemic like that.

To control a pandemic, screening and testing in the community must be fused with real-time data capture and distribution.  With new COVID strains appearing the value of having Fionet devices widespread and uploading data to a central database would be invaluable.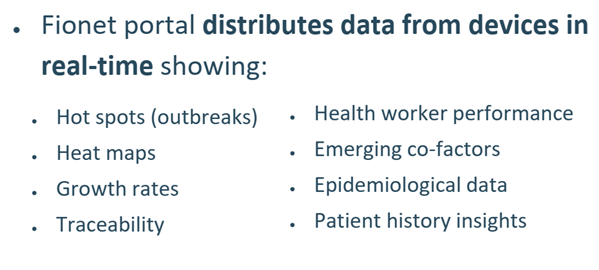 I see Relay Medical as both a short and long term play.

The near term is about getting Relay Medical's solution into entertainment and travel hubs, into the hands of businesses into our mass gathering events.  Recent contract wins have been with hospitals.

The long term is about getting these devices widely distributed so that they can be at ground zero of future outbreaks.

Best solution.  Lowest cost.   Incredible ability to scale. 

Fionet is inevitable and the market is starting to realize it.


Fionet is inevitable and the market is starting to realize it.
 



 
Relay Medical Corp has reviewed and sponsored this article. The information in this newsletter does not constitute an offer to sell or a solicitation of an offer to buy any securities of a corporation or entity, including U.S. Traded Securities or U.S. Quoted Securities, in the United States or to U.S. Persons. Securities may not be offered or sold in the United States except in compliance with the registration requirements of the Securities Act and applicable U.S. state securities laws or pursuant to an exemption therefrom. Any public offering of securities in the United States may only be made by means of a prospectus containing detailed information about the corporation or entity and its management as well as financial statements. No securities regulatory authority in the United States has either approved or disapproved of the contents of any newsletter.
Keith Schaefer is not registered with the United States Securities and Exchange Commission (the "SEC"): as a "broker-dealer" under the Exchange Act, as an "investment adviser" under the Investment Advisers Act of 1940, or in any other capacity. He is also not registered with any state securities commission or authority as a broker-dealer or investment advisor or in any other capacity.