Assure Holdings (IOM:TSXv / ARHH-OTCQB) is just starting one of the biggest growth curves of any junior company I have ever seen.
It's a medical story that sells itself because it has such a compelling value proposition for doctors, patients, hospitals and insurance companies.  Assure matches up highly qualified neuro-monitoring technologists with surgeons, monitoring patients for them in the Operating Room – the OR.
The number of surgeries they monitored grew 76% last year.  That volume should grow almost 100% this year.  How are they growing? Doctors are referring other doctors by word-of-mouth. That's why profit margins are so high – 70% – and that's why growth has been so high.  I expect 2019 revenue to be $25 million, up from $6.35 million three years ago.
Assure operates (pardon the pun) what I call a pull business model – where they turn a cost in the Operating Room (OR) into a profit centre.  Doctors want in – they want what Assure is offering.  With Assure, doctors are increasing their annual income by six-figures, and patients are getting better treatment.  It's win-win.
This is the type of company I am uncovering at my new newsletter, InvestingWhisperer.com.
I'll explain all these details in a minute, but understand a few things right away:
This company has generated a profit almost every single month since going public two years ago
This business model is unique so far… creating A Big Moat against competitors. You must understand how doctors and insurance companies think and act – from state to state – AND offer both a compelling value to doctors and patients.  I know of no other company operating exactly like they are.
Only 34 million shares out and management owns half of them
NO analyst coverage yet
Assure is keen to tell its story to investors
Growth is happening in MANY ways

Geographically – # of states – they've gone from one to six in the last 18 months and they hope to be in 10 by Year End 2019
Types of surgeries – has been primarily spinal but expanding into cardiovascular, orthopedic and ear, nose and throat
Number of doctors becoming partners and customers
All leading to large increases in the # of surgeries that Assure is monitoring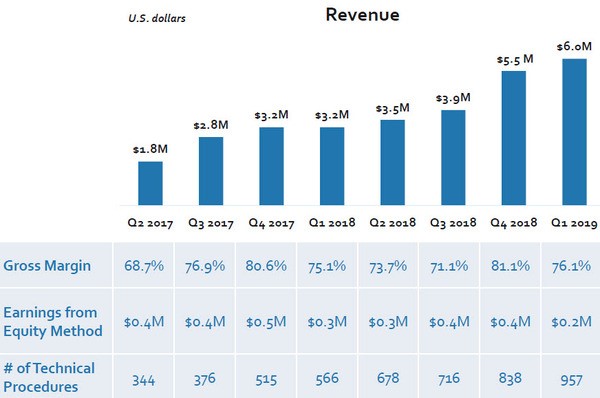 Source: Assure Corporate Presentation
I'll outline the compelling story below.  But the last two things I want you to understand are – I have $200,000 of my own cash invested because….
I think this stock is about to do VERY WELL for me in the near term – so this is THE STOCK that I'm giving to you for free to introduce you to my new newsletter The Investing Whisperer.
In 2009 when I launched the Oil And Gas Investments Bulletin I gave away energy stocks that turned into doubles and triples.
Those Big Wins gave investors the confidence to try me out – and my subscriber  count soared from zero to 2,000 from the excitement those stock picks created.
I'm no fool – I didn't forget what I learned in 2009.
This is my most important stock pick in a decade and I'm certain Assure Holdings is the stock to deliver what I need to have.
Assure Holdings – A Superior Medical Business Model
I'll make this as simple as I can. Within a surgeon's team in the OR, there is already a neuromonitoring technologist–I'm going to call them the "NM tech".
This person sits in the OR, in front of a computer screen, monitoring the electrical impulses from many needles that have been inserted into the unconscious patient.
Assure hires and trains the best NM techs in every major city they go into–beyond their normal certification–pays them very well, and matches them up with a surgeon or clinic.
With the highest trained NM techs, they offer better service, meaning that they monitor for many more factors ("modalities") and provide a greatly increased layer of insurance for the surgeon–and the patient.
The technologist is a vital part of a surgery – the technologist monitors how the patient is doing from information being fed through many needles and wires.
The technologist sits at a computer screen in the operating room (OR) and watches the electrical impulses of the unconscious patient.
These are just squiggly lines going across the screen—but it takes a lot of training to learn how to interpret these lines.

Offsite, Assure supplies a contracted neurologist to also monitor the surgery.  The neurologist monitors the technologist from a remote location, usually his or her office–as an extra layer of insurance.
Assure does almost exclusively spinal surgeries right now and in roughly 6-8% of those surgeries the tech alerts the surgeon to a possible issue.  That is an ounce of prevention in the OR to make sure that a surgical complication doesn't end up needing a pound of cure – which can cost the medical system millions in long-term disability, lawsuits and patient care!!
Under this model the NM tech is billed by Assure to the insurance companies and Assure retains all of this revenue.  Assure separately and, on behalf of the partner doctors, looks after the billing of the services for the contracted neurologists. This revenue is shared with the surgeon partners.
Assure is a one-step solution for surgeons and/or clinics.  They source, train, and custom-match the NM tech to the surgeon, AND deal with the insurance companies to make sure the doctor gets paid for providing this superior layer of insurance.
No surgeon has ever reported leaving Assure for business or work reasons (sometimes they move to a state that Assure is not yet operating in).  That says their business model is working for EVERYONE.
I've been to their Denver head office and interviewed the person in charge of the NM techs.  Their commitment to having the highest level of service is key to their model being adopted by MDs around the country.  Assure's NM techs are highly sought after by surgeons.
Why The Time for Assure's STOCK is NOW
I have followed this company CLOSELY for two years. And I'll tell you why I chose NOW to invest.
NM techs in general are relatively new to the American medical scene, and aren't appreciated enough to be normally included in a regular health insurance package.
If they were, they would be considered an "In-Network" cost.
The majority of Assure's billings – for now – are considered Out-Of-Network.  This is good in that Out-Of-Network billing rates are much higher than In-Network; Assure is getting returns roughly  50% higher than In-Network rates.
But it is also the hardest part of this business for Assure – because collections of these Out-Of-Network billing to commercial (private) insurance payors is complicated.  Insurers negotiate with the Out-of-Network providers like Assure, and receivables can take a long time.
To be honest it is something that the company needs to get better at.  Receivables have been low and slow, and that's why the stock has been low as well.  They had to take a big write-down recently–which really hurt the stock.
But this is changing–right now.
At the start of this year Assure brought in two new key executives… experts at dealing with Out-Of-Network billing.
Assure's new CFO Trent Carman and VP Strategy Paul Webster were previously involved with Out-Of-Network billings at a medical helicopter company called Air Methods.
On the back of their efforts to improve collection efficiency – over 13 years Air Methods increasing cash flow drove the stock from $2 per share to $46 per share (plus paid out $7 per share in dividends) where the business was eventually sold to private equity.  Let me repeat that – the stock went from $2 – $46.  Assure's stock is now just over $2.
Assure's already profitable business just got another shot in the arm with the expertise that these men bring to the table.  They are already increasing the speed of receivables, and the amount of receivables.
CONCLUSION: THIS HIGH MARGIN GROWTH IS RARE
I think Assure could be A Big Winner in the very near term for several reasons:
It's a PULL business model – Doctors want in!
Compelling value proposition – Assure provides a superior service where everybody wins–doctors, patients, insurers, NM techs
The growth and the retention rate are validating their unique business model
It's a profitable company – even when receivables were low!
Management has already fallen on their sword once (receivables) and learned from it–I find it's always better to invest AFTER that has happened
And NOBODY knows about this story.  It's a US story with a Canadian listing. But that's going to change – fast. They're hitting critical mass where analyst coverage should happen very soon, along with institutions buying the stock in the open market.
I want to keep this intro short – I have a full report in the Members Centre at InvestingWhisperer.com.
I haven't even talked about the CEO, John Farlinger, who is a seasoned and effective turnaround specialist.  I haven't talked about what could happen to a US  small cap story like Assure getting a US Registration and uplisting in the coming 24 months.  I haven't talked about how going "In-Network" within a few years would cement Assure's standing with analysts and institutional money.
I want to make myself and my subscribers a lot of money in the coming years. Finding stocks like this – and waiting for the right time to buy them – is how I do it.
Assure is growing big and fast and now I think its stock price should follow suit – so much that I may not even have to care how many subscribers I have.
It's compelling.  It's a win-win-win like nothing else I've seen in years. That's why I'm long $200,000 worth of Assure stock.
The information in this newsletter does not constitute an offer to sell or a solicitation of an offer to buy any securities of a corporation or entity, including U.S. Traded Securities or U.S. Quoted Securities, in the United States or to U.S. Persons.  Securities may not be offered or sold in the United States except in compliance with the registration requirements of the Securities Act and applicable U.S. state securities laws or pursuant to an exemption therefrom.  Any public offering of securities in the United States may only be made by means of a prospectus containing detailed information about the corporation or entity and its management as well as financial statements.  No securities regulatory authority in the United States has either approved or disapproved of the contents of any newsletter.
Keith Schaefer is not registered with the United States Securities and Exchange Commission (the "SEC"): as a "broker-dealer" under the Exchange Act, as an "investment adviser" under the Investment Advisers Act of 1940, or in any other capacity.  He is also not registered with any state securities commission or authority as a broker-dealer or investment advisor or in any other capacity.
Assure Holdings management has reviewed and sponsored this article.
This newsletter contains certain statements that may constitute forward-looking information and forward-looking statements under applicable securities laws. All statements, other than those of historical fact, which address activities, events, outcomes, results, developments, performance or achievements that Assure anticipates or expects may or will occur in the future (in whole or in part) should be considered forward-looking information and forward-looking statements. Such information or statements may involve, but is not limited to, comments with respect to strategies, expectations, planned operations and future actions of Assure. Often, but not always, forward-looking information or forward-looking statements can be identified by the use of words such as "plans", "expects", "is expected", "budget", "scheduled", "estimates", "forecasts", "intends", "anticipates", or "believes" or variations (including negative variations) of such words and phrases, or statements formed in the future tense or indicating that certain actions, events or results "may", "could", "would", "might", "should" or "will" (or other variations of the forgoing) be taken, occur, be achieved, or come to pass. Forward-looking information and forward-looking statements are based on currently available competitive, financial and economic data and operating plans, strategies or beliefs as of the date of this newsletter, but involve known and unknown risks, uncertainties, assumptions and other factors that may cause the actual results, performance or achievements of Assure to be materially different from any future results, performance or achievements expressed or implied by the forward-looking information and the forward-looking statements. Such factors may be based on information currently available to Assure, including information obtained from third-party industry analysts and other third-party sources, and are based on management's current expectations or beliefs regarding future growth, results of operations, future capital (including the amount, nature and sources of funding thereof) and expenditures. Readers are cautioned not to place undue reliance on forward-looking statements as there can be no assurance that the plans, intentions or expectations upon which they are placed will occur. Such information, although considered reasonable by management at the time of preparation, may prove to be incorrect and actual results may differ materially from those anticipated. The forward-looking statements in this newsletter speak only as of the date of this newsletter and Assure undertakes no obligation to publicly update any forward-looking statements to reflect new information, events or circumstances after the date of this newsletter. Any and all forward-looking information contained in this newsletter is expressly qualified by this cautionary statement.